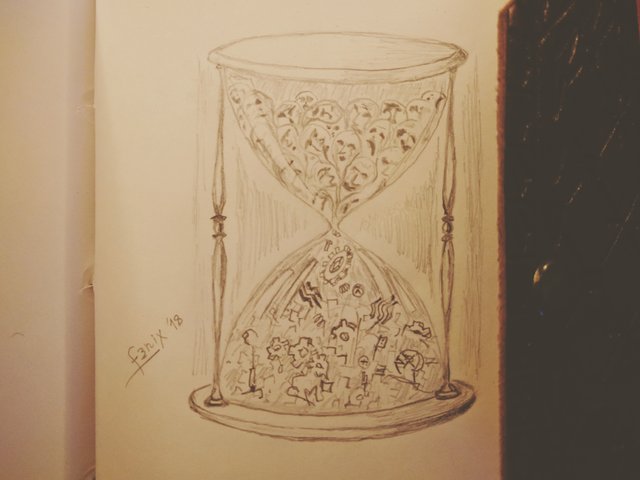 Original artwork by @f3nix
Horror Vacui




The moonlight rested on the east side of the Wagner Tower like ancient bone dust. An ectoplasm of frayed awareness crossed a tenant's mind in search of oblivion: the dull thuds coming from God knows what remote corner of the building had ended and he could finally sleep. Somewhere between the seventy-fifth and seventy-fourth floor, a keen ear could at times have captured a muffled conversation.
"... I could not do anything but regurgitate my music on them."
"Soon they'll rescue us, will you keep writing that song you were talking to me about?" Dr. Wallace cautiously tried, receiving nothing but a hostile silence.
The psychologist opened her eyes wide as a cold tongue seemed to viscously violate her skin between her shoulder blades. She suddenly noticed that she'd backed up against the elevator's control panel and her light silk shirt was dripping with acrid sweat.
"How did you feel in that moment during the concert, Mendo?" She continued with her most professional cadence.
"Imprisoned. A parched frame on which lumps of black film simmer under the light of the projector. The howl of the crowd brought back to my ears my own distorted notes and words. I could not stop feeding their lust for entertainment, but there was no pleasure in the obsessive coitus between me and that ocean of obscenely lit bodies. That pulsing ooze was bubbling under the stage, ready to pounce violently against me ..."
"..Like waves in a stormy sea against a lighthouse. I understand." Screened by the encouraging inflections of her own voice, trained over the years, Dr. Wallace lucidly recorded the increasingly frequent hesitations in the patient's flow. Silences were, perhaps, more important than words.
"Then it happened. Slowly." The patient continued. "I became the spectator of a dream in which everything was emptied and flattened. Looking at me from outside, I realized that the crowd, the stage, I myself were made of only two dimensions ".
"It is possible that this unusual situation is helping us to bring out aspects that we have not yet duly evaluated, Mendo." She stared off into the distance as if talking to someone else and the observation remained suspended in the air like an insect in amber.
"We have to dig deeper." Hidden by the short suit jacket, Dr. Wallace's fingers now played mechanically with a shining obsidian bracelet.
He resumed. "There was something else. Horror vacui. "
"The fear of emptiness, as defined in the Middle Ages," answered Dr. Wallace.
She wondered what he could hide behind that story of two-dimensional perception. Ever since the elevator had stopped, Mendoza had squeezed himself more and more into the opposite corner. His left leg had begun to dance grotesquely, its twitching animated in comparison to the rest of his motionless body.
Now, the drenched shirt of the doctor was gradually ungluing from the elevator's wall and her body converged towards him.
She thought of when she had asked Mr. Anatoliy "Mendoza" Volkov, her long-time patient, to go downstairs with her, after having granted him that extraordinary emergency therapy-session at her office.
Stuck between two floors, between space and time in nobody's dimension, she felt she had to maintain the primacy on the game's conduct. Until everything, perhaps a matter of moments, would be over.
A sharp glass wool whisper emerged from the patient's mouth. "On that stage, I suddenly realized why the ancients called it horror vacui. Once flayed the entertainment, before my eyes just remained the glabrous worm of the drive. I, then, pushed myself beyond the language of pleasure and death, beyond the illusion of will, and finally I encountered the true horror. In that moment, I understood the ancient obsession with filling empty spaces. For this reason, even now, the masses are demanding more and more entertainment: they must be sure that they never look in that direction, where he awaits us patiently ".
"Bravo Mendo, talk to me about emptiness." An almost sweet encouragement while, perhaps due to the progressive lack of oxygen, the psychologist seemed that the space between her and that shocked pile of bones and skin began to throb.
"Because the void is crawling. They knew it! And they did everything to not observe it but… it does not always work and once you see it, you just want to keep looking. Then, he looks at you." He continued his diaphanous, piercing whisper. Now his eyes were on the doctor, hollowed out and wide open at the same time.
"Like the black sea of bodies beneath you, while you were feeding them with your music". She was drawn, unknowingly across the Möbius strip of her patient's delirium. Her fading consciousness failing to differentiate between the perception of roles and the social scaffolding between doctor and patient. "Continue, Mendo".
This time, nothing but a growing moan came from the other side of the elevator. Something was wrong. The walls pulsed, throbbed rhythmically.
"..mmmMMM .."
The doctor instinctively reminisced about that sound, one night when the wind had hit the fixtures of their old house in the mountains so intensely that it produced a long banshee howl. Her daughter had emitted a similar crushed lament.
"Mendo..." Dr Wallace's voice sputtered out. Her vocal cords frozen as his psychic poison filtered through her mental barricades. Suddenly her eyes had stopped staring and they had been fastened up behind her back, where an inexplicable sound of backwash now gushed.
The last whisper of Mendo: "The Yellow King has arrived."
The doctor began to gasp desperately trying to pull out any sound: she had to go back to take the initiative otherwise Mendo's thoughts - the thoughts of them both - would self-power as the Larsen effect of one of his amplifiers.
Then, as in one of those nightmares too intense to be borne, she felt a cold electricity of awareness running through her synapses.
In the sudden darkness, an inhuman scream profaned every cell of her body.
The doctor could not tell if those were her own screams. Running over Mendoza, away from something in the corner above the elevator's door, for an eternal instant she saw herself from the outside. She tasted the primordial horror; slick, acrid bile blossoming inside her. The exciting warmth of a voluptuous, beautiful alien cancer inundating her guts.
A wicked smile spread in rampant ecstasy. It comes.
Closer...
Clooseeer...
---
---
"Ding!"
The elevator's doors opened softly and a silly mall version of Take me Home, Country Roads flowed out.
In front of the night watchman's half-mast eyelids, a more than ordinary scene. Perhaps too much ordinary. Just a few minutes ago, a frantic malfunction alarm had been repeatedly sounding from elevator five
"Are you all right, doctor?"
"I think I leaned against the alarm button by mistake. I'll give my patient a lift back home, he's not feeling that well". A showy stretch on her stockings ran along her left leg like a zebra strip. She held her patients hand, guiding that empty shell of a human being.
He knew that patient, a regular visitor of her Studio. The watchman remained dangling for a moment in front of the psychologist. She threw him a forced smile of exhortation, hurrying to fill that uncomfortable questioning space.
He would have said that there was something wry and mechanical about Dr. Wallace's behaviour but, after all, it was none of his business what the building's tenants do at 2am.
While the strange couple walked away along the deserted corridor of the hall, the guard seemed to intercept a particular sentence, from the doctor pointing to that empty chrysalis: "Tonight we will end up writing the music." It didn't matter. He decided he had too many messages still to be checked, it was time to go back and dive into his smartphone.




Once in a while, I managed to finish the story. I hope you enjoyed it. One last thing, next time you take the lift..
if I were you I would not turn to that corner.