STEEMIT FRUITS AND VEGGIES MONDAY CONTEST 🍒 🍌🍑🌿🍍🍓
Hello my Dearest Foodies,
🌈Welcome to Fruits and Veggies Monday, the contest where rain or shine we are still guaranteed a rainbow of beautiful fruits and veggies!🌈
Happy Monday! I hope you are ready for another round of our weekly FRUITS AND VEGGIES MONDAY CONTEST.
If you read Katie's @plantstoplanks announcement two weeks ago, you know they are few changes that we had to make do to our projects and personal lives. If you missed reading it, please check it out HERE.
I will write one more announcement next week, which will be two days before my surgery, however, after November 6th, I will be only upvoting and judging your entries. Just please make sure you following the rules.
Big thanks to everyone for their contribution! @barbara-orenya, the wonderful artist and creator of the lovely Wonkies and all the generous curators 🍒 🍌🍑🌿🍍🍓🍇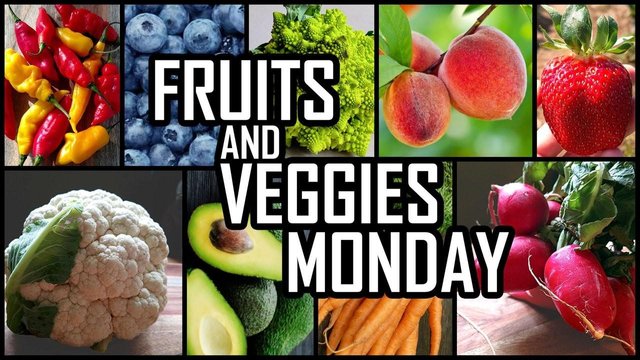 THE FIRST THREE PRIZES ARE:
1st PRIZE 3 SBI shares from @lenasveganliving
2nd PRIZE 2 SBI shares from @plantstoplanks
3rd PRIZE 1 SBI share from @vegansofsteemit
WONKIE AWARDS:
Healthiest Recipe
Best Presentation
Best Photography
Most Creative Recipe
Best Vegan Dessert
Best Traditional Veganized Recipe
Most Entertaining Entry
Most Educational Entry
Most Mouthwatering Entry
Most Beautiful Fruits & Veggies
THE RULES ARE:
FRUITS & VEGGIES MONDAY by @lenasveganliving
ALL ANIMAL PRODUCTS ARE PROHIBITED:
DAIRY, EGGS, FISH, SEAFOOD, MEAT
• Take and post at least 3 photos of fruits and vegetables. (It can be variety or just one kind from the garden, supermarket or anywhere you wish, PLANT BASED/VEGAN RECIPES ARE WELCOMED).
• One entry only!!!
• PLEASE MAKE SURE THE ENTRY IS 100% ORIGINAL CONTENT!!! (images and text)
• Text must be at least 100 words.
• Use hashtag #fruitsandveggiesmonday
• Mention the creator @lenasveganliving and the title FRUITS AND VEGGIES MONDAY
• Make sure you post your entry no later than Tuesday morning Toronto time.
For additional details on posting, check out the Cheat Sheet by @plantstoplanks
THANK YOU I LOOK FORWARD TO SEE YOUR WONDERFUL ENTRIES!
FOR RECIPES PLEASE VISIT MY Lena's Vegan Living Blog


|