Greetings to everyone, the following story was inspired by the digital art of @xpilar, I invite you to visit his blog. The picture that motivated this story is the following.
---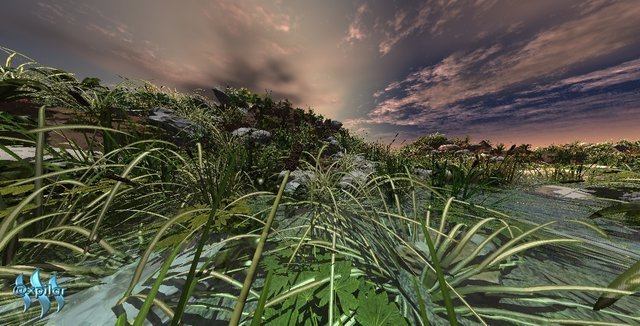 Source

Visions
Lucian (2)
After all, dying did not seem so bad, thought Lucian, while watching MARIANA and VALERIA remove from the room the body of Elvira, who had died that afternoon, after eight months of complications related to pancreatic cancer, her small and skeletal body, had suffered terribly, received transplants, one of her legs amputated and part of her face had been disfigured because of the removal of a tumor, all this at her scant nine years of life.
Finally, poor Elvira had died, to say that she had died because of cancer was the easy way to explain it, there had been many ailments that afflicted her in her short life, she was one more victim of Fenrir's curse, the death sentence that hangs over the heads of all those who live in the colony.
Lucian was another of the condemned, multiple tumors had grown in his skin, flesh and bones, on the right side of his body, to the point of almost useless, much of the right hemisphere of his brain had to be removed by the same cause and suffered from leukemia, cataracts and a variety of other diseases, whose number seemed to grow day after day.
The medical emergency in Fenrir was such that the nursery nurses had to be reprogrammed and reassigned to care for the sick children, whose numbers grew as time passed.
Lucian, trembling, lay again in his bed in the common room of the dispensary, the whistle of the vital signs monitor had become his lullaby, every night he fell asleep listening to his monotonous litany, what would it feel like to die, he wondered that night, as he did almost every day.
Elvira had been their companion in the early years of kindergarten and when they met again at the dispensary, it became customary for them to talk late and sing the songs they learned when they were five years old when they started kindergarten.
Today Elvira had left him, her bed was occupied by another child she had also met in the first years of kindergarten, who should go first, him or the newcomer. Again the question of what it would feel like to be dead came to his mind. Elvira's face looked calm, as if at last she was resting from her prolonged agony, she even thought she saw a hint of a smile on her lips, perhaps for them the best thing would be to rest definitively from their sufferings, she thought.
Lucian closed his eyes and waited to fall asleep so he could dream of that version of him, that he only knew in dreams, that strange him, that he could play, go to the academy to study and make excursions to strange marshes, to chase frogs and lizards, with his companions, children that in reality he hardly knew, but that in his dreams seemed to be his best friends, where he could see Elvira alive and happy playing with other girls in the playground, even if it seemed distant from him.
Text of @amart29 Barcelona, Venezuela, September 2019

Other stories from the series The Age of Perseus

I can only thank @xpilar for allowing me to use his digital art in my publication and for motivating my creation. Thank you very much @xpilar
Thank you all for visiting my publication, I hope your comments and I appreciate your support, until next time

---
---