7 Facts about EpicDice VS the vanished MagicDice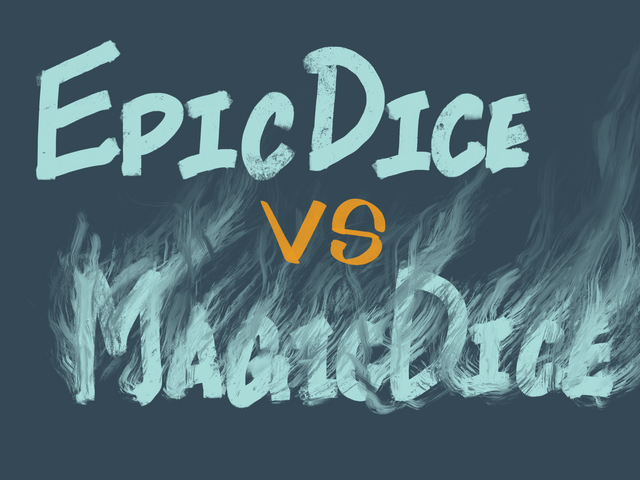 Magic Dice has been the big brother and pioneer in the gambling industry of Steem with outstanding achievement that many younger platforms can hardly catch up. Although it is kinda within expectation as the red flags were always obvious with the platform, they decided to leave the community is the most disappointing way ever. Poof, gone like that, probably the last magic performed by the team. It is however painful to watch especially for gambling lovers, read more about it here.
Fortunately, EpicDice is here to fill up the big hole that MD has left empty, in a much better way.
As someone who majorly speaks on behalf of the team, here are the 7 facts that how EpicDice is a perfect alternative to the magically vanished platform.
1. Transparent house profit determination
EpicDice - Since dividend pool availability is solely depending on house profit, EpicDice takes a snapshot of available fund in the house account (@epicdice) at the end of the day and post it in the site's Token page. All the fund movement of between the snapshot is strictly limited to game-related operation only. House daily profit is being shown in Token page real time so it is auditable at all time, even for average users.
Magic Dice - Development and data query skills are needed in order to track how much does the platform is making.
2. Auditable dividend pool
EpicDice - Base on the fact that house profit is verifiable, 50% of the profit will go directly to the dividend pool. House cannot pay even one cent lesser than what it is supposed to pay. Read more about how the dividend works here.
Magic Dice - They mentioned nothing about the generation rules of their div pool. Without a traceable algorithm, house can decide the pool size at will, even at the exploitation of stakeholders.
3. Automatic distribution of dividend and bonus
EpicDice - My personal favourite part is that no manual claiming is needed on EpicDice. It is seemingly odd if you have seen enough of blockchain casinos that all of them requires constant revisit to the site just to collect the bonus. This is one of the tactics gaming platforms use to force users back so it encourages betting behaviour, boosting the volume as a result.
EpicDice has no intention to hold what belongs to users just for the sake of boosting the platform volume. With that said, you get your referral bonus and dividend automatically daily even if you go offline for a year.
Magic Dice - I'm sure more than half of the users have some unclaimed dividend and bonus left in the site. And they are probably gone forever now.
4. Transparency of business-related account
EpicDice
@epicdice is the main account to conduct all gaming-related operation, this account also responsible for dividend payout.
@epictoken holding all the EPC tokens that belong to the team. Responsible for token distribution to players.
@epictester is the official testing account which usually is used in functionality testing.
Magic Dice - @magicdice is the main account. Rumours says that they have some associated accounts for fund management.
5. Simplest and fairest randomness generation mechanism
EpicDice - Instead of complexing the roll number generation process with the common server/client seeding method, randomness of rolling on EpicDice is solely depending on the transaction ID generation on Steem blockchain. It has the simplest and provable fairness.
Magic Dice - Used server/client seeding together with block ID.
6. Active communication and engagement in community
EpicDice - We talk to whoever has something to say whether in our Discord channel or in the comment sections. We respond to most of the feedback we've received. We even extending our reach outside of our realm to see what's people demanding in general so we can keep up with the competition and improvement. We are always eager to hear from the community and appreciate every conversation we could possibly have.
Magic Dice - You have a better chance of winning the Powerball jackpot than getting a meaningful communication with the team.
7. Track record with zero unresolved dispute
EpicDice - Zero dispute was left unattended and unresolved, no matter it is regarding missed bonus distribution or skipped bet. We screwed shits up at times, and we fix it every time.
Magic Dice - You have a better chance of winning the Powerball jackpot than getting a meaningful communication with the team.
Transparency matters
I'm going to be honest with this, none of the above-mentioned matters if house decided to exit, some degree of centralisation is inevitable in all blockchain DAPPs. Let's face the fact, no one can resist when the team decided to get up and leave. As much as we want to build a trustless gaming platform, we can't completely eliminate the necessary centralization control. That's also the exact reason that we're showcasing as much transparency elements as we could, in a convenient way for average users. It would be perfect if we have the attention of community guardians like @themarkymark to watch out for any wrong-doings of the house, so the players could be alerted at earliest timing and minimized the loss when things go south.
Except we have zero plan to exit.
We wanted a perfect casino only to realise that it can only be found in Eutopia, so we decided to build it on our own. All in all, EpicDice is far from its final form and in fact, it is still in very early infancy. It wouldn't be perfect without your participation.
Play with my referral link:
https://epicdice.io/?ref=blocksensei