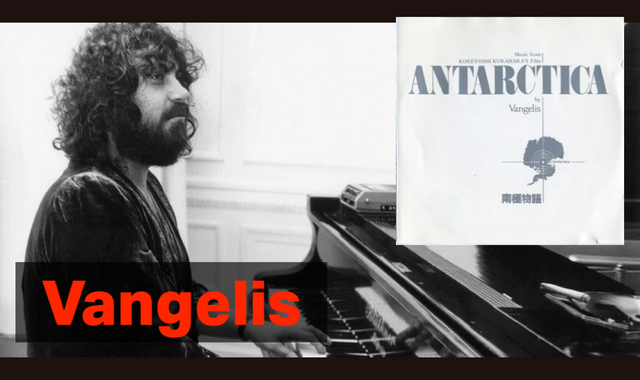 Vangelis is one of those electronic artists I grew up with. Together with artists like Jean-Michel Jarre and Tangerine Dream, Vangelis moved my focus away from the hit parades. They opened the door that led me to the world where my passion for music was hidden. I'm so glad I found it! Of course, I also really like the quality music that made it to the hit parades, like Depeche Mode, Talk Talk, U2 and the likes, but the electronic dance music and in more particular underground and quality techno, tech-house and similar genres lights my fires.
Now back to Vangelis. I like to share with you today one of his albums that I really like. It is a soundtrack made for a Japanese film/documentary named 'Nankyoku Monogatari' with the English title 'Antarctica'. I first heard the album maybe a year after it came out. The film was not aired in my tiny country the Netherlands, or maybe I was to young to know where to look for, no Internet and such those days. The film I watched years later, and fortunately I was able to find this one on YouTube, therefore I can share it with you as well (further down this post).
I still remember the last time he gave a show in the Netherlands very well. It was in Rotterdam. Open air; In the middle of the city at the river that divides Rotterdam in two parts. On an early spring night, since the show was not only about music, but also about visuals; And what a fantastic light show it was! 26 years ago it was! One of the most profound musical experiences I had until then.
Artist: Vangelis
Album: Antarctica
Style: New Age, Ambient
Year: 1983
It is a perfect day for some relaxation and what better then have a go with some quality electronic music from the past. If you like, watch the film and you get nice visuals combined with great music.
Get comfy and hit the play button of your choice below!
Vangelis - Antarctica (1983)
Film - Nankyoku Monogatari / Antarctica (1983)
Music
Spotify: click here
YouTube: click here
Discography
Discogs: click here
Recent Music Posts
James Blake - The Album
Little People - We Are But Hunks of Wood
Canto Osinato by Simeon ten Holst
Paul Kalkbrenner - Berlin Calling
Marcel Dettmann - Deep Minimal Techno
Hooverphonic - The Magnificent Tree
Joris Voorn - Nobody Knows


sources [1][2]

NJOY