You Got Snekked! (Curation compilation #48)
You Got Snekked! #48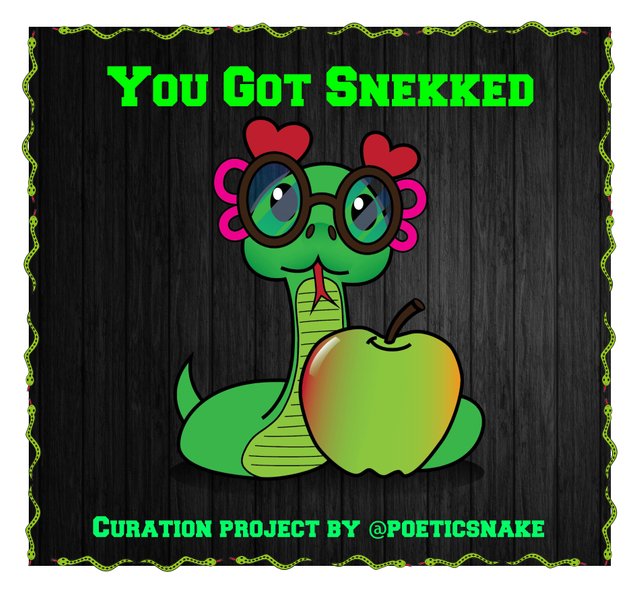 ---
---
Welcome to #48 of You Got Snekked!
This time we SNEKKED 11 posts and we hope you will have a look at them all! We now have a total of 9 curators (including me) and all I can say is that I am really proud of how this project is growing! Thank you all for the wonderful support!
You Got Snekked does not stop when you become bigger! We believe that everyone on the platform deserves to be curated! We don't look at rep, wallet or if you are new or if you have been here for two years! Manual curation is for everyone in our belief!
Payouts of this post!
You got snekked will do ONE compilation post per week on Wednesdays. Curators will get 5% or 10% of the Steem and or SBD payout!

Let's get started!
Here are the Snekked diamonds of the week!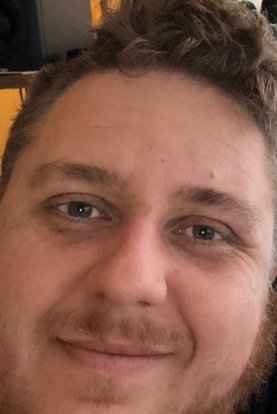 Meet @justenve
Lets welcome a new member to the platform!
Sometimes you read a introduction post and you just have to smile! @justenve wrote his post after being a lurker on the platform for a while. He already posted a few times but realised he never wrote his intro!
In his post he tells us about what he is planning to write about and what he does for a living! Lets give him a warm belated welcome and share some love on his post!
Click here to read @justenve's Post!
This post was curated by @poeticsnake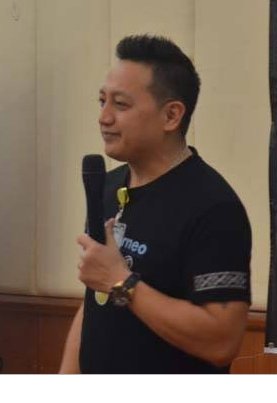 Meet @blackwoodborneo
He got to know about steemit during the Borneo Blockchain Summit in Sept 2018 and registered but never really looked into it until #Danieldoughty spoke about it again as an invited speaker in a social entrepreneurship program called pitchborneo on 17 Nov 2018. It was only then, he started to try it out- and he finds it awesome!
You can read more in his wonderful intro post so come and have a look and lets send him some special Steemit love!
Click here to read @blackwoodborneo's Post!
This post was curated by @poeticsnake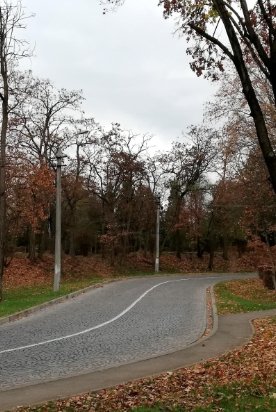 Meet @erikah
How is the weather over there?
It is getting cold especially early in the morning and late at night. It is November. You can see there is a change in nature. @erikah took some amazing pictures and shared those pictures in the post. It is time to capture some beautiful moments since everything is changing pretty fast. If you love photography, this is your chance.
@erikah was on the way to the farmers market when these pictures were taken. Let's take a look in the post and give some love.
Click here to read @erikah's Post!
This post was curated by @rezoanulvibes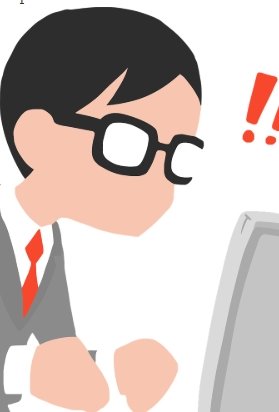 Meet @blind-spot.
I have been searching for people who are genuinely engaged and genuinely passionate about Steemit and the Steem blockchain of late...These are the people who have the chance to transform the platform and erase some of the mistakes of recent times.
In this post you will read why Steemit was so intriguing to the author and even learn about some tests he conducted with regard to posting intervals etcetera. There are a fabulous bundle of tips to help you on your journey too! You will find some shoutouts to some of the influencers on the platform, in-short compared to much of the content being posted nowadays this was a genuine breath of fresh air.
Click here to read @blind-spot's Post!
This post was curated by @stevenwood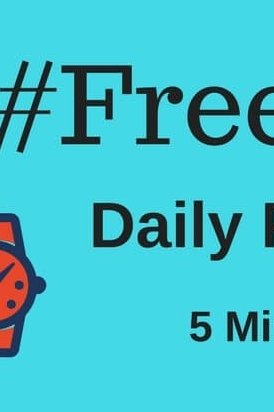 Meet @mariannewest.
I would be surprised if you haven't stumbled across the wonderful 5 minute freewrites that @mariannewest runs before today, but just in-case, I thought I would take this opportunity to set you a challenge...Go try your hand at a freewrite it is enormous fun and can be incredibly cathartic and an amazing way to get those creative juices flowing...
But take note this post is actually telling us that no-one has entered a fabulous contest to win SBI...I have written many times about under-entered contests before today...It is a travesty. What are ya waiting for?
Click here to read @mariannewest's Post!
This post was curated by @stevenwood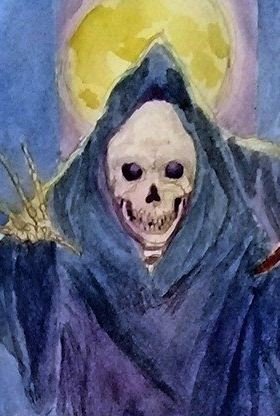 I really enjoyed @siucatti's depicture of death in this post... He makes the difficult art of watercolouring seem easy, especially with the detail in the face of the skeleton. He describes how he picked up a tip about technique from some old Batman comics, in that, you can use lighter colours to depict darkness.
And he added to the post by writing a short story to go with the image... I won't spoil it for you though. Go to the post now, sate your curiosity, and give him some love! ;)
Click here to read @siucatti's Post!
This post was curated by @mandelsage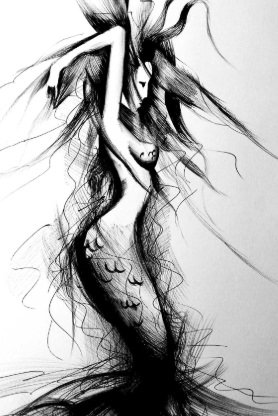 I've seen many, many mermaids... They're very popular among artists and sketchers, so it was really awesome to find such a unique take on them by @jmvanbreda. I can feel the motion in it, with those whispy streaks and whimsical lines... Though the sea isn't really depicted, it feels to me that she has just emerged rapidly into the broiling air above a stormy sea's surface.
Jaundré is not only an artist but a poet too. I highly recommend you go check out the rest of his blog.
Click here to read @jmvanbreda's Post!
This post was curated by @mandelsage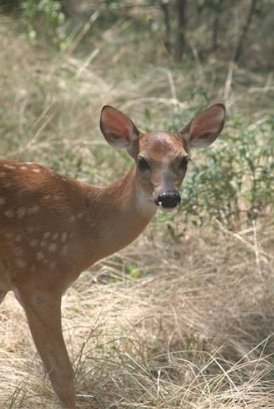 meet @permaculturedude.
Permaculture dude talks about farming in harmony with everything else on the planet. Instead of describing things as a pest figuring out ways of using them in a positive light. Deer are a big problem for farmers as they move in herds. If one deer finds something particularly delicious they will go back and tell the rest of the herd - this means that you can potentially lose your entire crop in a single night.
**Deer can be scared away by natural means but at the same time they are very useful in an ecosystem. The post goes into much more depth so if this is your thing or are just curious click on the link. It's worth it just for the deer pics. **
Click here to read @permaculturedude's Post!
This post was curated by @sugarfix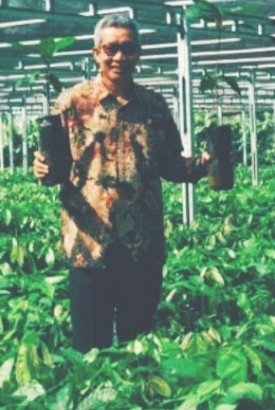 Meet @farmsteemit
He is a farmer in Indonesia. In this post he talks about the fruit from the Graviola tree which has many names - Soursop, Graviola, Dutch Durian. From the outside of the fruit it really does look like Durian but once you open it up it doesn't. The smell its like pineapple and it tastes like a cross between strawberries and apples. Farmsteemit is promoting it as a cancer treatment. It does show effects in mice but hasn't really been tested in humans. You have to be careful eating large quatities as it will give you nerve damage.
Click here to read @farmsteemit's Post!
This post was curated by @sugarfix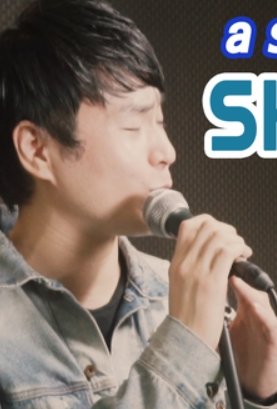 Meet @kingsmusic.
Kingsmusic is a group of musicians sharing their artwork along the platform. Their arrangements transform music into marvelous art jewels. On this occasion they share a cover of the song "A Star Is Born" from the film Shallow, starring Lady Gaga and Bradley Cooper.
The voices of Won and Bini mix wonderfully accompanied by a beautiful violin. A true piece of art that will melt your heart.
Click here to read @kingsmusic's Post!
This post was curated by @miguelvargas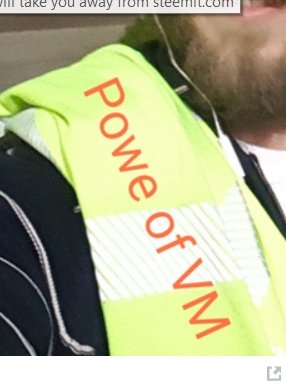 Meet @artakush.
This Steemian Is very active in the dtube community, and is just getting back home from Steem fest! In this video, he shares with us some audio from a recent virtual meetup he had with some fellow steemians:
Come and have a look at his video and his other content because we know you will love it!
Click here to read @artakush's Post!
This post was curated by @ma1neevent
---
---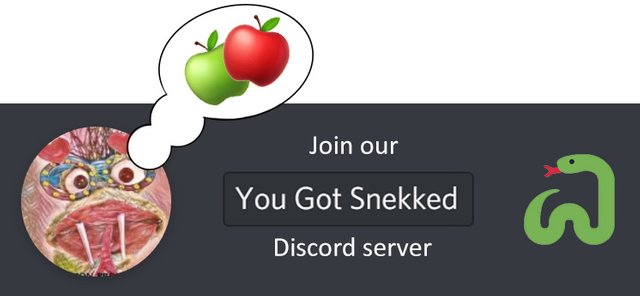 We would love to welcome you to our community on Discord! We believe that working together and supporting each other is the BEST thing you can do. Building an audience is hard work but doing it together makes it way more fun! The discord channel is created to network! Make new friends, find cool people to work with and make your Steemit journey complete! Come and say hi and you will get a warm welcome!
Click HERE to join us on Discord
Thank you!
You got Snekked wants to give a special Thank You to @roelandp for supporting us with a huge SP delegation!
And also the witness couple under the name @sapphic for supporting us!
Huge thank you to @therealwolf for the support!
Curators for you got snekked
@ma1neevent, @movement19, @mandelsage @stevenwood @rezoanulvibes, @miguelvargas and @sugarfix
Also...

If you'd like to support us, you could download the Snekky banner and add it to the end of your posts!
 


Hi! So if you like what You Got Snekked stands for and would like to be part of the slithering, here are a few options for you if you'd like to delegate some of your most delicious SP to us!
 
Not only will you get a "badge of honour" in the form of the corresponding category in our Discord server, but you will get votes too! Divide how much you delegate by 10 and that's the percentage vote you'll get! Maximum 2 votes per week =)
---
---
Have yourself a slithering fine day and thank you for reading our compilation post!
Best wishes
Snekky and team