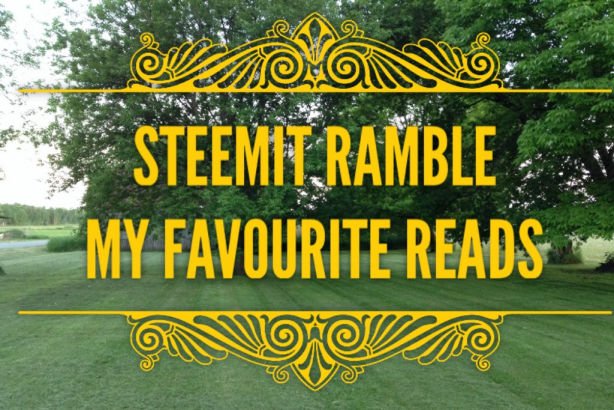 Seems some noobs on the platform think it is really cool to put up posts with a title like "Upvote me and I'll upvote you" or "Follow me and I'll follow you back". The post consists of the title and a picture as the content. Some of these geniuses keep copying the post over and over again.
If you are on Steemit to grow, that is not the way to do so. What will happen is either no one will upvote them and they will get frustrated enough to just go away, or people will notice their feeble efforts to game the system and will start downvoting them, thus eliminating their reputation.
I know it can be frustrating to start out and put an effort into posting and see little or no return. Think of it this way, if you earn 5 cents on a post, it is 5 cents more than any other social media site pays. It is also more than your own blog would pay you in your early stages, or for some, at any stage.
Build your presence, put in your effort and time to get to the point of making better returns.
Onward to today's rambling
This is a project that will help minnows or those who would like to improve their activity on Steemit, do so. @surfermarly has been around since early days and has produced some really good work. Anyone would be in good hands receiving guidance from her.
Speaking of newbies, this post by @sndbox is about the best post I've seen explaining STEEM and Steemit to someone who isn't familiar with the platform. It's long but, it lays out the platform in easy to understand language. I strongly suggest this post not only be resteemed but shared on those 'other' social media sites so creatives will know what they are missing out on.
If you're posting content or curating on the platform, you're earning crypto currency. If you're like me, eventually you'll get curious about the rest of the crypto currency world and how people make money with it. I did last fall. I moved a very small amount of what I had earned here over to an exchange and have been playing around doing some buying and selling.
Well, actually, I started out just buying and holding. It took me a while to realize that if I really wanted to build up my investment, I'd need to do some buying and selling. The goal would be to buy low and sell higher. When you start doing that the risk goes up. Usually, making money on currency exchanges involves risk.
@cryptokeepr writes a cautionary tale for those who may get drawn in by promoters who try to convince you that you can spend just $20 and easily, magically make thousands. Sure, and I can just snap my fingers and become a 135lb beauty queen.
I can't draw on paper to save my life, so I have great respect for talented artists. A talented artist who draws well on the computer.. Just fascinating. @marty-arts shares the process of how she does her work.
Many view the concept of positive thinking as trying to live in some unrealistic utopia. @gunternezhoda writes a brief post to try to explain what positive thinking is in the real world.
These days a growing number of people are looking to create additional incomes. Either to supplement their current income or to eventually replace it. @hermannk writes about overcoming some of the barriers we create for ourselves that holds us back from getting the side hustle going.
Wrap-up on Day 107
Interesting few days on Steemit. As often flares up some drama going on. Seems that people being people there is always someone in conflict with others. One individual who has been a parasite on the site for some time got knocked down on his reputation, not just by a whale or two but by many people on the site who were tired of his behaviour.
For a platform without structured rules, it's fascinating to watch how the nature of people facilitates the establishment of expectations that become 'rules'.
Supporting and Upvoting
Let's not forget folks. I'm sharing these posts not only because I like them. I'd really like to see them get support and upvoting.
Please Join the Curation Trail
If you'd like to support the posts I find and upvote while searching for the Ramble shares, please join my Curation Trail on Streemian
Until Tomorrow — Just Steem on
---







---
If you like this, please follow me and upvote the post.
If you'd like to see the other days I've posted, just visit my profile
If you'd like to join my curation trail on Streemian, please click here
---