HOW TO BUY CRYPTOCURRENCIES
When you have been afraid to take the first step:
The process itself is pretty straightforward. All you need is a checking account and to set up on-line accounts with three different sites. Getting the accounts working together is a simple task. My first attempt went flawlessly, so it can't be hard!
These procedures are for Coinbase.com and they currently directly deal in Bitcoin, Bitcoin Cash, Etherium, Etherium Classic, and Litecoin. However, they also give you a way to fund accounts where you can buy any crypto!
GETTING STARTED:
This is a picture of what the final grouping of "players" will be: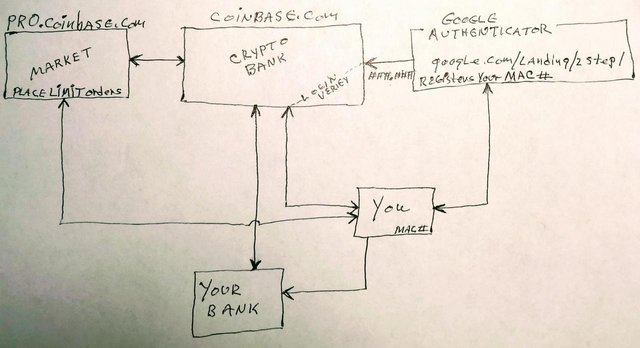 image by @willymac
The first step is to set up an account with Coinbase.com. Link it to your checking account. Coinbase will make a transfer to your checking account and then one from your checking account of the same amount to make sure it is your account and that everything is working. They will ask you to verify the deposit.
The next step is to add some additional security by adding Google Authenticator.

You really are not required to use an additional verification that you are indeed you when you log in to your crypto accounts, but I highly recommend that you do. If you do not, someone, sometime will find a way to pretend they are you and they will end up enjoying the house (or Lamborghini) you had planned on getting before they stole your goods.
Authenticator sends a constant stream of 6 digit numbers to your device AND to Coinbase. The number changes every minute and flashes in red for the last five seconds of the minute to let you know it is expiring. When you log in to Coinbase, it will ask you to verify your current authenticator code. When you input your number, Coinbase will compare it with the number from GA, match them, and open the gate to your account. GA is used by many services, such as Blockchain.info.
Download Google Authenticator (GA) to a separate device. That will allow you to access everything from wherever you are since you can get the authentication code when you need it. Mine is on my iPad, but could be on a smart phone. Registering GA will complete the linking process and talk to Coinbase.
That was easy!
That is really all the work. It takes 3 to 4 days to complete the test transfers.
As soon as the links are complete, transfer as much cash from checking as you want to use initially because it takes a full week for the money to appear in your Coinbase account. It will show as "deposit pending" immediately and will give you email updates on how much time remains until the deposit is available.
When the deposit is available, you can use any or all of it to make purchases. That is a flawless process; just like a checking deposit, so no fears.
Coinbase displays a dashboard showing the current crypto prices and the details of each one of your accounts. You will have accounts for Bitcoin, Bitcoin Cash, Etherium, Etherium Classic, Litecoin, and US Dollars. You also have options to sell, for each account's details, and for your settings.
BUYING YOUR CRYPTO:
Open an account with
Coinbase Pro
. This is the platform where you actually buy and sell your cryptos and you can think of it as Coinbases' crypto trading floor. Once your Coinbase account is first set up, Coinbase Pro will recognize you as soon as you tell them who you are. They are the "other half" of Coinbase. Setup there takes about two minutes.
You can view the live trading page without signing in; you just cannot buy and sell. Watch it and get familiar with how it works.
Once your cash is live in Coinbase, you can transfer it to Coinbase Pro by clicking choices when you are logged in to Coinbase Pro. The transfer is instantaneous. With the money on the "trading floor" you can make your purchases.
You can buy and sell cryptos without paying a transaction fee if you place the orders yourself!
On the Coinbase Pro screen, click on the little down caret just above and to the right of the sign in button and it will live a list of choices for the transaction type. The screen indicates this will involve Bitcoin and US dollars.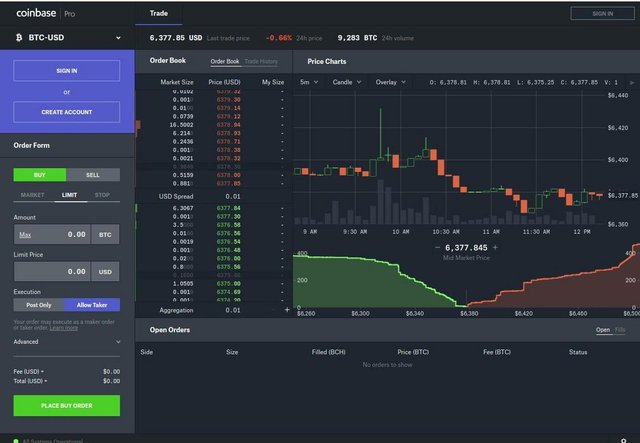 Source: CoinbasePro
For almost everyone, when you make a purchase, be sure to mark it as a LIMIT ORDER and input the maximum price each you want to pay and the exact number you want to buy. The screen will show you the maximum you will spend. That procedure can save you some unwelcome news, so sit on your hands and look at the screen to make sure you are doing what you want to do before clicking on PLACE BUY ORDER.
It is actually very easy. You can purchase small fractional parts of any crypto. Look at the market size below the ORDER BOOK column.
Once you have completed a purchase, you can transfer the crypto off the trading floor back to your Coinbase account. You may leave cash in your trading floor account or move it back to Coinbase; there is no charge for moving cash or cryptos.
SELLING YOUR CRYPTO:
If you want to sell your crypto, it is simple to request a transfer when you are on the trading floor page. It is directly linked to your Coinbase account and moving cryptos back is a matter of entering the quantity and the transfer is instantaneous. After that, simply enter the number you are selling and the amount you are asking for each.
BUYING OTHER CRYPTOS:
There are more than a thousand other cryptos Coinbase does not "trade". If you want to buy one of them you must do it on a different exchange.
For example, you could open an account with BINANCE and add it to your Google Authenticator list (you get prompted for that). That is easy, and you don't even link it to your bank account..
Next, you can fund that account by purchasing some Bitcoin or Etherium on Coinbase Pro and transferring it to your new account on the Binance exchange. Even though Binance is in Southeast Asia, it is just as fast and accessible as Coinbase and my experience there has been flawless. The transfer is the same from Coinbase to any receiving account anywhere (all Coinbase needs is the TO address) and they will add a very small transfer fee to pay its way through the system ( a tiny fraction of what a bank would charge! ) In effect, you would have transferred money from Coinbase to Binance and your new account would be funded.

THAT'S IT!
The above is complete enough to get a novice ready to purchase cryptocurrencies with the least amount of expense and confusion. Simply follow the steps and you will be up and running.
All you have left to do is decide which cryptos you want. That is your choice. You can find the current prices of over 1,900 crypto currencies at Coinmarketcap .
When you hit it big and are successful with your cryptos, feel free to express your gratitude by sending your excess Ether (ETH) to:

0x0130584cC2014339BDb652006BadFF9461E1aE18
finis

Comments from real people are welcomed.
About Me:
My Writing: