ICO Review Series #6: BitClave – Decentralized Search Ecosystem that aims at $550 BILLION Ad Space
Have you ever tried using Facebook advertisement or Google advertisement? If you haven't, let me describe how it works by using Facebook as an example.
Using the Facebook ad manager section, you choose your demographics and the budget. You choose between CPM (Cost per Thousand Impressions) or CPC (Cost Per Click) model. If you chose CPM, whether someone clicks your ad or not, you exhaust your budget at a pre-defined rate for every 1000 views. For CPC model, whenever someone clicks on your ad, whether that click turns out to be a potential customer or not, you end up spending your budget.
For example, you spend $1000, there is no guarantee that you will generate customers. Most companies use Facebook for brand awareness more than generating revenues. This is not to say that the Facebook doesn't generate leads and customers, it's just the percentage that is fractional compared to the spend.
This may work for big companies with unlimited budgets, however, this model is very expensive compared to the effectiveness for Small and Medium size enterprises.
BitClave claims to have a solution in this 550 Billion ads market industry.
Before we get on with the review, here is some basic information you need to know about this review (if you have read my previous ICO reviews, the rules are same and you can skip to the review).
The decision I come to will be based on a 100-point scoring system. Anything above 70 may be a good bet for my risk tolerance. Anything below 70, I would personally not invest in. Again, this is based on my research, opinion and the risk tolerance. These factors may not suit your investment criteria.
Points Allocation
The points will be distributed based on the following aspects:
Disruption, solution, innovation, novelty to an existing solution (I will highlight what the project under review brings) that the project promises to bring forth will have maximum of 40 points.
Development team and future plan will carry a maximum of 20 points.
Active presence in the market will carry a maximum of 15 points.
Number of payment choices offered for ICO participation will carry 5 points.
Discretionary Author's bias, naivety, ignorance or otherwise lack of predicting future will carry 20 points.
Verdict will be declared as i)I am in, which means I would invest in the ICO, where possible or ii) I am iffy, which means I would go in if I have spare $$s or iii) I am outta here, which means, I have decided that this ICO is not for me, this does NOT mean the ICO project itself is not good, it's just not something I feel comfortable investing in.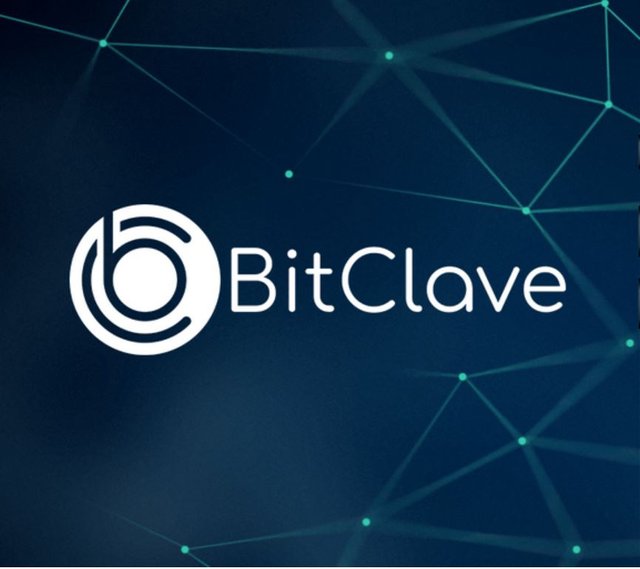 ICO Review Series #6: BitClave – Targeting Google and Facebook Ad Space
BitClave, according to their site, "BitClave envisions a world where smart contracts replace the need for middlemen, changing the way communities use the Internet. Our main goal is to build a new standard for relationships between businesses and customers based on smart contracts."
That is a bold statement to make and the one that asks for a big toll.
1) The Disruption/Solution: The problem statement in their whitepaper is accurate, the big players in this space, Google, Facebook, do not guarantee any sort of results for the advertisements. BitClave also shows that 50% of ad traffic is generated by bots.
The other aspect of the problem that BitClave is trying to address with their offering is the privacy of the consumer.
Even with all the amazing data google collects, it makes me wonder why they show those cancer ads on YouTube! Do they know something that I don't?
The point is, there is a huge mis-match of audience and the ads they are shown. BitClave is aiming to design the platform that is consumer centric so that advertisers can track their performance based on 'results' and not based on views or clicks.
Having burned my pockets before on both Google and Facebook platforms, as a small advertiser, I would be willing to give this idea a try.
Gaining that willingness from new users is great strength for any project and that is a good sign in my mind.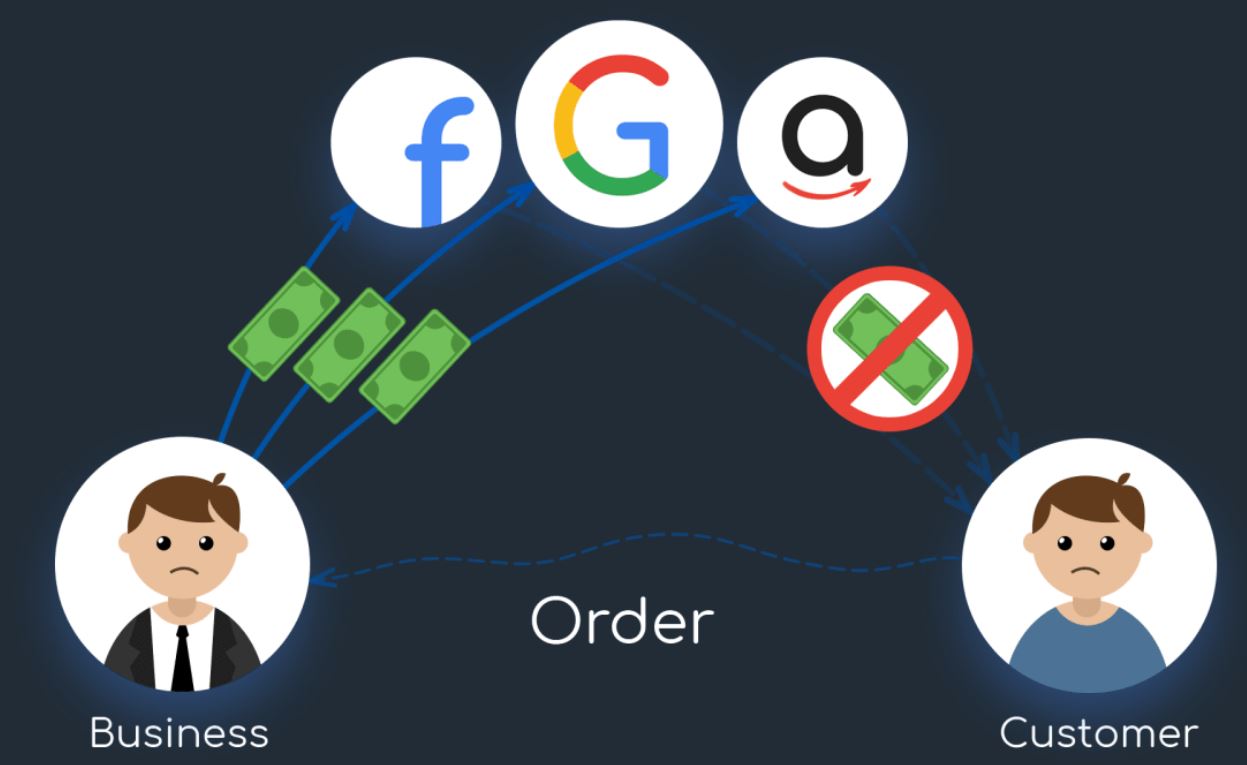 We must be careful though, aiming at the ad space is an ongoing battle that has been fought for many years now. The apps on your phone is a direct stab at google/facebook's ad revenue. Although it is a huge space, it is not the first time someone is taking aim at it.
Best example of creating an ecosystem is Apple, they deliberately keep the technology non-compatible and it doesn't matter for the loyal fans.
Amazon app is another great example. Those who have used Amazon would find no reason to go to Google to find some specific product.
The space of blockchain is at its infancy and for someone like BitClave to get on it to ensure that it doesn't fall prey to the predatory behavior of BIG wigs is admirable and for that alone, it deserves a pat.
While other players have targeted ad space on blockchain, BitClave takes the cake with their comprehensive action plan to get into the game.
I am assigning 30 points.
2) Team and Roadmap: This is one of the teams that I am particularly impressed with in all of the ICO reviews I have completed so far.
Take a look at their team portfolio, it seems to include people who know what they are talking about.
In my last review on Aventus I have noted that the team's experience was a point for concern, but NOT with BitClave.
Their CEO, Alex Bessonov, has over 20 years in security, privacy and blockchain space. Their CTO, Patrick Tague, has experience in embedded technology and wireless security.
They have an expert advisor for each and every aspect, like strategy, governance, privacy, technology and so on.
You should check out their team's profile and browse the linkedin profiles to get a sense of why I am excited about this team.
Their Whitepaper is one that was clear in explaining the problem and how BitClave will address it. They listed 2 example, one with renting property (eg: AirBNB) and another is auto-sales. If you are thinking about investing in BitClave, I suggest that you read their whitepaper.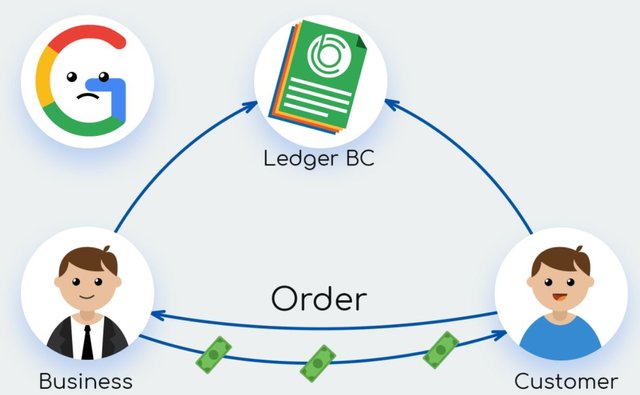 For this reason, I am assigning, 20 points out of 20 points.
3) Active presence in the Market: Their site says "BitClave currently has a partnership with a gateway to payment systems with hundreds of millions of users, which will ensure integration with businesses entering the market."
That is excellent news for anyone skeptical about the entrance hurdles for BitClave.
Their social media, twitter particularly, is buzzing with activity for quite-a-while now.
I am assigning this 15 out of 15 points.
4) Acceptable cryptocurrencies to participate in the ICO: You can participate in their pre-sale and ICO using Bitcoin or Ether..
There will be a maximum tokens of 2 BILLION Consumer Activity Tokens (CATs) that will ever be created to be used in BitClave Active Search Ecosystem (BASE), of these, 1 Billion CATs will be available for purchase in the pre-sale/ICO that is scheduled to Start on July 25th and ends on August 1st (or 48 hours after 1.5 million soft cap is reached).
While the available tokens are high, if the project delivers on what they are setting out to do, we will find ourselves needing more than 2 Billion Tokens.
As always, I continue to assign 0 points for ICOs that offer only BTC/ETH choices.
5) Author's Bias: This is a big deal. Bing was not able to touch Google's dominion on the search side. Facebook will not scratch the surface of Google's ad space. If BitClave succeeds, even in fraction, and manages to take minnow's share from the pie, it will still be humongous.
What I think this is going to be is a David vs. Goliath, however, David in this case doesn't have to beat the whole Goliath, only small part is enough to reap a great share of this ad space.
Of course, setting the plan together and taking aim at the big pie is enticing, that itself does not translate to results. For that uncertainty that exists with any project and flaws that exist in my review, I am assigning 15 points.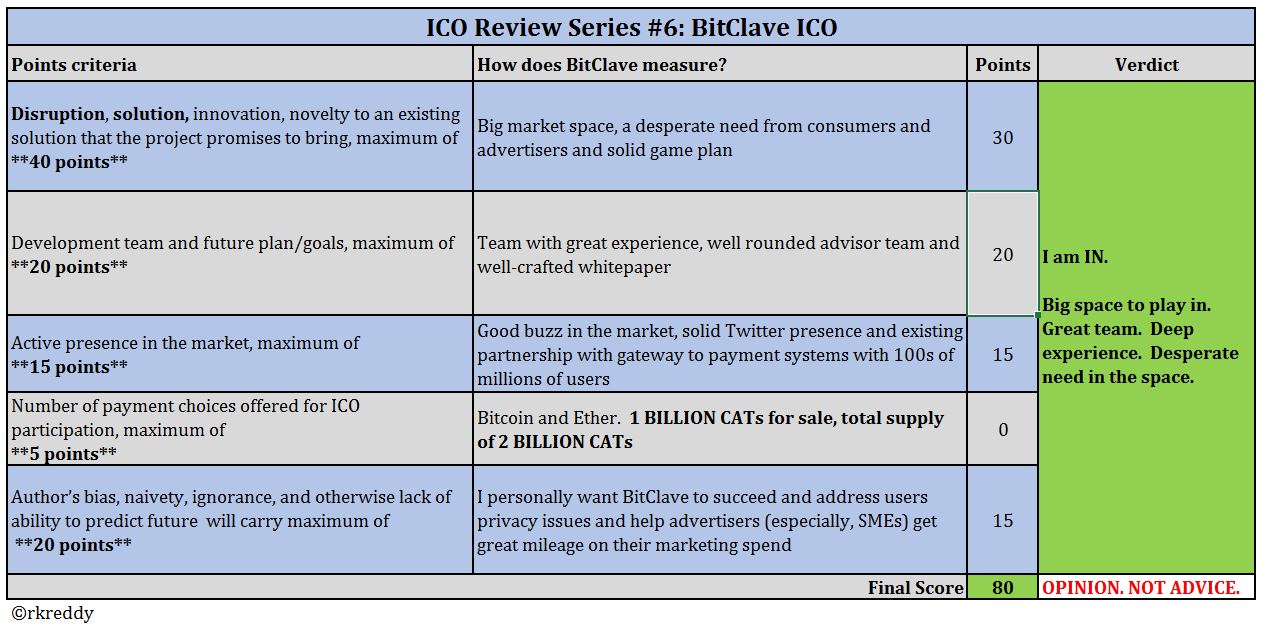 Verdict: I am IN.
I personally want BitClave to succeed so that users get to curate what is important for them and get paid for it while advertisers spend becomes laser focused in reaching their specific target/interest group, all without compromising the consumer privacy. While BitClave does all that, those that trust this project and invest in this ICO may see handsome returns. Talk about win-win!