ICO Review Series #5: Aventus, a grand plan to mend the Ticketing industry
It's been a little over a month on Steemit and I am enjoying my time reading contributions from other Steemians, their comments and contributing to this community with my content including this ICO Review Series.
I pick the ICOs that intrigue me and after my last post under ICO Review Series, I was giving it a break to pick the next ICO for review. Thanks to @the-celtic-tiger and @atulesh-jha who both requested me to consider Aventus.
Whenever I review an ICO, I look at the problem the project aims at solving, and if it really is a problem at all.
We keep hearing about the concert sales that sell out in mere seconds or hours. Considering how many people may be looking to buy online, it seems impossible for them to sell out in mere seconds but we see it happening all the time.
It turns out that it is not the humans that have become lightning fast but it is the bots that scour the ticketing platforms to buy out the tickets at face value and re-distribute them in the secondary (read: black) market for a much higher price.
This problem plagues all areas of ticketing industry – concerts, sports and events, etc.
We know there is a real problem. How does Aventus hope to bring the solution?
Before we get on with the review, here is some basic information you need to know about this review (if you have read my previous ICO reviews, the rules are same and you can skip to the review).
The decision I come to will be based on a 100-point scoring system. Anything above 70 may be a good bet for my risk tolerance. Anything below 70, I would personally not invest in. Again, this is based on my research, opinion and the risk tolerance. These factors may not suit your investment criteria.
Points Allocation
The points will be distributed based on the following aspects:
Disruption, solution, innovation, novelty to an existing solution (I will highlight what the project under review brings) that the project promises to bring forth will have maximum of 40 points.
Development team and future plan will carry a maximum of 20 points.
Active presence in the market will carry a maximum of 15 points.
Number of payment choices offered for ICO participation will carry 5 points.
Discretionary Author's bias, naivety, ignorance or otherwise lack of predicting future will carry 20 points.
Verdict will be declared as i)I am in, which means I would invest in the ICO, where possible or ii) I am iffy, which means I would go in if I have spare $$s or iii) I am outta here, which means, I have decided that this ICO is not for me, this does NOT mean the ICO project itself is not good, it's just not something I feel comfortable investing in.

ICO Review Series #5: Aventus - A grand plan to mend the Ticketing industry
Aventus, according to their site, "is a fair, secure, and transparent blockchain-based event ticketing solution that practically eliminates fraud and unregulated touting. Organizers can create, manage and promote their events and tickets with dramatically reduced platform costs, and can set price controls and receive commissions on secondary market sales."
1) The Disruption/Solution: We have a problem in ticketing industry because there are multiple layers, primary market, secondary market, offline market, craigslist, and whatever comes to mind. Sometimes, people are duped with counterfeit tickets.
Aventus primarily hopes to address:
..* Inflationary behavior of secondary markets
..* High ticketing commissions
..* Counterfeits
More information is summarized in their video here.
Aventus hopes to bring event organizers and customers on to a single platform so that organizers get more for the event and customers don't end up paying too much (or completely getting ripped off due to counterfeits).
Aventus also has in their pipeline to create a customer pool and for everyone to curate the events on their pools to sell the tickets so that customers are reached from multiple avenues and those promoting the event get rewarded as well.
From a solution perspective, this project deserves a good points. However, Aventus is not the only player in this space (more on this later in the article).
I am assigning 30 points.
2) Team and Roadmap: Honestly, I was not pumped about the CEO, Alan Vey's, profile. This is just my opinion based on limited available information I was able to find from their site and general search. His biggest claim seems to be a thesis on "block-chain based film rights distribution."
Running a company with as ambitious of a goal as Aventus will need a lot from Alan. I am hoping that what he lacks in technology experience, he will make up with his academic insight.
The other prominent person in their team is Arnaud Gaboury(?), Head of Communications, who I was able to find Upwork page which is set as 'private'. Nothing much that I could find outside of Linkedin/Twitter.
Mario Vassiliades has a decent online profile and information that promised a deep expertise in the 'ui/ux design' space.
Annika Monari, Director – full stack developer, has a rather active profile but the experience on her resume is no more than 3 years.
The team member links on their website does not link to anywhere. This was disappointing as I was hoping to learn about the team from their site. I am hoping this is a glitch and that team is going to fix this to help us look at full profiles of the team (something personalized for Aventus instead of relying on LinkedIn).
Aventus Road Map left me desiring more as it only lays out plan until Q2 2018. Compare this to EventChain Road Map that lays out plans for until Q1 of 2019.
Their advisor group seems to be well rounded and have been able to create the stir in the market.
For this reason, I am assigning, 10 points.
3) Active presence in the Market: Their Twitter and Slack channel are active with either the updates related to their own project or news related to the crypto market and block chain technology that directly impacts the future of Aventus.
On July 6th, their blog had an article about their ticketing platform partnership with Blue Horizon Entertainment. This opens great potential in the North American region and that is always a good thing considering the craze that events enjoy in this continent.
Their Info deck shows existing contract with Joy Records for an event in Autumn. They also had a successful event in London.
Team and fans enthusiasm is very evident from their social platforms and media coverage with news that matters to investors now and the course of the project itself in the future.
I am assigning this 15 out of 15 points.
4) Acceptable cryptocurrencies to participate in the ICO: Aventus token is called AVT. I like the fact that there are going to be a maximum of 10 million AVTs and 60% of these will be available during the token sale.
You can use ETH to participate in this ICO and each ETH will fetch you 92 AVTs, which is on the expensive side when compared with other ICOs. At an average exchange rate of $250 per ETH, that is $2.71.
As always, I continue to assign 0 points for ICOs that offer only BTC/ETH choices.
5) Author's Bias: Aventus is aiming a market with great potential and is trying to address a real issue, however, they are not the only ones that are entering into this space. EventChain (EVC) has also entered this space and has existing contracts as well.
Then there is BlockTix in this space with an existing ICO running.
This is a good news though. This space is massive and can accommodate multiple players with their project variations and indicates that this space is ripe for the takes.
What makes Aventus ICO a bit more appealing, from purely ICO investment perspective, is the number of tokens available. AVTs are limited to 10,000,000 while EVCs had a total supply of 84,000,000.
The appeal of limited supply (hopefully they won't change this later with any smart 'hard fork'/'new version'/'new offering' reasons, great market space, presence of more than one player that promises the potential in the market all lead me to assign 10 points.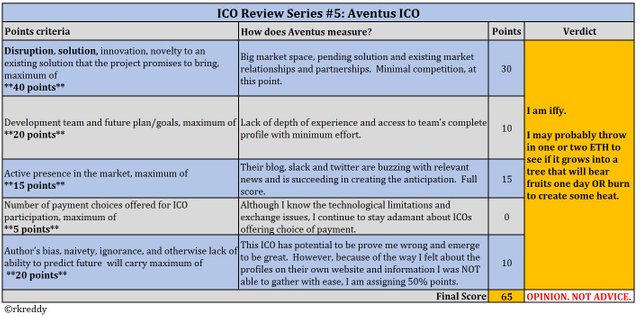 Verdict: I am iffy.
I wished their team had more depth of experience and their profiles more transparent. However, the blockchain itself is in its infancy and who knows, these guys may be the next Gates or Pages. That is the kind of chance we have to take in the crypto space when entering ICOs.
Even with such a strong team and marketing hype – I stayed on the sidelines for Tezos.
I would not mind throwing in an ETH or two on the Aventus ICO just to take the risk for the sake of it, because of the off chance of them succeeding and what it means.
That is to say that if I take part in this ICO it will be with speculative sense because of the competition in the market and infancy of real world with crypto usage. I wish the team good luck to prove me wrong so that my half or one ETH might make me handsome returns!
Go through Aventus Infodeck, their Whitepaper and their Blog to come to your own conclusion.
If you would like for me to review an ICO that you are looking into, drop a note in the comments. I cannot promise that I will be able to review all requests but I will try to if my schedule permits. Your comments will also help keep me in the know about the ICOs that I may have missed.
*Disclaimer: Opinion. Not an advice. The verdict in the article is according to me and for me. It may not suit you. Please read the article as an opinion and conduct your own research before deciding to invest. E&OE.
All pictures and clips used belong to respective owners, except where noted otherwise.
Earlier ICO reviews in this series:
ICO Review Series #1: Hive Project
ICO Review Series #2: Tezos: Why I am on the sidelines on this ICO?
ICO Review Series #3: Monster Byte, am I betting on this ICO?
ICO Review Series #4: Santiment - Bloomberg of the Cryptoverse?
If you enjoyed this article, I THANK YOU for re-steeming so that it can be enjoyed by more Steemians