What do the main GitHub pages of the top 50 crypto-projects say?
After checking what the homepage of the top 50 cryptocurrencies stated, I thought it would also be interesting to check the content of the main GitHub page of these projects. What is keeping these projects busy? What kind of programming languages are they using? To find this out, I created a list of the top 50 crypto GitHub pages according to coinmarketcap, and scraped the contents with a script in Python. Here are the results: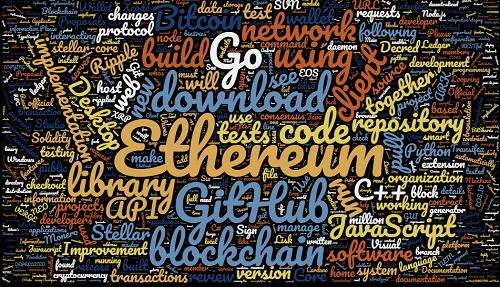 Large image
Top 10 words: 1.Ethereum (137x) 2.Go (88x)  3.Blockchain (85x) 4.Library (77x) 5.Client (70x) 6.Network (68x) 7.Bitcoin (61x), 8.JavaScript (55x), 9.Tests (53x) 10.API (53x) 
The results 
In total 19.560 words and 156.993 characters were scraped from the Github pages. Ethereum is the most mentioned word, which is no surprise, because besides Ethereum other project in top 50 are built on the Ethereum platform. This is why the Ethereum programming language, Solidity, is also mentioned quite often (31x). Looking at the programming languages, Go (88x) is mentioned the most, followed by: JavaScript (55x), C++ (51x), Python (47x), Solidity (31x), C# (15x), Java (15x) and Ruby(5x). It seems like the most common subjects the projects are working on are: Client (70x), Network (68x)/Protocol (32x), API (53x), Wallet (52x) and Transactions (31x). Also the term Library (77x) is used often, being the overview with functions/code from a particular project. Further the words testing, tests, developing, implementation and improving are used regularly.
It is interesting to have some kind of indication what is keeping the top 50 crypto-projects busy. In the future I will be comparing these results to see if there is any change in development. Also I will be trying to add some more GitHub statistics per project, for example the number of commits, activity and so on.