What are the top 50 crypto sites saying on their homepage?
I was curious about what the top 50 cryptocurrency websites were stating on their homepage. How are they trying to inform and convince us? What kind of words are they using? In order to find this out, I scraped the homepages of the top 50 coins according to coinmarketcap. To do this I build a small script in Python iterating over the websites and picking up only the text used on the homepage. This is the result: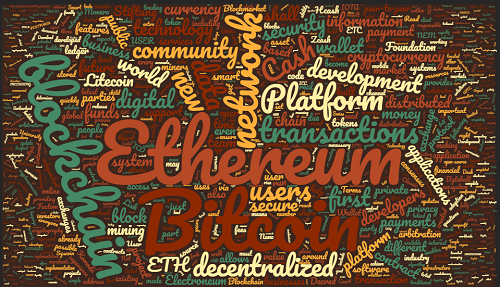 Top 10 words: 1.Bitcoin (173x) 2.Ethereum (165x) 3.Blockchain (142x) 4.Plafform (107x) 5.Network (83x) 6.Transactions (79x) 7.Users (69x) 8.Data (66x) 9.Development (56x) 10.Decentralized (55x)  
In total 23.463 words and 158.721 characters were scraped from the websites (some of the websites did not allow scraping). This is about 700 sentences. It will be no surprise that Bitcoin was mentioned most on the homepages. But considering the term Bitcoin was only used 10 times on the homepage of Bitcoin, the other cryptocurrencies are referring to Bitcoin quite often. Ethereum was already mentioned 123x on their homepage but still, 25% of the mentioning is done on the other sites. The terms blockchain, platform, network, transactions and decentralized are not very surprising in the cryptocurrency world. Do worth mentioning is the use of the words development and developing, as many people tend to forget, most crypto projects still are experimental, so most of them are stating on their homepage they are still in development/developing. Also the terms cryptocurrency, currency, money and payments are used quite often (30+).  
It is quite interesting to see which terms the top crypto projects are using on their website. Not only to see what is keeping them busy, but also for others to see how to be different from the top. In the future I will be adding more sites to the list and will try to cluster the words and provide more statistics.