Bitcoin Success Blueprint - Short Selling Bitcoin
Would you like to read what I learned about short selling Bitcoin in the "Bitcoin Success Blueprint," which is an additional course that goes hand in hand with the "5 Trades Money Machine" course, because this might be useful for you if you want to short sell Bitcoin?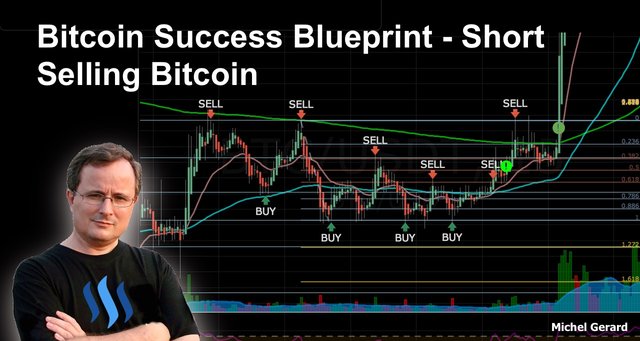 Last month I wrote six posts about Dominik Boecker's new course "The 5 Trades Money Machine," which helped me a lot to understand how to do scalping or day trading, something that I wanted to learn for a long time.
This is the post I wrote to give my first impression starting the course and you might want to read that post: My First Impression of the "5 Trades Money Machine!"
I then decided to write several other posts that you will enjoy reading here: How to Have a Successful Trader Mindset! - 5 Trades Money Machine!, Technical Analysis - 5 Trades Money Machine!, Scalping Ethereum - 5 Trades Money Machine! & Stop Loss Strategies - 5 Trades Money Machine!
After taking the course a couple of times and receiving an offer for a second course called "Bitcoin Success Blueprint" by Dominik Boecker and Chris Fox, I started to consider going all-in studying with them and set myself for some good results in my trading for 2019.
Yes, it costs some money to upgrade to the "Bitcoin Success Blueprint," but I also got access for free to their Master Classes starting in January.
If you would like to enroll in the "Bitcoin Success Blueprint" course, you first need to take the "5 Trades Money Machine" course here: http://pantika.us/5tmm
My disclaimer:
I am an affiliate with The 5 Trades Money Machine, and I will earn a commission if you decide to buy the course using one of my links. I am recommending the course because I took it and it is helping me a great deal. I believe it will do the same for you.
Source of images: Bitcoin Success Blueprint course, with permission to share short snippets with you, and also Coinigy.com.
Bitcoin Success Blueprint - Short Selling Bitcoin
When you purchase the "Bitcoin Success Blueprint," it shows in the dashboard together with the "The 5 Trades Money Machine," which you have to take first.
This course is about Bitcoin and how to short sell it for profit in times when the market is in a downtrend.
That's my second viewing of this course and I have been practicing for a week, which I am very excited to show you next.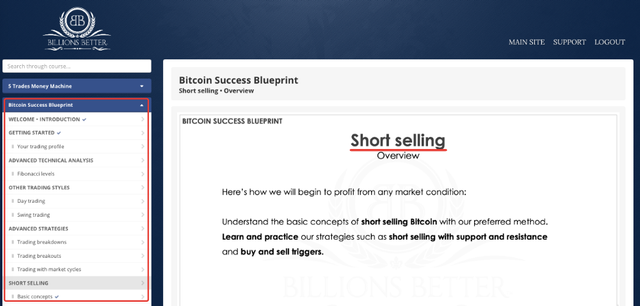 I have never understood properly how to short sell Bitcoin until now. In a downtrend market, my basic strategy was to just wait for the proper time to buy Bitcoin or any other crypto again when the market is going up again.
I discovered in this course that you can make more of your Bitcoin in a downtrend, without having to borrow coins in the exchange, just by using what you have, the same way you would when you go long.
Short selling is a bit more challenging than going long, and they advise in the course to simulate several trades until you get comfortable doing it.
It's what I did.
These are a few simulations I did trading BTC/USDT on Binance.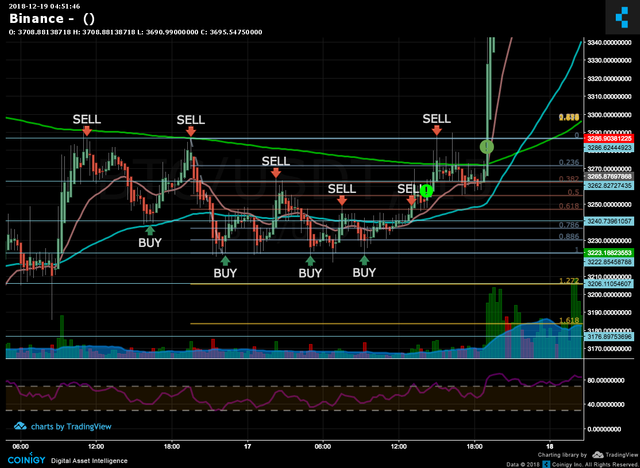 I used the different indicators explained in the course and as you can see it is working quite well on a 15-minute chart.
Now, what we want to do when short selling is to sell our Bitcoin when it's high, and buy again when it's low. This way, you end up with more Bitcoin for the same amount of USD.
So, of course, just after we have sold, we don't want it to go up and we must be prepared with a stop loss in case that happens.
I use Coinigy to look at charts and place trades, if you would like to try Coinigy, please use my referral link https://www.coinigy.com/?r=842aeb1c because if you purchase later on, I will receive a small commission that will help me pay for the tool every month.
Notice the last two trades at the right on the image above.
I sold Bitcoin and expected it to go down as it did previously, but it started to go up a bit and I was not really sure, so the green "!" is where I would have bought Bitcoin back with a small loss. The last try to sell Bitcoin has shown to be a wrong move again, and I would have bought Bitcoin back just before it started going crazy.
That was my first day simulating and a couple of days later I did this.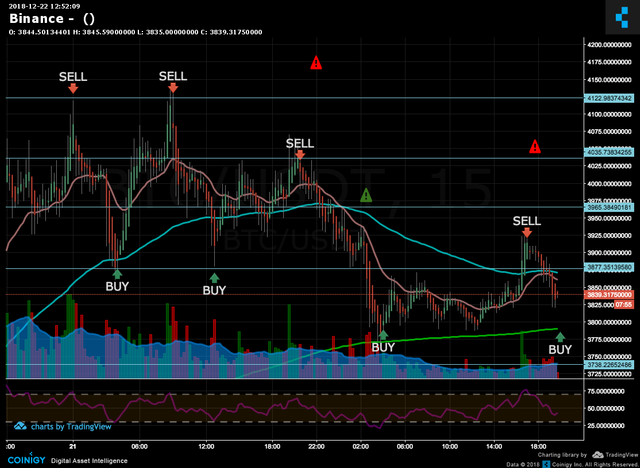 Here too, you can see that it is working quite well.
On the third trade, the red triangle with the "!" sign that you can see above is where I would have placed my automatic stop loss to buy Bitcoin back in the event it was going up.
The green triangle with the "!" sign is where I would have moved my stop loss to protect profit. I expected it to bounce back, but the candles being below the 20 EMA, there was a chance for it to go down further.
The 200 SMA serves as support in the last 2 trade simulations.
I confess that before taking the course I didn't have a clue on how to do this, and now I am pretty ecstatic about the possibilities.
I'm sure you will be too when you enroll in the course right now and I will be glad to have you as a fellow student : http://pantika.us/5tmm
If you want to learn how to trade crypto, get this course, now is still the time to get it at a very reasonable price.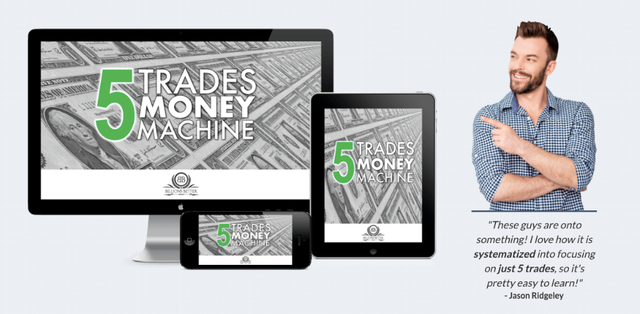 I hope that you liked this post and that it will be useful for you if you are considering cryptocurrency trading.
Would you upvote this post and follow me for more because this will encourage me to write more posts like this one?
I have categorized my posts on Steemit for easy access:
Steemit tools | Steemit strategies | Steem economics | Steem on WordPress | Blogging on Steemit | Steemit posts I curated | Cryptocurrency | Cryptocurrency trading | Mac computer tutorials | WordPress & online marketing | Self-development & motivation | Travel in Thailand | Travel in Japan | Travel in Europe | Life in Thailand | Fitness challenge | Fruit-veggie juices & smoothies | Education | My answers on Quora | Fundition tutorials & projects | Miscellaneous writing
You may prefer to go to my Steemit Posts Directory.
Want to learn a new skill? Visit MG Course Discounts where I have lots of online courses you can take for only $9. Sign-up for the newsletter to get one free course and coupon codes.
Want to learn about Bitcoin and Blockchain technology? Click here for free ebook.
Would you like to learn how to trade Bitcoin and cryptocurrency with daily profits and grow your money with a simple, but effective strategy, because this beginner-friendly crypto trading course, that I am taking myself, might be your opportunity to finally be a winner in crypto?
The most important votes you can make on Steem are for Witnesses. The top 20 witnesses can influence the addition or removal of features in future Steem hard forks. Read my post: What is a Steem Witness, How to Vote and Why?
Michel Gerard