Technical Analysis - 5 Trades Money Machine!
Would you like to learn about my progress taking the "5 Trades Money Machine" course and discover with me what technical analysis tools are covered, because this might be useful for you if you want to learn how to trade crypto?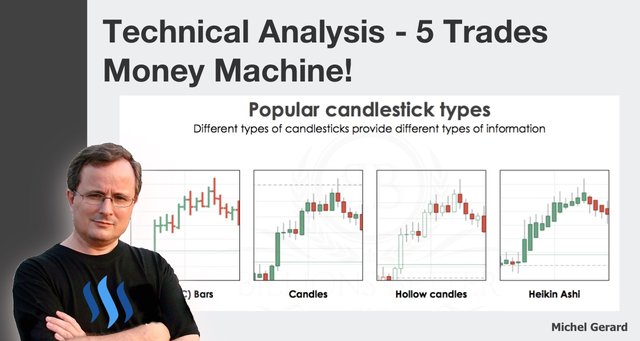 This is the third post about Dominik Boecker's new course: "The 5 Trades Money Machine."
A week ago I wrote a post to give my first impression starting the course and you might want to read that post: My First Impression of the "5 Trades Money Machine!"
Then, I wrote a second post about the course that you might enjoy reading: How to Have a Successful Trader Mindset! - 5 Trades Money Machine!
I am an affiliate with The 5 Trades Money Machine, and will earn a commission if you decide to join using one of my links, but it is not the reason I am writing about it. This is a course that is clear and easy to understand and perfect for beginners or people like me who have not been successful trading short term. I would have loved to take a course like this when I began in crypto two years ago. That's why I am recommending this online course.
Source of images: 5 Trades Money Machine's PDFs, with permission to share short snippets with you.
Technical Analysis - 5 Trades Money Machine!
I am not totally ignorant about technical analysis and the different indicators that we can use, but with hundreds of them, which ones can we use in combination in order to maximize our chances of a good trade?
This is what the section on "Technical Analysis" is covering and will have us start with.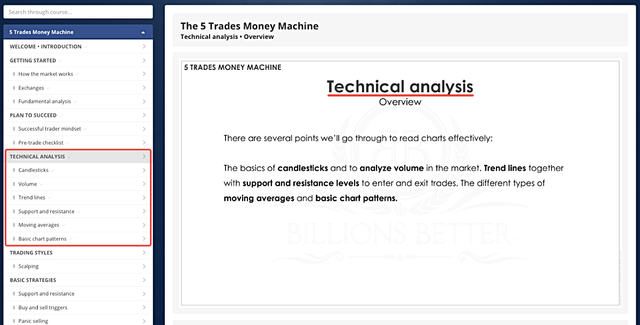 There are basically 6 indicators that you can learn about in the course and understand how to use them together. Often simplicity is best and I have been guilty of using too many indicators, which at the end makes it very confusing.
After going through this section, I am confident that knowing about candlesticks, volume, trend lines, support and resistance, moving averages and basic chart patterns is all you need to start trading successfully. Later on, you might also find other indicators useful, but these are the basics.
You can check out the course here: http://pantika.us/5tmm
Let's start with the first lecture.
1. Candlesticks
This lecture explains the basics of candlesticks that you are maybe already familiar with. I believe that the secret of successful trading is to know and understand candlesticks.
As you can see below, there are four types of candlesticks that you can use, but which one is the best to use for yourself as a beginner?
They look quite similar, but in fact the data in them can be different. It's where I learned that there is a kind of candlesticks that would have made it easier for me to read charts and consequently increase my chances of a good trade.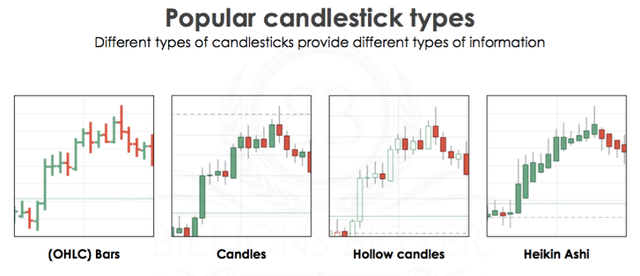 Popular candlestick types, layout of a candlestick, time frames and trading hours are also explained and I will let you discover that in the course.
2. Volume
Understanding volume is very important because if you buy a coin that has no trading volume, then how do you expect to sell it later, even at a loss?
In this lecture, you will learn how to use volume as an indicator of price movement and direction.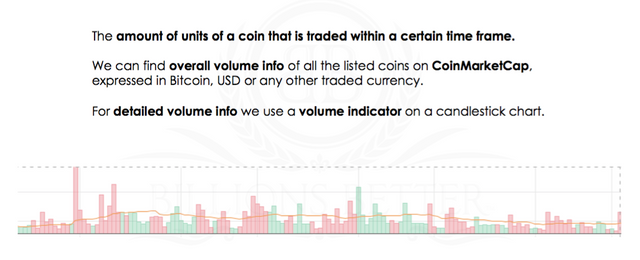 You will also learn how to check and use the volume for a particular coin you may be researching on CoinMarketCap.
Reading the volume together with the candlesticks is a step further to a successful trade, but let's see what else we have in our "5 Trades Money Machine" toolbox.
3. Trend lines
Trend lines are very important indicators that every trader should understand. That's the basics of trading and this lecture will show you how to spot trends, draw trend lines and use them to enter and exit trades.
This lecture starts by explaining what trends are, and then goes more in detail on the different trends, uptrends, downtrends and sideways.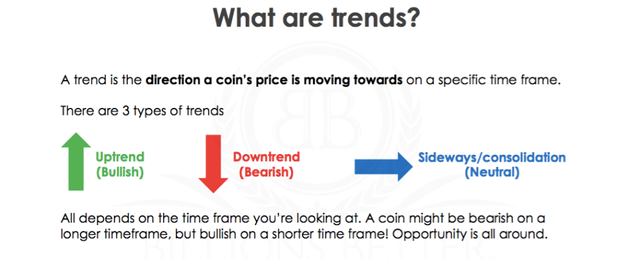 You will also learn how to draw trend lines, and by the way, do you think it is better to draw them from the body or wick of the candlesticks or alternate them?
I'm sure you will like the answer in the course depending on if you like to trade aggressively or conservatively.
4. Support and resistance
You can't trade without knowing about support and resistance.
In this lecture you will learn how to identify support and resistance levels, and use them to enter and exit trades.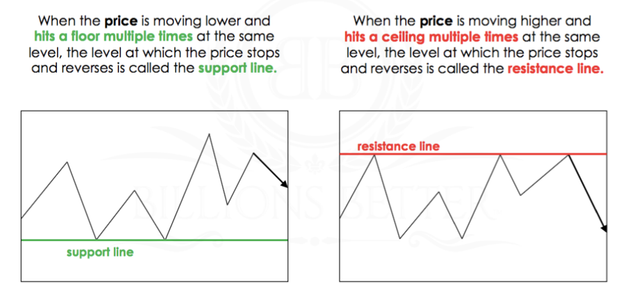 You will learn to draw support and resistance lines, but also zones, and most importantly where to buy and where to sell.
After completing this lecture you will be an expert at support and resistance without doubt.
5. Moving averages
Traders have different ways to use moving averages depending on if they are trading short or long term and their own preferences.
In this lecture you will learn about the importance of moving averages and how to use them so you can make better trading decisions.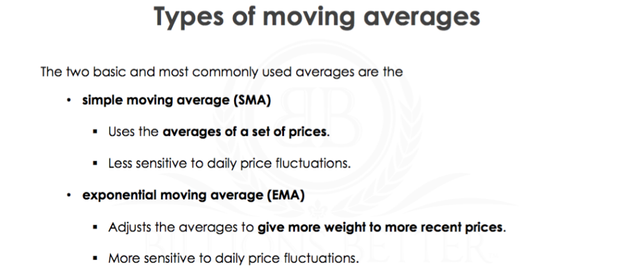 You will learn about the 3 types of moving averages they use in the "5 Trades Money Machine" course, and I will have them set up ASAP.
There are different graphics explaining exactly where to buy or sell, where to place your stop loss, in this lecture that I'm confident you will find very useful.
6. Basic chart patterns
I am sure that you have already seen these triangles, pennants and flags on trading charts, but what do they mean?
In this lecture, you will learn about these patterns and how to identify a continuation or reversal of trend.

There are quite a lot of pattern examples in this lecture and it's where the included PDF comes handy. I will certainly spend some more time on this, so it sinks in my memory.
I hope that you enjoyed this overview of the different lectures of the "Technical Analysis" section in the course. Writing this post helped me review them and I invite you to check out the course right now: http://pantika.us/5tmm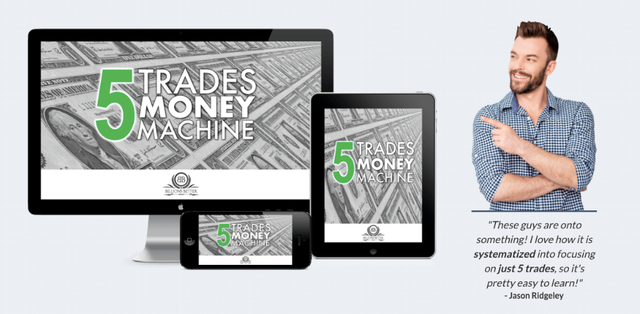 Would you like that I continue writing more posts about the "5 Trades Money Machine" course as I go through all lectures?
If so, let me know in the comment section below.
I hope that you liked this post and that it will be useful for you if you are considering cryptocurrency trading.
Would you upvote this post and follow me for more because this will encourage me to write more posts like this one?
I have categorized my posts on Steemit for easy access:
Steemit tools | Steemit strategies | Steem economics | Steem on WordPress | Blogging on Steemit | Steemit posts I curated | Cryptocurrency | Cryptocurrency trading | Mac computer tutorials | WordPress & online marketing | Self-development & motivation | Travel in Thailand | Travel in Japan | Travel in Europe | Life in Thailand | Fitness challenge | Fruit-veggie juices & smoothies | Education | My answers on Quora | Fundition tutorials & projects | Miscellaneous writing
You may prefer to go to my Steemit Posts Directory.
Want to learn a new skill? Visit MG Course Discounts where I have lots of online courses you can take for only $9. Sign-up for the newsletter to get one free course and coupon codes.
Want to learn about Bitcoin and Blockchain technology? Click here for free ebook.
Would you like to learn how to trade Bitcoin and cryptocurrency with daily profits and grow your money with a simple, but effective strategy, because this beginner-friendly crypto trading course, that I am taking myself, might be your opportunity to finally be a winner in crypto?
The most important votes you can make on Steem are for Witnesses. The top 20 witnesses can influence the addition or removal of features in future Steem hard forks. Read my post: What is a Steem Witness, How to Vote and Why?
Michel Gerard