How to Have a Successful Trader Mindset! - 5 Trades Money Machine!
Would you like to learn how to have a successful trader mindset when trading Bitcoin because in addition of knowing Technical Analysis, this will be very useful for you if you want to trade successfully?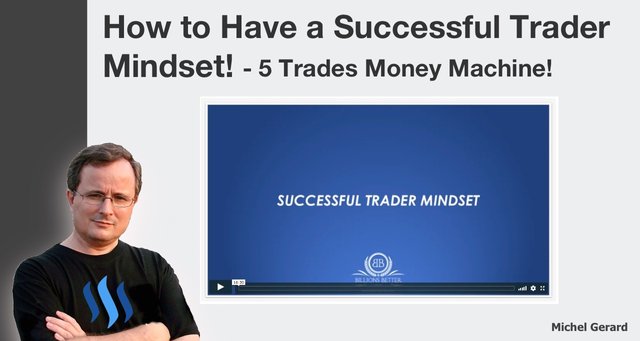 Today, I would like to continue writing about Dominik Boecker's new course: "The 5 Trades Money Machine."
A couple of days ago I wrote a post to give my first impression starting the course and you might want to read that post: My First Impression of the "5 Trades Money Machine!"
I am an affiliate with The 5 Trades Money Machine, and will earn a commission if you decide to join using one of my links, but it is not the reason I am writing about it. From what I have seen before, this is a course that is clear and easy to understand. I would have loved to take a course like this when I began in crypto two years ago. That's why I am recommending this online course.
How to Have a Successful Trader Mindset! - 5 Trades Money Machine!
Today I made some progress in the course as I went through the "Plan to succeed" and "Technical Analysis" sections.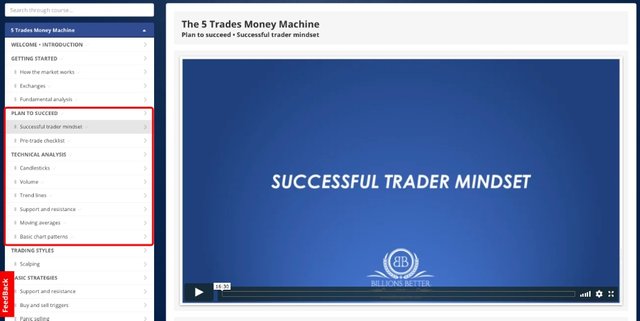 Let's talk about the "Plan to succeed" section and the "Successful Trader Mindset" lecture.
This is the kind of lecture that I enjoy because like in any other business, you need to have the right mindset in addition to the knowledge to be successful.
You can check out the course here: http://pantika.us/5tmm
This is what the authors say in their introduction.

Now you may ask,"What are these 3 biggest myths?"
They are:
Trading is like gambling.
We need a lot of money to invest to get good profit.
We need a trading bot to have the advantage.
All are false and it is clearly explained in the course.
I was a believer of the second myth, which is that you need quite a lot of money to make good profit in trading crypto, but I have come to realize that we can start small and grow overtime. What's important is consistency in your trading and to keep learning.
Dominik started with only $200 and went to $200,000 in less than a year, and even if results are not typical, I will be happy to achieve half of that myself.
Then, in this lecture you will learn about the three successful trading habits, how to lose like a boss, important key points and what the only certainty in trading is.
The second lecture in this section is "Pre-trade Checklist."
This is another important section that will teach you how to manage your risk, protect your capital and minimize losses by using a pre-trade checklist.
What is a pre-trade checklist?
It is a tool that tells you when to enter and exit a trade before you start trading.
Just like a pilot goes through a checklist before flying a plane.
This is what it looks like.

In this lecture, every point of the checklist is explained in detail and I have to confess that I have never used one for the previous trades I made. This is certainly something that I will start to do when I resume trading because there is no point taking a course if I am not doing what is taught, right?
This lecture also helped me clarify what I should do for my portfolio allocation.
I am so glad to have this course now because I feel really motivated to go on with my trading.
I am sure you will be too when you join the course here: http://pantika.us/5tmm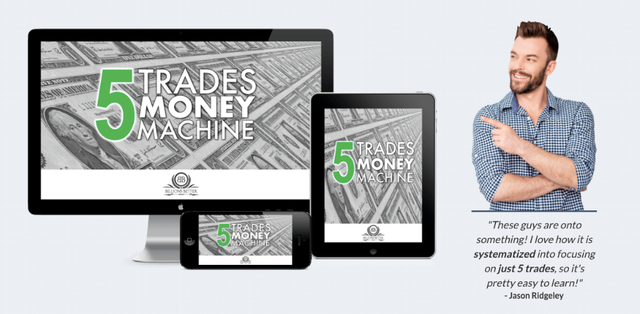 Now I realize that it will be better that I make another post for the "Technical Analysis" section, which I can't wait to share with you soon.
I will write more posts about the "The 5 Trades Money Machine" course as I go through all lectures.
I hope that you liked this post and that it will be useful for you if you are considering cryptocurrency trading.
Would you upvote this post and follow me for more because this will encourage me to write more posts like this one?
I have categorized my posts on Steemit for easy access:
Steemit tools | Steemit strategies | Steem economics | Steem on WordPress | Blogging on Steemit | Steemit posts I curated | Cryptocurrency | Cryptocurrency trading | Mac computer tutorials | WordPress & online marketing | Self-development & motivation | Travel in Thailand | Travel in Japan | Travel in Europe | Life in Thailand | Fitness challenge | Fruit-veggie juices & smoothies | Education | My answers on Quora | Fundition tutorials & projects | Miscellaneous writing
You may prefer to go to my Steemit Posts Directory.
Want to learn a new skill? Visit MG Course Discounts where I have lots of online courses you can take for only $9. Sign-up for the newsletter to get one free course and coupon codes.
Want to learn about Bitcoin and Blockchain technology? Click here for free ebook.
Would you like to learn how to trade Bitcoin and cryptocurrency with daily profits and grow your money with a simple, but effective strategy, because this beginner-friendly crypto trading course, that I am taking myself, might be your opportunity to finally be a winner in crypto?
The most important votes you can make on Steem are for Witnesses. The top 20 witnesses can influence the addition or removal of features in future Steem hard forks. Read my post: What is a Steem Witness, How to Vote and Why?
*Michel Gerard