Stop Loss Strategies - 5 Trades Money Machine!
Would you like to read about the stop-loss strategies I learned in the "5 Trades Money Machine" course, which are essential to know and apply in order to be a successful crypto trader, because I am sure this will be useful for you?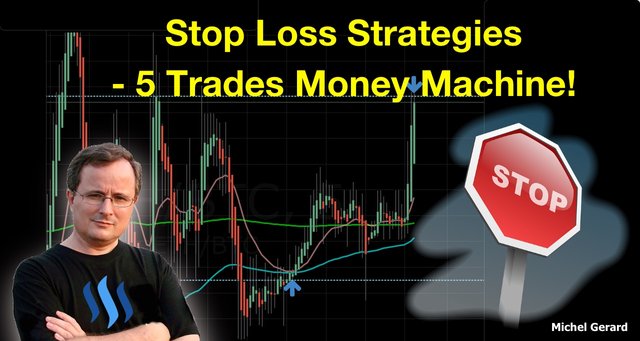 This is the fifth and last post about Dominik Boecker's new course: "The 5 Trades Money Machine."
That does not mean I will stop posting about it. I am eager to share with you my case studies and results of successful crypto trades really soon.
Two weeks ago, I wrote a post to give my first impression starting the course and you might want to read that post: My First Impression of the "5 Trades Money Machine!"
I liked the course so much that I then decided to write several other posts that you will enjoy reading here: How to Have a Successful Trader Mindset! - 5 Trades Money Machine! & Technical Analysis - 5 Trades Money Machine! & Scalping Ethereum - 5 Trades Money Machine!
My disclaimer:
I am an affiliate with The 5 Trades Money Machine, and will earn a commission if you decide to buy the course using one of my links. Whether or not you decide to use my affiliate link is not important because I still wish you to enroll in that course if you are serious about learning to trade crypto.
This is an awesome course that has helped me understand lots of things that I was confused about in my mind when trading crypto and I'm sure it will help you as it has helped me. That's why I am recommending this online course if you want to learn scalping for daily profits.
For Black Friday and Cyber Monday, there is $100 OFF starting now, go to this link: http://pantika.us/5tmm-bf
Source of images: 5 Trades Money Machine's PDFs, with permission to share short snippets with you, and also Coinigy.com.
Stop Loss Strategies - 5 Trades Money Machine!
This is the last module in the course and I think the most important because as traders we need to know when to exit a trade and have a strategy to protect our profit and capital.
That's my second viewing of the course and watching this section again brought me more confidence in my ability to protect my capital for each trade.
So, today I am going to talk about "Stop Loss Strategies."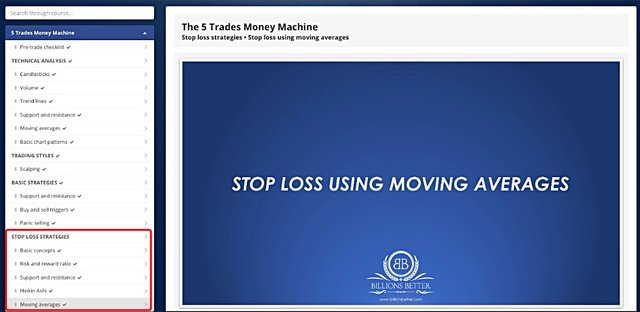 When scalping, it is important to protect ourselves if the market turns against us and there are 5 lectures that will show you exactly what to do.
The first lecture explains the "Basic concepts."

You can have stop losses triggered manually or automatically and they both have their advantages and inconveniences. A stop loss is used not only to protect a loss when the market goes in the wrong direction, but is also used to take profit and sell our position when our target is reached.
This lecture will also explain what a "bear trap" and "spike low" is and how to minimize our risk of losing capital in these situations.
You have then 4 stop loss strategies explained in the course:
Risk and reward ratio
Support and resistance
Eikin Ashi
Moving averages
The risk and reward ratio stop loss is the one I have been using for a week practicing the strategies in this course.
For all the trades I simulated, I chose a 2:1 ratio, like in the chart below. This means that I was willing to risk $1 to earn $2.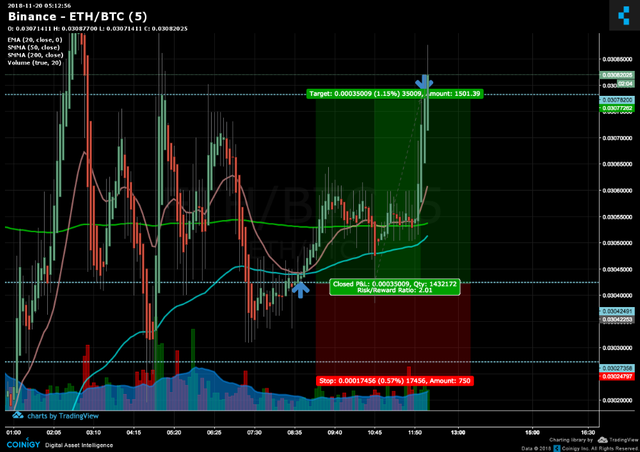 See the chart on Coinigy: https://www.coinigy.com/s/i/5bf397d8465a8/
I use Coinigy to look at charts and place trades, if you would like to try Coinigy, please use my referral link https://www.coinigy.com/?r=842aeb1c because if you purchase later on, I will receive a small commission that will help me pay for the tool every month.
As you can see in the image above, the green section at the resistance line is where I would have taken profit and the red one below is where I would have set up my stop loss.
With the 20+ simulations I did this week, my entry point was correct 90% of the time, and it went straight to the "take profit" area (after a few waves), sometimes a bit higher; and for the remaining 10%, the market turned against me, I realized I was wrong, and had plenty of time to exit just near the entry point, not even at the stop loss below.
I also used the other 3 stop loss strategies in combination, and I will let you learn them from the course.
I can tell you that I'm very excited now after finishing the course and practicing the strategies for a week.
I'm sure you will be too, when you enroll in this course right now: http://pantika.us/5tmm
By the way, there is a special offer for the "The 5 Trades Money Machine" for Black Friday and Cyber Monday: $100 OFF starting now, go to this link: http://pantika.us/5tmm-bf
If you want to learn how to trade crypto, get this course, now is the time.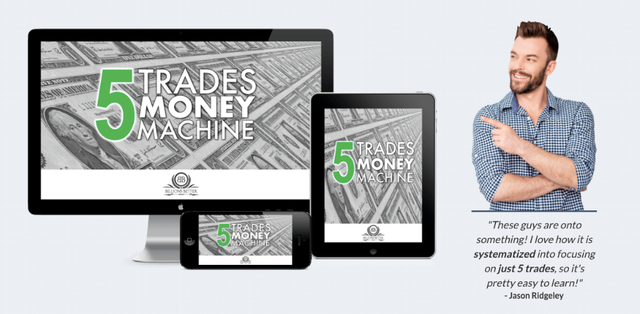 I hope that you liked this post and that it will be useful for you if you are considering cryptocurrency trading.
Would you upvote this post and follow me for more because this will encourage me to write more posts like this one?
I have categorized my posts on Steemit for easy access:
Steemit tools | Steemit strategies | Steem economics | Steem on WordPress | Blogging on Steemit | Steemit posts I curated | Cryptocurrency | Cryptocurrency trading | Mac computer tutorials | WordPress & online marketing | Self-development & motivation | Travel in Thailand | Travel in Japan | Travel in Europe | Life in Thailand | Fitness challenge | Fruit-veggie juices & smoothies | Education | My answers on Quora | Fundition tutorials & projects | Miscellaneous writing
You may prefer to go to my Steemit Posts Directory.
Want to learn a new skill? Visit MG Course Discounts where I have lots of online courses you can take for only $9. Sign-up for the newsletter to get one free course and coupon codes.
Want to learn about Bitcoin and Blockchain technology? Click here for free ebook.
Would you like to learn how to trade Bitcoin and cryptocurrency with daily profits and grow your money with a simple, but effective strategy, because this beginner-friendly crypto trading course, that I am taking myself, might be your opportunity to finally be a winner in crypto?
The most important votes you can make on Steem are for Witnesses. The top 20 witnesses can influence the addition or removal of features in future Steem hard forks. Read my post: What is a Steem Witness, How to Vote and Why?
Michel Gerard