Why GAS (Antcoins) are dramatically undervalued
NEO (Antshares) gets treated by some as the Ethereum of China. The currency to pay your network fees is GAS (Antcoin) and unlike Ethereum, you don't produce GAS by mining. It gets produced by staking NEO (Antshares).
One Antshare is currently trading at 12.43 USD, an Antcoin (GAS) at 3.57 USD.
Let's have a quick look at NEO (Antshares)


But before we start : Please DON'T consider this article to be investment advice. You are responsible for your own actions. I'm just telling you my own observations and opinions here.
If you own NEO you own a part of the Network. You not only create GAS, you also have a voting right. With the voting right comes some influence in questions of blockcain issues and GAS cost for transaction fees. It's like a share in a company with voting rights.
There are 100,000,000 NEO in existence. But only 50 % are distributed.
The developers will release the rest of the 50 % over the next 5 years:




Logically, if the number of shares of the network increases, then the amount of GAS you can produce with one share decreases. Also the Amount of GAS that NEO will create is limited to 100,000,00.
So let's have a look at how much GAS 1 NEO will produce for you over the next 23 Years: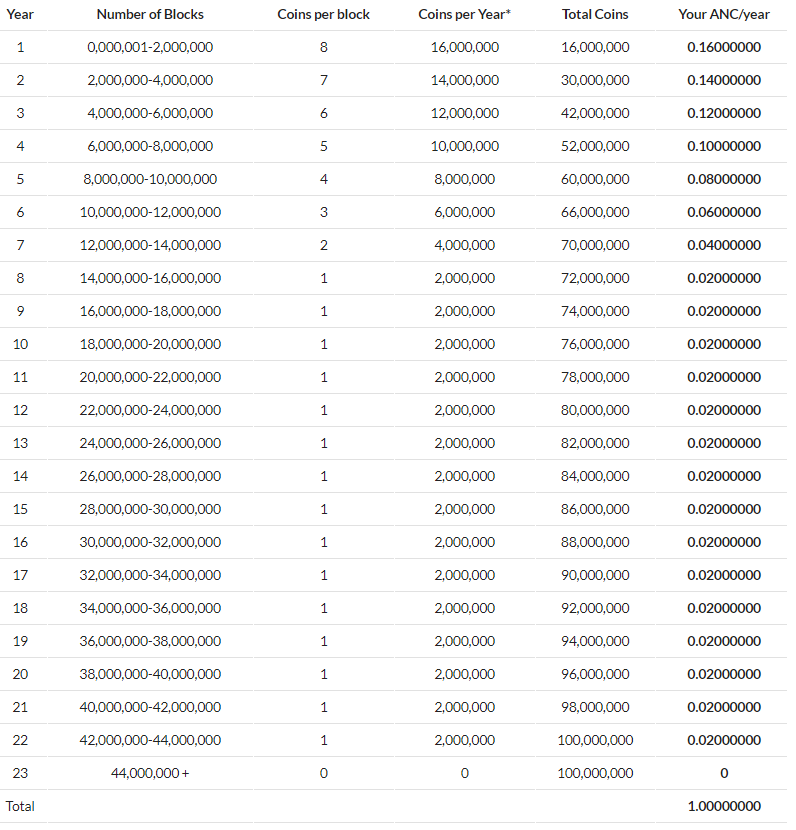 1 NEO (Antshare) will produce 1 GAS (Antcoin) over the next 22 years for you.
But what happens after 22 years? Will there be no more GAS? No, there will be no NEW GAS created, but the GAS that gets paid to the bookkeeper nodes will get redistributed.
Might the rules change in the future? NEO is in a super early development stage. I don't know the future – so yes, the rules might change.
What can I do with GAS other than pay for my transactions? If you spend 1000 GAS and get elected you could run your own Bookkeeper Node. Here is an interesting article about that : https://steemit.com/cryptocurrency/@basiccrypto/neo-how-to-set-up-a-bookkeeping-node
Let's do the math :
1 GAS costs at the moment 28.7% of 1 NEO (remember you have to hold that 1 NEO for 22 years to collect 1 GAS). If you could collect 3% interest over 22 years, an initial investment of 100 USD would be worth 136.72 USD
To put it in other words :
            VALUE:

            1 NEO + 22 YEARS   =   1 GAS 
                         
                           OR
                           
            12.43 USD + 4,564 USD (3% interest over 22 years) = 1 GAS

            CURRENT MARKET PRICE:

            1 NEO        =   3,48 GAS   



So at a fair evaluation of GAS it should cost 17 USD minus the value of the potential voting rights you get for holding a share of the NEO Network. But you can buy it at the moment for 3.57 USD.
Okay, so where can I buy GAS?
https://steemit.com/cryptocurrency/@deaf-null/why-i-am-buying-neo-gas-antcoins-instead-of-neo-antshares
If you want to check the math, I suggest you look up this page:
http://neo-blockchain.info/GAS.html
And if you're interested in PAY Tokens:
https://steemit.com/tenx/@chris83/tenx-what-i-like-what-i-don-t-like-and-why-i-am-still-investing
https://steemit.com/cryptocrrency/@chris83/tenx-a-comparison-to-visa-mastercard-and-paypal-and-how-much-you-should-pay-for-a-pay-token
TIP Jar:
Antshares / Antcoins / NEO / GAS : Azj4N83YnAiY8C4xwnjuBo9U5uzGgMfSrD
Ether / PAY : 0xb1CeD1F256b9d5088eecE9b9D8ba08CF1976D109
UPDATE: The feedback of a facebook user brought me to the attention of this interview with one of the core developers. If this is correct they might plan to distribute the used GAS not only among the bookkeepers but also among the NEO shareholders -> https://cryptocoinmastery.com/neo-reddit-ama/
Complete information is hard to come by, but if that information is correct it obviously changes the equation. Unfortunately, there is not enough information to adapt the mathematical model in this article.