Why I am buying NEO GAS (Antcoins) instead of NEO (Antshares)
Why I am buying NEO GAS (Antcoins) instead of NEO (Antshares)
Just a little round up before I begin. In July 2017 Antshares is being rebranded to NEO and Antcoins will be rebranded to GAS. July is going to be a hot month for Antshares. 
2017 Q3 Rebranding 
Anthares --> NEO 
Antcoins --> GAS   
NEO, somethimes referred to as "China's Ethereum" can best be compared to a share you hold in a company, like ownership. As a NEO shareholder you are partly owner of the blockchain. The NEO shares cannot be divided, same as shares you hold in a company; undividable.
So, when I'm a NEO holder, do I get dividend? YES! When you hold NEO in your core wallet (so not on an exchange) you receive GAS.
So how much GAS does one NEO produce? Let's have a look at NeoCoins and the answer is: 
It'll take you approx. 2170 day(s) and 3 hour(s) to get 1 Ant/Neo Coin.
Oops, so I pay about $7 to $8 for a NEO share to produce 1 GAS in more than 2170 days! Why not buy GAS right away? Well, a lot of people aren't aware of the fact that you can buy NEO GAS (currently called Antcoins before the rebrand) and NEO GAS is cheap!
Since the NEO shares have gone up in price and already listed on Bittrex you probably missed out on the big pump. Well, here's the good news; you can buy NEO GAS still before the big pump, as it is listed only on 19800.com, a fairly small Chinese crypto exchange. In the first week of July Antcoins were added to CoinMarketCap
NEO GAS (still listed as Antcoins on 19800) go for about 13CNY and that's about U$ 1.90 per coin. Imagine this NEO GAS hitting one of the Western exchanges, it goes 5x the price at least in no time!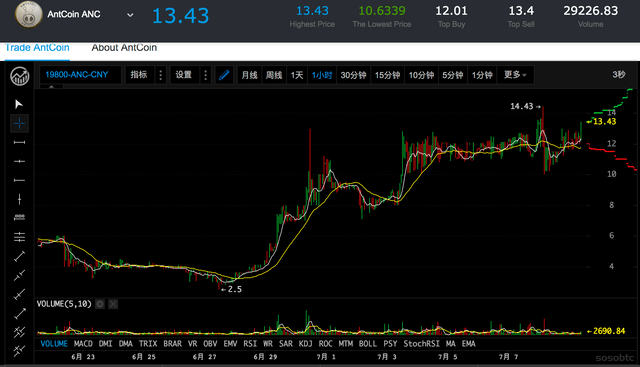 Antcoins on 19800 over past few weeks.  
But buying cryptos in China at 19800.com? Sounds like a lot of hassle to buy NEO GAS? Nope, not at all! Easy as baking cookies. Because 19800.com looks like a 2005 trading platform, doesn't mean it doesn't work, 19800 works like a charm. Back in the ol' days when trading your first Bitcoins, that's the idea you get from 19800.com, sweet!
To make it even more easy, here's a guide to get you started on buying Antcoins GAS on 19800.
Howto buy Antcoins (NEO GAS) on 19800.com (by mortenwi9)
1. Go to https://19800.com 
2. In the top right corner on the left hand side of the avatar/human icon, you will see 中文版. Click this once and the label will change to "English". Click it again to change language on the site to English. 
3. Now click free registration 
4. Enter email and password 
5. Click email verification link in your email 
6. You have now logged in successfully. 
7. Send email to [email protected] including your full name, passport number, photo of yourself holding passport and your 19800 account ID. This ID is listed top right corner. You can even grey out parts of your passport, if you are scared some hacker will get hands on your passport. I greyed out some numbers and it was accepted in a few hours. Some people get verified in minutes! 
8. On the Security page (https://19800.com/safe/index), head to "Set Google Authenticator" and follow instructions to set up it up. Once you have set it up, it'll take you to a new page with the title "Close double verification". Don't misunderstand this page, like I initially did, to think "closing the verification" means to close/finish the process; simply just click back to another page. Said in another way, in the process of adding the google authenticator, only enter the code once; entering the code second time means to remove the connection again. confusing copy on 19800. 
9. Wait for them to email you back saying OK or something or check https://19800.com/safe/identity/auth to see if your passport info etc is there yet. 
10. Now get some funds on 19800 to be able to buy AntCoin. For sending in any coin that they trade, hover over your email at the top right and select transfer. 
11. Find your coin of choice and send it over to the listed wallet 
12. Sell that coin for CNY 
13. Go to https://19800.com/safe/tradepwd/set and set up transaction passport 
14. Go to https://19800.com/market/cny_anc and buy ANC for CNY. 15. Transfer ANC GAS to your core wallet with 'Funds out'. Make sure you leave 1% on the exchange as Blockchain fee. Else your transfer is done manually and can take 24 hours. So you have 1000 ANC? Withdraw 990 (1000 minus 1%). In 30 seconds your funds are in your core wallet. 
Thanks for reading!