Steem vs USD. We are on our way to .85/USD! This could be the chance everyone has been waiting on to get some significant SP.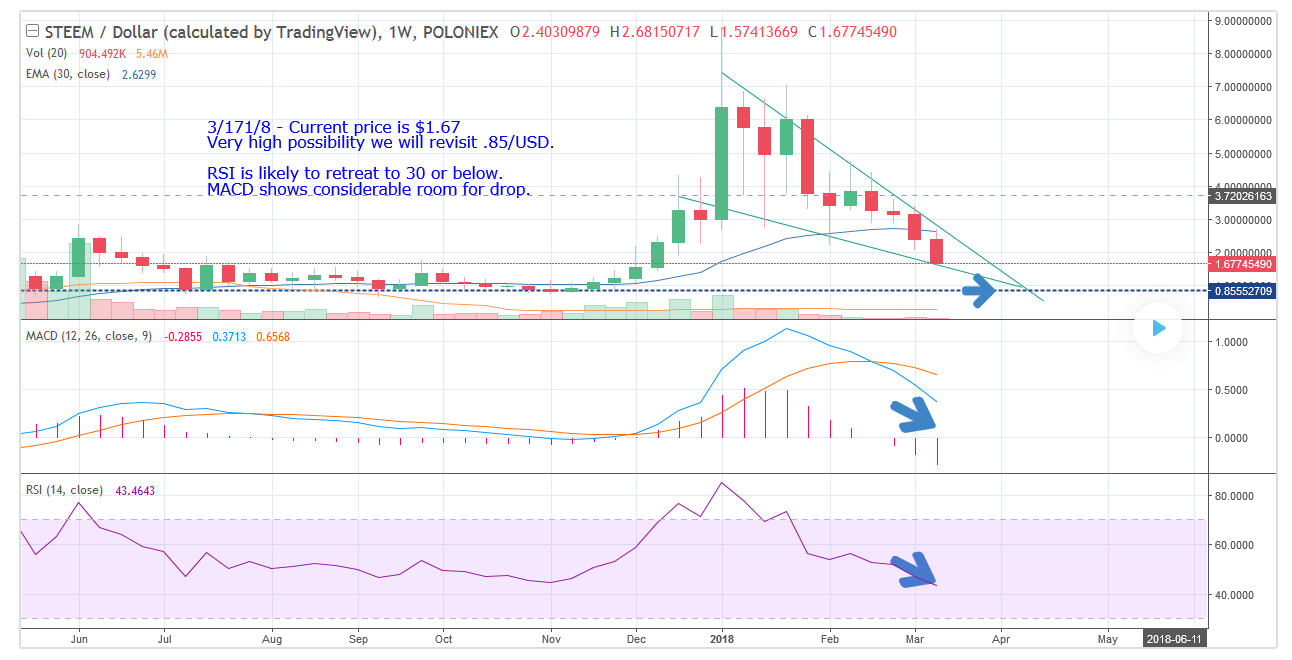 I'm afraid the technical indicators are really not showing any support for Steem until we experience a full retrace back to around .85/USD. Even then, there is a significant chance we could see some continued downward momentum as full fear and capitulations take over the space.
Today the RSI is still at around 40, so even if we only drop to 30 we are likely to endure another week of downward pressure. I am not expecting a reversal until below 30.
MACD is still showing a great deal of room to drop. (Until the blue line bottoms out and turns up into the red line.) This alone is showing massive downward potential below the .85/USD support line.
Last month I published this post that urged caution on getting back into BTC after the bottom was possibly in. I did not buy back in at that time due to the continued weakness in the recovery. There was no massive bounce off the bottom for many if not most of the altcoins I follow to convince me otherwise. We did see a nice reversal, but not enough to assure me that it was likely to be sustained. I have; however, continued to accumulate Steem by selling other tokens into the rally as the market allowed, via an average in program I put in place many months back.
I am looking for a continued drop in BTC at this time which will continue to put downward pressure on all ALT coins.
Interested in my track record, check out my blog starting back when BTC was just coming off its all time high of ~$20,000.
Long term, I am extremely bullish on Steem!!
I am very excited about this drop as I am very much looking forward to being able to purchase more SP at a massive discount.
Why am I so bullish??
Nothing has changed, the accumulation of Steem and more so Steem Power, is a requirement for any serious contributor on the platform.
Steem and SBD transfers occur on average within 3 seconds, few other tokens can claim this.
Steem and SBD transfers have no transactions fees, this is of immense value!
Steem can be transferred to and from any other Steemian or exchange without the requirement of a cryptographic address that cannot be remembered.
Steem and SBD are now actively traded on multiple exchanges.
The Steemit/Busy/dtube memberships are growing much faster than the Steem inflation rate.
I expect Steem to retest its all time highs before year end (short of any catastrophic external inputs).
So I'm going to be all in but ..... remember, most recoveries are very complex and few just go straight back up.
Patience is the most powerful tool in your chest.
---
My summary
Measured accumulations should be considered at around .85. (Possibly averaging in at a bit higher.)
Larger accumulations are not recommended until we see at least 3 consecutive days of rise in the Steem/USD price.
Now with that said and others trying to time the market, we could of course see a ricochet off the support as the bulls are let out of the gate. That is OK with me, we're heading to the moon, so trying to time in to gain 10% but risking 50% is just not how to win the game year after year.
Don't invest more than you can loose. Steem could easily drop back down to the .29/USD support if the crypto-space does not recover from its current trend.
Hope this analysis is useful to you. Comments are very welcome.
Disclaimer -- I hold more positions in Steem every day
Invest wisely for the future.
I've been trading now for nearly 40 years, but this is just my personal opinion and should not be taken as financial advise!
@bycoleman
https://ColemanAir.us
Craig