2500 STEEM ~ Sponsored Writing Contest: Liquidity Network
Welcome to the @OriginalWorks sponsored writing contest!
The first event of 2019 is here!
Status: CLOSED
Accepted Languages:
Start Time: ~9 PM ET, Friday
End Time: ~9PM ET, WEDNESDAY (Please note the time has been extended. This is due to many users still being on holiday. We want to ensure our users get a fair chance to participate!)
Special Twitter 1 STEEM bonus!
Details outlined at the bottom.
This is a call to all great Steemit writers! Liquidity Network has sponsored a Steemit writing contest!
Please make sure to read the contest topic carefully. Good luck!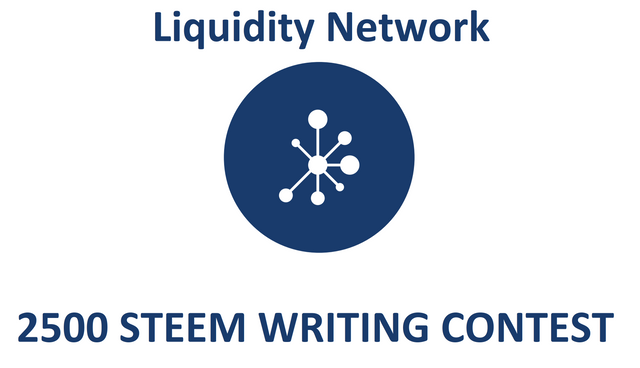 Prize Pool Total: 2500 STEEM Prizes: 2000 STEEM + 500 STEEM (100 bonuses of 5 STEEM!) + Twitter Bonus (Details Below)

1st Place: 130 STEEM
2nd Place: 120 STEEM
3rd Place: 115 STEEM
4th Place: 100 STEEM
5th Place: 93 STEEM
6th Place: 87 STEEM
7th Place: 80 STEEM
8th Place: 75 STEEM
9th Place: 70 STEEM
10th Place: 65 STEEM
11th Place: 60 STEEM
12th Place: 55 STEEM
13th Place: 50 STEEM
14th Place: 45 STEEM
15th Place: 40 STEEM
16th - 20th: 30 STEEM
21st - 25th: 25 STEEM
26th - 30th: 20 STEEM
31st - 40th: 17 STEEM
41st - 50th: 15 STEEM
51st - 60th: 12 STEEM
61st - 160th: 5 STEEM Bonus

Deadline: 72 Hours
All articles must be submitted within 72 hours of this post to be considered!
Changes in submission rules below
The Liquidity Network is a simple, scalable, private and transparent network built on the Ethereum Blockchain designed to support millions of users and bring about mainstream adoption.
The Liquidity Network ecosystem is built on the synergy of its two key components:
The Liquidity Hub NO-CUST
The Revive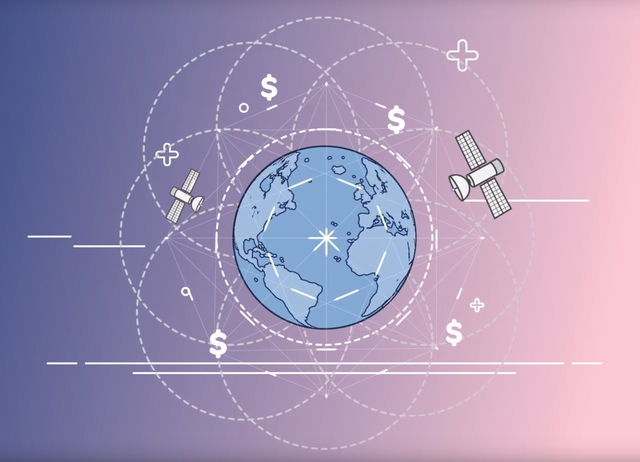 The Liquidity Network Application - Liquidity Exchange
One of the initial applications of the Liquidity Network technology is the Liquidity Exchange.
The Liquidity Network leverages the benefits of centralized computational power and the decentralized nature of blockchain in order to create an exchange that has the speed of a centralized exchange, and the security of a decentralized exchange. The Liquidity Network
Exchange never holds any funds while performing atomic swaps off-chain, making it scalable and secure.
Nocust is derived from "Non-Custodial", which enables off-chain non-custodial transactions that forgo the costs associated with on-chain transactions. By design, the number of transactions per second will only depend on internet latency and bandwidth.
Revive
REVIVE is an integral part of the Liquidity Network. It is an algorithm that enables different hubs to rebalance their payment channels off-chain.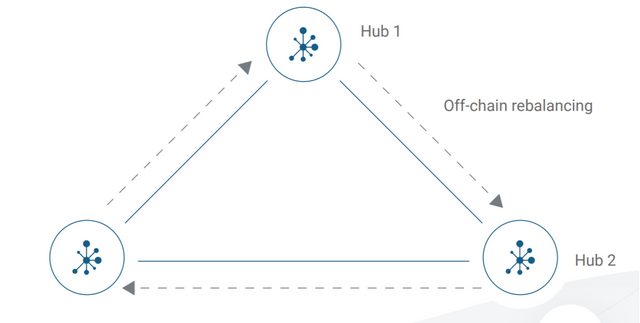 Liquidity Network: WhitePaper, Page 12
Since the rebalancing is done through off-chain transactions it does not add to the congestion of the given chain, and is therefore scalable and low cost.
Off-Chain Transaction Settlements
Off-chain transactions can be separated into two main categories. The 2-party transactions are between 2 users, while N-party transactions are between more than 2 users:
2 party payment channels
N-party payment hubs
The following are different types of 2-party channels:
Unidirectional

A unidirectional channel is between two parties; one of which deposits collateral of some sort (e.g. ether). The deposit is a security that encapsulates the maximum amount that will travel through the off-chain channel. Funds can only travel in one direction in a unilateral channel.

Bi-directional

A bidirectional channel is one between two parties that both deposit collateral. This channel allows funds to be sent in both directions. The risk with bidirectional off-chain transactions is that an illicit node on that channel (one of the two parties) can invalidate the previous transaction and steal fund from other party.

Linked payments

Linked payment channels are used in the case where two peers are not directly connected. Every member deposits some collateral in this network. With linked payments topography, the following considerations are taken into account: route finding, channel maintenance, transaction security, and congestion balancing.

2-party payment Hubs

A 2-party payment hub is an extension of the above types, which includes more than just two people participating in a direct transfer of funds.
N-Party Payment Hubs
N-party payment hubs remove much of the computational work that 2-party hubs require as pertains to rebalancing collateral. This makes transfers cheaper, faster, and allows more users to participate in the hubs. Liquidity Network Hub offers free offchain channel registration. Comparing to 2-party payment channels which requires complicated routing topology, Liquidity Network Hub offers simple routing.
Payment hubs ensure funds are only transferred between users, and never held on a server. A server, however, is utilized to compute the transactions so that they are faster and cheaper for the hub as a whole. Again, while the server computes the transactions, the user holds the funds, so the funds of the users in the payment hub are not compromised.
N-party payment hubs lower the barrier of entry that are necessary to join a hub, thereby creating more liquidity!
Decentralization of the Liquidity Network Nocust Hub
Users within hubs own their own funds via their private key. Hubs are interconnected in a similar fashion to those on the Lightning Network and Raiden. If a user chooses to remove their funds from the hub, the user cannot be stopped from doing so; the user can then opt to join another hub. Users from different Hubs can send funds back and forth employing the advance of Revive protocol
The Liquidity Network is about efficiently managing these payment hubs: low set up costs, low maintenance costs, and working regardless of blockchain congestion. Liquidity can handle millions of users per Hub!
Liquidity's surprisingly simple solution is to have an off-chain server running together with a smart contract. Anyone can run their own hub server, and all the funds of the accounts on these servers are in the control of the users with private keys to those accounts.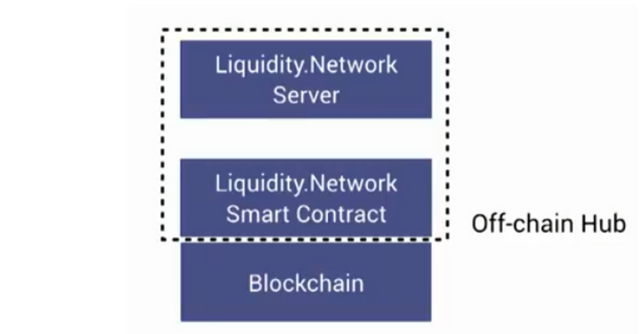 More can be learned about Liquidity's architecture in depth from their Stanford BPASE Talk:
Applications based on the Liquidity Network technology are being developed for mobile as well as desktop. Below is the Liquidity Network wallet.
Desktop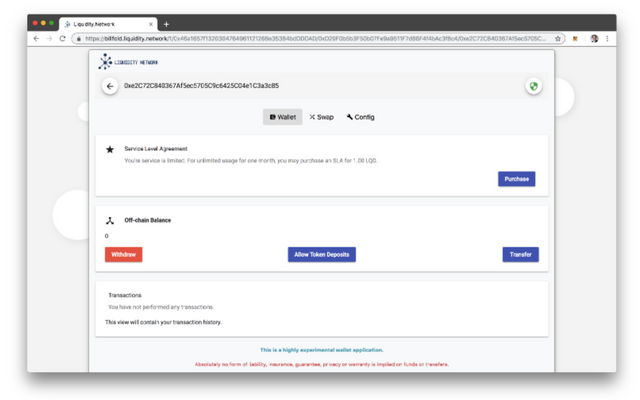 Liquidity Network Wallet Desktop
Mobile
The Liquidity Network Wallet is available for both of the most common operating systems on mobile devices - IOS and Android!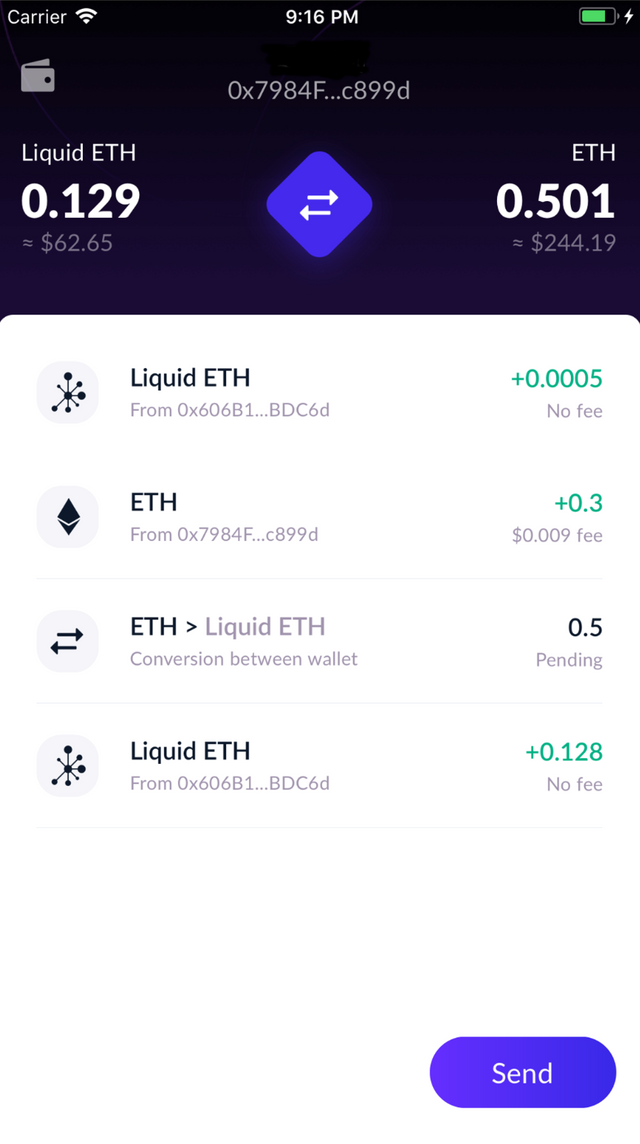 Liquidity Network Wallet Mobile
The Liquidity Network Exchange marries the best parts of centralized and decentralized exchanges. The comparison below depicts the feature differences between commonly used exchanges, and how Liquidity Network Exchange is able to maintain the best features of both worlds!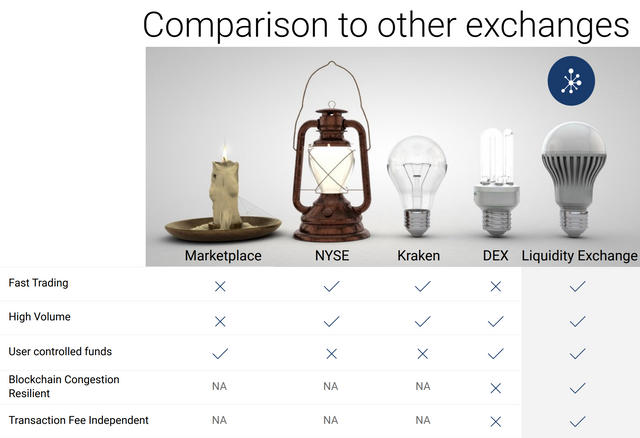 Use Case: Airdrops
One of Liquidity's killer apps is the airdrop function.
Current-day airdrop solutions do not maintain the spirit of decentralization in the way that open initiatives should, according to Liquidity. As it stands now, airdrops operate through a custodian; some employee is holding the funds on wallet. This custodian sends the user their private keys, which is in of itself a security concern. The transaction of sending the private keys out is all on-chain, which is slow, bulky, and inefficient.
With Liquidity's airdrop functions: there is no custodian, no transaction fee, and millions of transactions can be done instantly - propagating the airdrop faster. Users of Liquidity can launch multiple drops to different user groups, decreasing the costs of cumbersome marketing efforts while focusing more specifically on target markets.
Here is a video that gives a quick overview:

More Information & Resources: Submission

Write an article about the Liquidity Network! How does Liquidity's ability to scale and support millions of users make it better than current solutions? How is Liquidity's ability to make efficient off-chain hubs solve the issues of high transaction costs? What are the benefits of maintaining control of your private keys just as you would with decentralized services while the computing is handled by an efficient centralized server? How is Liquidity Network suited to allow true decentralization and efficient transfer of funds? Please come up with some use-cases as well. As always, the topic is fairly open-ended, so be creative!

To submit please do the following:

Add the word "lqd2019" (without the quotes) at the very end of your article.
Link this post in your submission.
Post the link to your article as a reply to this post.
Resteem this contest post.
Rules
The article must be at least 250 words in length and it is recommended(not mandatory) that the length is under ~1500 words.

At least 70% of the submission must be original. Using "article spinners", and other word substitution tools is also not permitted.

All copied text must be in quotes. Feel free to copy links to resources from the contest post, but please be sure to not copy from other contestants.

Please keep discussions relevant to the contest topic. We would like to encourage a good vibe in the comments!
Please note, any users caught copy pasting or word spinning material without clearly showing that they took the work from somewhere, such as using quotes, will have their submissions disqualified.
Video Bonus

Feel free to use images and media from their website. You can even make your own video and have it in your submission! Videos have a chance of winning a separate bonus based on quality. Videos should be uploaded to YouTube. DTube or IPFS. Please do not remove the videos, or it might impact future eligibility. Feel free to make a new YouTube account for these. We really wanted to use DTube, but sometimes the videos were not view-able at all. We may change this in again in the future. For the time being please ensure whatever service you choose to use is working.
For the Twitter bonus:
Tweet the link to your article on Twitter.
Tweet should contain article link, mention @liquiditynet as well as one of the cryptocurrency related hashtags such as #blockchain, #crypto, #exchange etc
Add the link to your tweet at the bottom of your competition Steemit post!
At the end of your article, add the word "lqdtwitter2019", without the quotes!
This is great because it will also encourage Twitter users to come join Steemit as well!
The bonus for this 1 Steem for every article that tweets and meets a level of quality and contest conditions.
How the winners are decided
The submissions will be passed along to the team at Liquidity Network, and they will decide the best method for picking winners and the winning articles.
This can mean that the team judges the submissions, or they ask our team to judge it. Regardless of the method, the final say always lies with the sponsor.
More information & recommendations:

Pay attention to spelling and grammar!
Feel free to use informal language such as "I would, etc"
Use information and resources above to learn more about Liquidity Network!
If you copy something, use quotes. This is an @OriginalWorks contest after all :)
Link the company's website: Liquidity Network so that your readers can do research for themselves.
Articles can be edited up until the deadline.

After writing an article, within a few minutes you should get one of these as a response to your article post:

If you don't get one, let me know by adding a quick message after you submit your link as a reply here and it will be done manually. Sometimes it can take some time, so don't worry if it isn't instant! Rest assured, as long as your link is shared as a reply here, everything is double checked at contest close to ensure that all articles are submitted!
100 submissions will get 5 STEEM each. The article must meet the contest conditions such as word length and a level of quality.
Disclaimer: @OriginalWorks makes no claims as to the legitimacy or operating procedures of contest topics. @OriginalWorks does not offer any sort of investment advice. This is a writing contest. @OriginalWorks only guarantees prize payout. The contest topic company may choose to share the contest submissions that receive prizes. If for whatever reason there are over 500 submissions, new submissions will not be considered.
Good luck to all the contestants!