The Liquidity Project
INTRODUCTION
Over time, the blockchain/crypto industry has hit some snags, and also encountered some problems that hamper its growth and mass adoption.
This has been true for every industry, since time immemorial, and it is how these problems are tackled that determines how the industry in question will be shaped.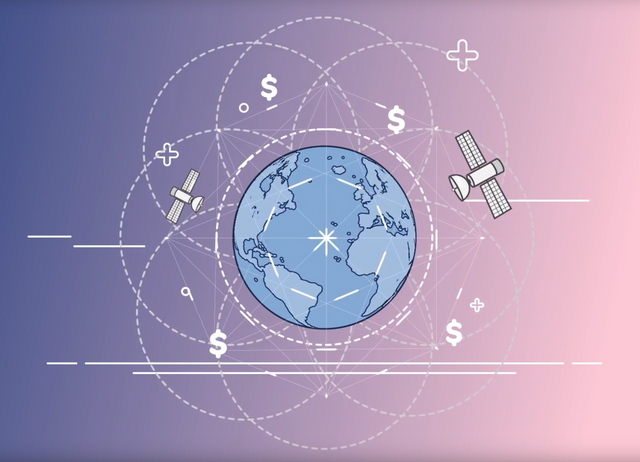 Liquidity is a project that is looking to answer some of these pertinent questions, via its solutions that hopes to improves the overall usage and value, crypto enthusiasts derive from their activities on the blockchain.
Liquidity has two solutions that by combining these, they hope that mass adoption can be achieved sooner, rather than later.
THE LIQUIDITY NETWORK AND LIQUIDITY EXCHANGE.
The Liquidity network makes it possible for financial payments to be effected via an intermediary, who does not have to be a custodian of the funds.
By doing away with the need to handle funds, the transaction costs involved are much more cheaper than what users have been made to fork out, before this time.
Liquidity's Exchange is an off-chain solution that is also non-custodial. The implication of being on centralized channels is that the network does not get as congested as it would have been, if the exchange was on chain. Also, costs of managing the Exchange are reduced, hence it also means that the cost involved when performing atomic swaps is also much cheaper.
FEATURES OF THE LIQUIDITY ECOSYSTEM
Cheaper transaction costs.
Instant exchange of cryptos.
Great UI
No rigid structures and lock up of funds
Transparent
Blockchain Technology ensures its security
Non-custodial
Flexible fees payments options
Built on Ethereum and portable to any smart contract blockchain.
LIQUIDITY'S PAYMENT FEATURES
*Members of a hub can carry out transactions between one another with no transaction fees attached.
Off-chain channels can be setup immediately.
Makes use of simple routing designs.
LIQUIDITY'S EXCHANGE FEATURES
It handles swaps instantly, with very low fees, and also without a need to hold on to funds.
Can be operational in the midst of blockchain congestion.
Swaps are not carried out on the blockchain, and they are effected immediately. Transaction speeds also rival those of centralized exchanges.
LIQUIDITY'S ARCHITECTURE
Off-Chain Hub
Liquidity makes use of a network of connected hubs that ensures that users within a hub can carry out transactions between one another securely, without a fear of loss of funds. It removes the need of tying down funds to just two parties, rather everyone in the hub can have access to the resources available. However, by making use of private keys, Liquidity ensures that funds cannot be stolen or removed by unauthorized users.
This ensures that millions of users can exchange value instantly, and transactions can be conducted in a much more dynamic environment.
Users always have control over their funds. Hub operators do not have the power to stop a user from moving his/her funds to another hub.
Multiple hubs can also be interconnected, meaning that the reach of users and applications are extended. When more than one hubs are interconnected, users that could not transact with one another, seeing they were on different hubs are now able to do so. This ensures that provision is made for redundancy.
By being off-chain, the costs connected to computational power and other resources needed to effect transactions have been reduced. Also, cost of operations is also reduced, seeing transactions are not carried out on the blockchain.
This is how Liquidity is able to solve issues related to high transaction costs.
REVIVE
This gives users in a network the ability to rebalance their network as they deem fit or is required. On-chain transactions are not required, except when there is a need to resolve a dispute. This makes the network less susceptible to stagnation, thereby increasing its scalability.
REVIVE ensures that different hubs within the ecosystem can rebalance their balances, when the need arises to do so.
POSSIBLE USES OF LIQUIDITY'S SOLUTION
Airdrops
Purchases
Money Transfer
IoT sensors
Non-custodial Off-chain Exchange.
ADDRESSABLE MARKET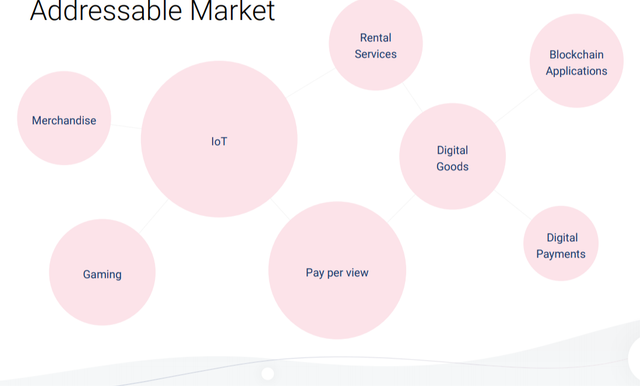 COMPARISION TO OTHER PAYMENT SOLUTIONS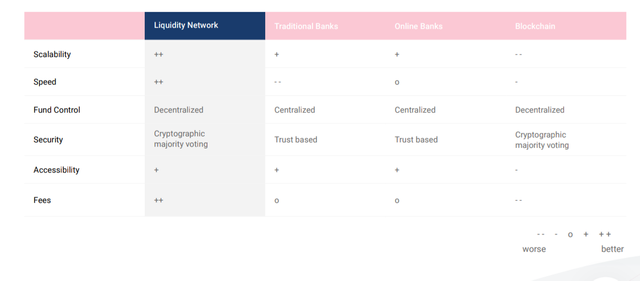 COMPARISION TO OTHER OFF-CHAIN SOLUTIONS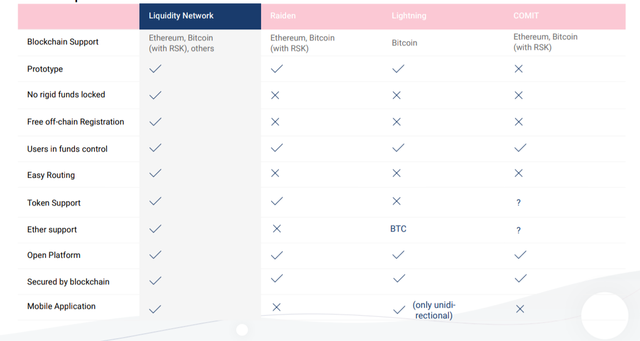 COMPARISION TO OTHER EXCHANGES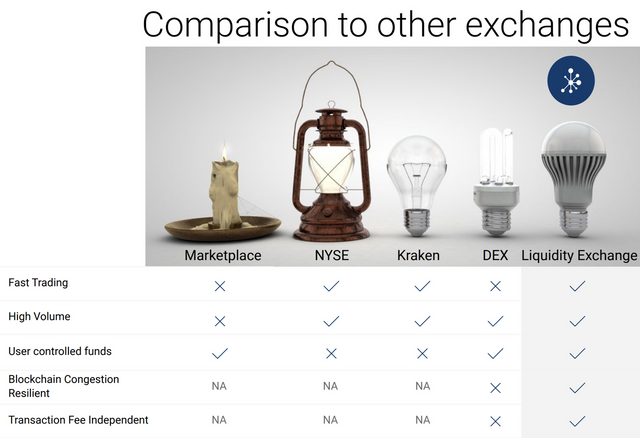 LQD TOKEN
The importance of this token is to extend the use of the ecosystem. This token will not be necessary for average day-to-day activities, rather, they will only be required to gain access to premium services, such as Service Level Agreements. It will also be used to pay for services such as channel monitoring.
USE CASE
Socity is about to begin its ICO, and they need the best solution to be able to effectively meet their obligations. They hope to sell 35,000,000 tokens and have a airdrop, where they are going to be offering a massive 250,000. In order to focus on some development and marketing needs, they come to a consensus that it will not be feasible to handle allocation of airdrops they way it is being currently done.
By making use of Liquidity's solution, the process no longer has to take a lot of time, expose anyone to security risk, and have to spend a whole lot of time and resources distributing them.
This ensures that more objectives can be met, and they can increase their followership and engagement.
SUMMARY
When users maintain control of their private keys, it effectively means that they are in total control of their funds, how they spend it, and where they move it to. Many exchanges operate without regards for their users, rather they put themselves first. By being in control, users have the upper hand, as it should always be.
With Liquidity, while they possess control over their private keys, they do not have to forgo other benefits they were deriving, such as efficient servers, because Liquidity is able to process transactions instantly, and as fast as any centralized exchange. By ensuring computing is handled by efficient centralized servers, users have no reason to worry about downtime, latency and servers being overwhelmed.
Liquidity is well suited to groom an environment for true decentralization, because it is taking care of all the issues critics point to, and not forgetting real problems faced by the industry.
Getting the best out of centralized channels and decentralization ensures that users are getting the best services, and they can also get the positives from both sides of the divide.
Liquidity's ability to scale up rapidly ensures that it is ready to support millions of users, because when these users come on board, latency and servers being overwhelmed will not be a problem, like it has been the case with many exchanges.
This is precisely the reason why they have a centralized and also a decentralized facet, not forgetting interconnected hubs and REVIVE. With all these together, users can be sure to have the best experiences they could only dream of.
TEAM
![team]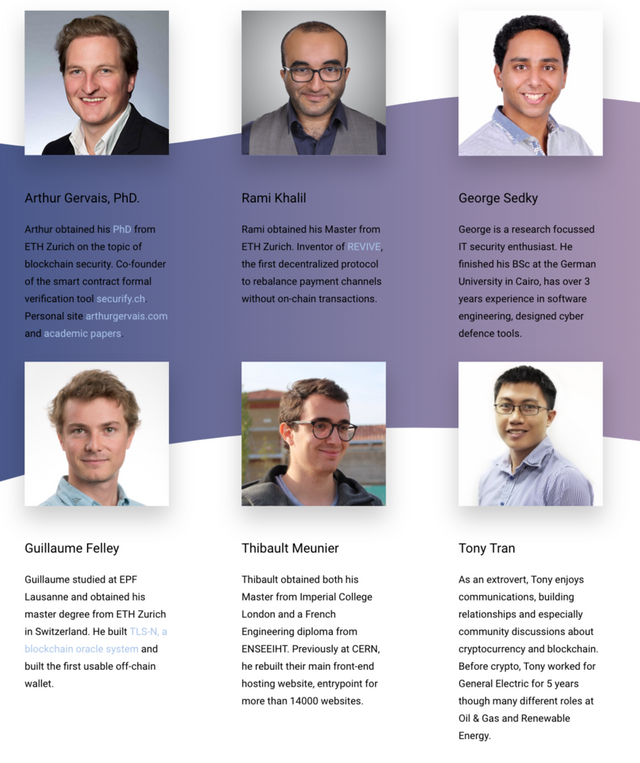 ROADMAP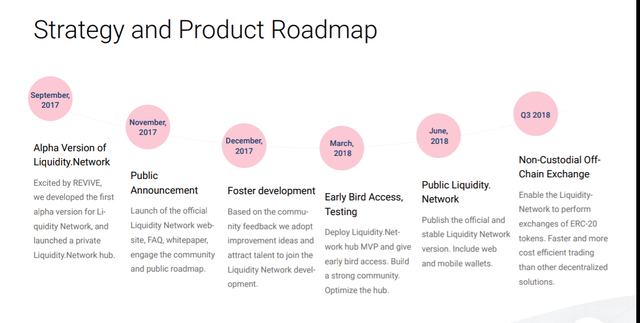 VIDEOS