Welcome to Cook with Us #14!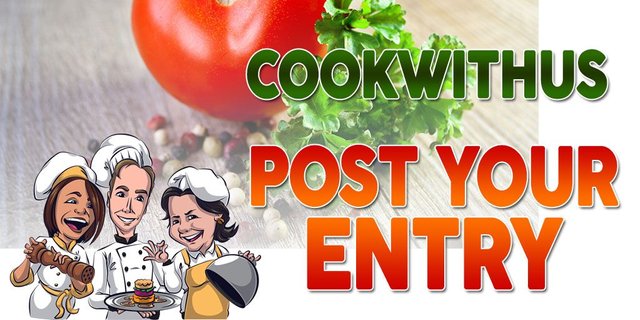 It's hard to believe we are now on Week #14 of Cook with Us, the end of Season 1. What a wonderful and creative bunch we've had thus far! We know a lot of time, energy, planning and money have been put into every entry and we truly appreciate it. Our hope is that you have widened your knowledge of food and cooking techniques as we have and made new friends along the way. And even though this is the end of the first season, if you are new to Cook with Us and would like to join, please know that it's never too late. Hop in and join the fun!
There will be a 3-week break before we open up Season 2. The Cook with Us team - @chefsteve, @pandamama and @offoodandart - will be working behind the scenes during this break to plan Season 2, so watch for our future newsletters. Also check us out on Discord (scroll down for more info on the Cook with Us Discord channel) to see what else is happening within the community.
---
Exciting News: Cook with Us will be on @aggroed's Radio Show on 10Jun2018
Tune in to @aggroed's MSP-Waves at 9 pm EDT on 10Jun2018. Cook with Us will be on the air. Please join us either as a listener or as a participant. We are hoping we can get some representation from the Winners' Circle to join the panel. If you're interested, please let us know by sending us a comment below or via Discord. More details to come in the next posts.
Please show your support for @aggroed by voting for him as a witness.
---
The theme for Cook with Us #14
Anything Wrapped
No Mystery Theme this Week
We are wrapping up the first season of CwU and so it occurred to us that wrapped foods is the perfect theme this week. This week you must make a food that has some kind of wrapper around it. This food can be anything that you want from a savory food to a dessert or snack food.
Do you need some examples of wrapped foods? How about dumplings, crêpes, lumpia, pigs-in-a-blanket, ravioli, cabbage rolls, maki rolls, burritos, spring rolls, samosas, cannelloni, roti, pate en croute, fu pei guen (stuffed beancurd skin), beef Wellington, empanadas … As you can see, everyone around the world likes to eat wrapped foods! We want to see what your favorite wrapped food is and we always love to know any stories about this food that you think are interesting.
For this round, we decided to not have a mystery theme as the options for wrapped foods is wide open ... anything from all meat to vegan dishes. Good luck and we look forward to seeing your wrapped creations!
---
Cook with Us is on Discord

To join, please follow the steps below.
- Create a Discord account if first time on Discord. It's best to use your Steemit username.
- Download the Discord app which can be found here.
- Click on this link to join the Cook with Us channel.
The Cook with Us Contest
The Cook with Us team - @chefsteve , @pandamama and @offoodandart - is very excited to welcome you and look forward to getting to know you as we cook or create dishes together. It is our intention to build a community of people that enjoy cooking and sharing with each other. We are pleased to announce the following prizes for this challenge:
First place - 5 SBD

Second place - 3 SBD

Third place - 1 SBD
Winners' Circle
Thanks once again to @zord189's generous sponsorship, there will be 3 winners in this group and the prizes are as follows:
First place - 5 SBD

Second place - 3 SBD

Third place - 1 SBD
The following, if participating in Cook with Us #14, will be competing in the Winners' Circle, including whoever wins 1st place in Cook with Us #13.
1st place winner of CwU #13
---
Cook with Us Official Contest Rules
Please take some time to review the contest rules below. We have made a few changes. We understand that a lot of work is put into every post and we do not want to disqualify anyone for not following the rules. If you are unsure about any of them, just ask us for some clarification. We will be happy to help you.
Contest Entry Rules
The title of your post should look like this: Cook with Us #14 – Name of your dish. For example, Cook with Us #14 - Grilled Chicken Empanada.

The first tag on your entry must be: cookwithus.

Upvote and resteem this @cookwithus post that you are submitting an entry for.

The first time you enter this competition, submit a proof photo. This can be in the form of a handwritten note with your Steemit name, the name of the dish, and the date with your entry - or it can be a photograph of yourself with your dish. Thereafter, you will not need a proof photograph going forward as we will know who you are. Please do not use Photoshop for the proof photo.

Include a description of the dish. Some examples are the taste of the dish, its origin, or the story behind it.

Describe why your dish works. Give a brief description about why you put these ingredients together.

Post a link to your entry in the comments section of the weekly challenge. This is the post that announces the start of the week's contest

You can only enter one dish per entry (a dish means a single version. Not one dish two or three ways). You may only enter one entry per week.
General Contest Rules
Contest ends every Monday 12:00 UTC.

Results will be published no later than Thursday 12:00 UTC, three days after the contest is closed.

Entries do not have to be original. However, if not original, please provide the source.

While the calendar may be showing future themes, entries can only be submitted for the current week's contest and only after the official post for the contest is made. Entries submitted before the official start date or after the deadline will not be considered valid entries.

The Cook with Us contest will cover many topics and disciplines. Make sure you check for weekly contest rules that may change due to the nature of the challenge.

By entering @cookwithus, the contestant agrees to their material being used by the organizers for any purposes and will not be compensated should the material be published. But you, the author/photographer, will be given written credit.
---
The Cook with Us Calendar

---
Acknowledgements
There were many people that helped us to get this competition up and running. We would like to say a BIG thank you to them all and express our sincere gratitude for their contributions.
Thank you for @zord189's support. It has enabled us to extend the prizes in the Winners' Circle.
We are delighted with the caricatures made for us by @bazbiscuit and already people are asking where they can get these delightful little characters. Thank you Barry!
@jacklimberis made our banner and gif for us. Thank you Jack - we really appreciate all the hard and beautiful work!
Thank you @edenmichelle for making the youtube video for us. A huge thanks as well to @leelektrik for creating our logo.
Thank you VIEWLY for the View Token prizes that we will give to our contestants who make a little video of their recipes.
---