---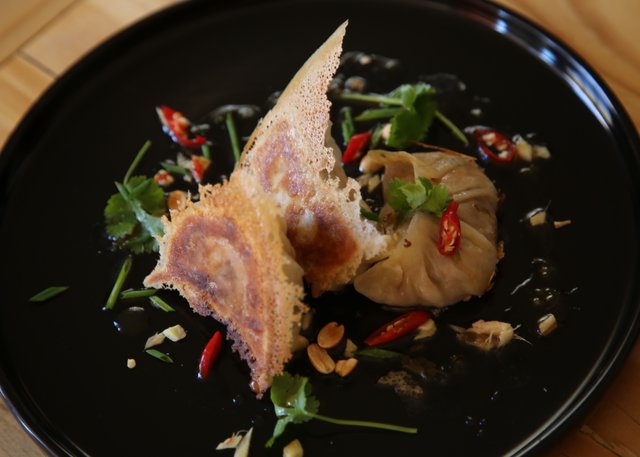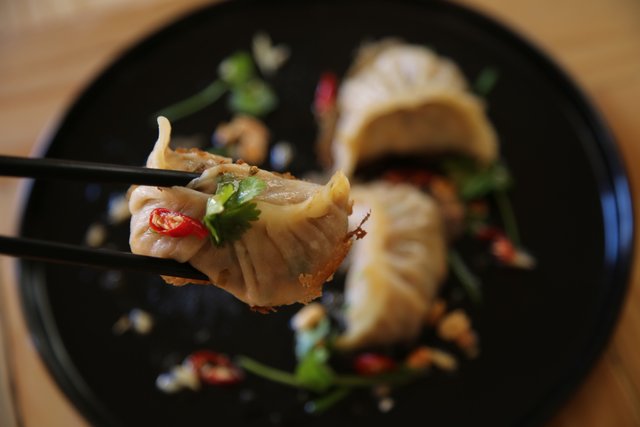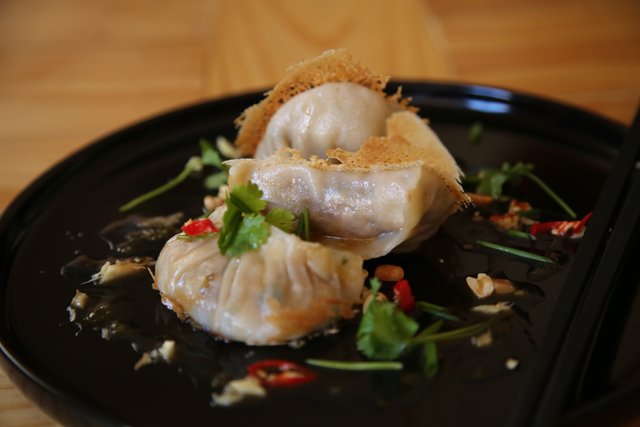 ---
Happy Tuesday!
As always, thanks so much for hosting this most eSTEEMed weekly contest @pandamama @chefsteve and @offoodandart. If you haven't check it out yet, head on down to @cookwithus and join the community of lovely foodies making lovely foodies! Congrats on wrapping this first season, it's been such a pleasure getting to know everyone!
So for this week's wrapper theme, I couldn't resist a pot sticker.
But first, story time.
I was a naughty kid. I don't mean that in the 'ah, she's just a little active' kind of way. I fully admit that my poor parents had a hard time with me.
A combination of worming my way into adult conversation and drawing giggles from my uncles, I developed a penchant for cursing.
Like a little sailor.
My parent's solution was to give me a good dose of Tabasco so I could understand that my words burn, or something along those lines.
The outcome? I grew addicted to the endorphin-pumping Capsaicin and now many of my birthday or Christmas gifts feature at least one bottle or Tabasco, or something a little stronger made with a variety of exotic peppers from all over the world (My flavour of the month is a ghost-pepper and apricot hot sauce by Johnny Hexburg).
Anyway, most of my youth was spent pouring the spicy sauce over everything I ate (even over ice cream- don't knock it 'till ya try it- I recommend Lea n Perrin's over lime sorbet).
It wasn't until my twenties that my palette developed and I realized I couldn't just pour hot sauce on everything.
Instead, I have learned to carefully incorporate chili into dishes that warrant them, and few do better than a potsticker at carrying the heat.
While it took approximately 580 attempts to learn to shape a half-decent looking dumpling(considering wonton wrappers are near-impossible to find in Cape Town, and I've had to resort to making my own), and another 300 to find the sweet spot between a crispy bottom and a well-cooked wrapper, that was only the start of the fight.
As I was raised in a decidedly European home with relatively vanilla sensibilities, finding the balance between salty, sweet, sour and spicy has taken approximately a trillion attempts, hundreds of tastings at dim sum restaurants all over the country, and 6 years to get to this point.
These are those dumplings.
And below, the dipping sauce that will set your face on fire, but will have you drinking it like a broth.
Poor English Matt has taken 4 years to grow accustomed to the spicy food, but eats these like a trooper now!
So this is how I make them from scratch (I do not claim that they are authentic by any means!)
With Wings! Because more crunch=more yum!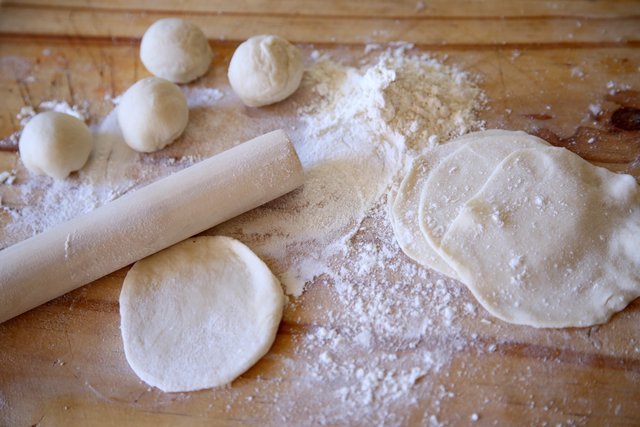 ---
Dumpling Wrapper:
Makes about 50 wrappers
3 Cups plain flour, plus a little extra for dusting
1 tsp Salt
1 Cup Boiling Water
Method:
Sift 2 cups of flour and salt into a large bowl and make a mound in the center
Add boiling water and stir until fully incorporated.
Add remaining flour bit by bit and knead until a smooth dough forms.
Wrap in cling film and rest for 15 minutes before kneading for another 2-3 minutes, add a little flour if too soft- the dough must be quite firm after each kneading. You can see the difference in texture between the first and second kneading, the first will be slightly coarse looking, and leave a dimple when poked. The second kneading will result in a smooth ball that springs back when prodded.)
Rest for at least an hour in the fridge or until ready to use.
Cut into quarters at a time and cover the rest while rolling them out.
Break off grape-sized balls and dust work surface before rolling them into disks. Giving the dough a quarter turn with each roll ensures a pretty accurate round shape. (or you could use a mug or cookie cutter if you're a stickler for perfectly round disks...I'm definitely not.) I can't give an exact measurement, but know they're thin enough when I can see my fingers through the dough if held up to the light.
---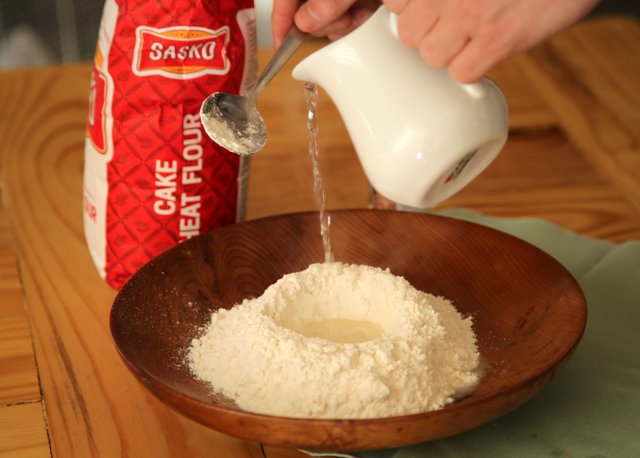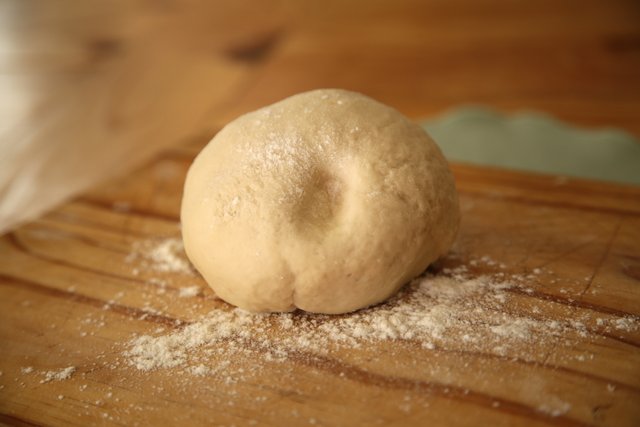 First Knead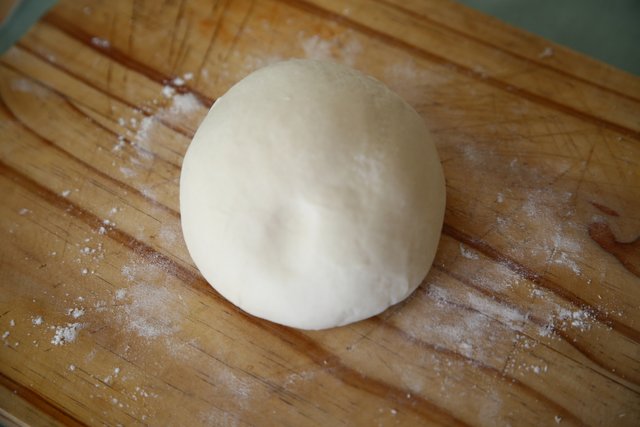 After the second knead- smooth and silky
---
---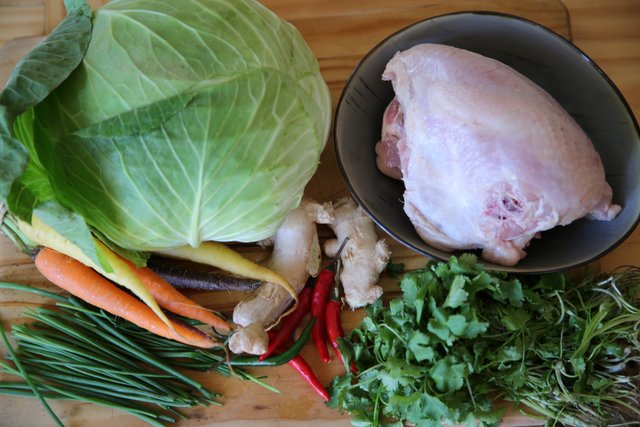 Chicken Filling
400 grams chicken/2 breasts (I used breast because I had some in the fridge, but thigh is better!) chopped into a fine mince
1 large or 2 small carrots, grated
1 Cup finely shredded white cabbage
2 Chilies (I used red Thai chilies)
1 Tbsp finely sliced fresh ginger (paste works too, but I prefer the bite of bits of ginger)
1 Tbsp minced garlic
2 Tbsp minced spring onions or chives
1/2 Cup finely chopped coriander leaves
2 Tbsp thick sweet soy sauce
1 Tbsp low sodium soy sauce
2 Tbsp rice wine vinegar
1 Tsp sesame oil
1 Tbsp white pepper
1 Tsp salt, or to taste (I fry off a little of my filling and taste it before filling the dumplings)
*1-2 Tbsp corn starch, as needed
---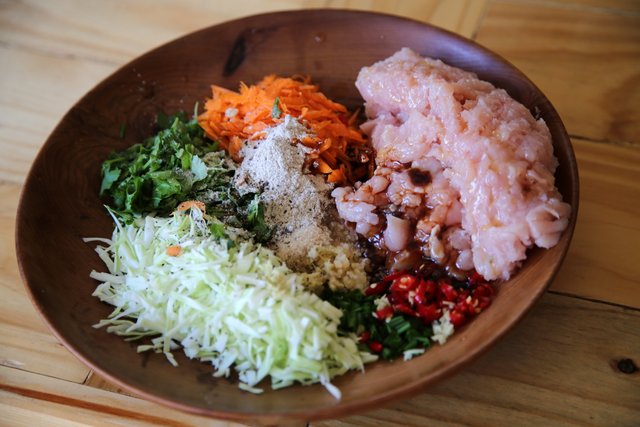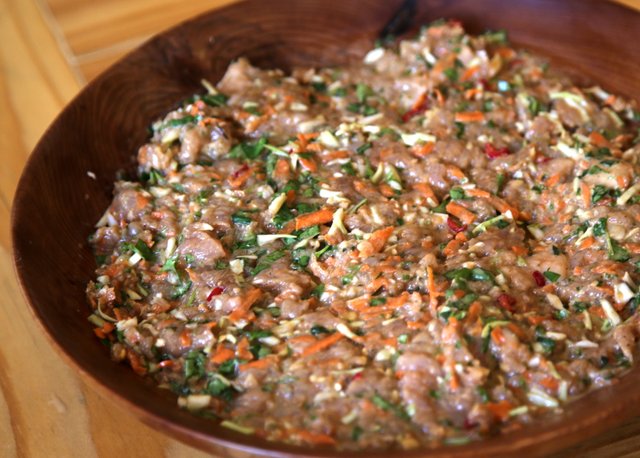 ---
Method:
Finely mince chicken until it resembles a coarse paste.
Finely shred cabbage and carrots and add to chicken
Mince garlic, slice ginger, spring onion/chives and chilies and add to chicken mixture.
Add sesame oil, soy and vinegar as well as seasoning and stir to combine.
If mixture is wet and loose, add cornstarch a little at a time until it comes together sufficiently for a little of the mixture to form a soft ball when rolled in your hands.
Cover with clingfilm and refrigerate until ready to roll dumplings
---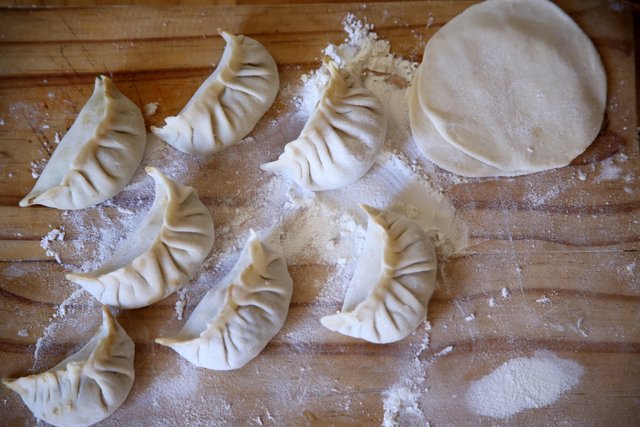 ---
##To Assemble
Lay wrapper in your non-dominant hand and moisten half the edge with a little water
Place approx 2-teaspoons of chicken mixture in the middle, rounding slightly with the edge of a spoon to press it together.
fold bottom of wrapper over and pinch in the middle.
Working from the middle outwards, make a small pleat in the side of the dough facing you towards the pinch in the middle and pinch to seal before repeating little pleats to the edge, then repeat on the other side- this time pulling pleats in the opposite direction towards the pinch in the centre.
Once all pleats are done and dumpling is enclosed, gently pinch until it forms a crescent shape.
---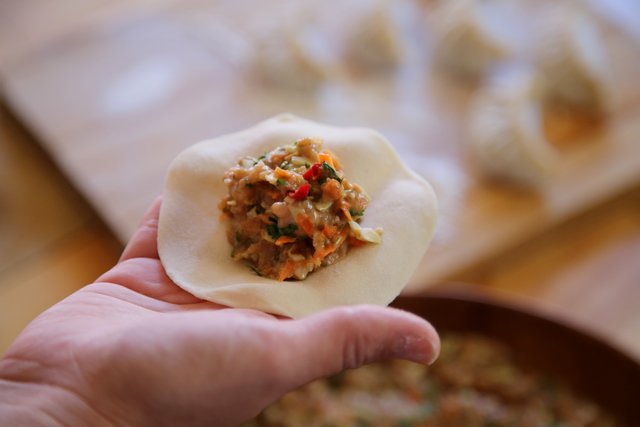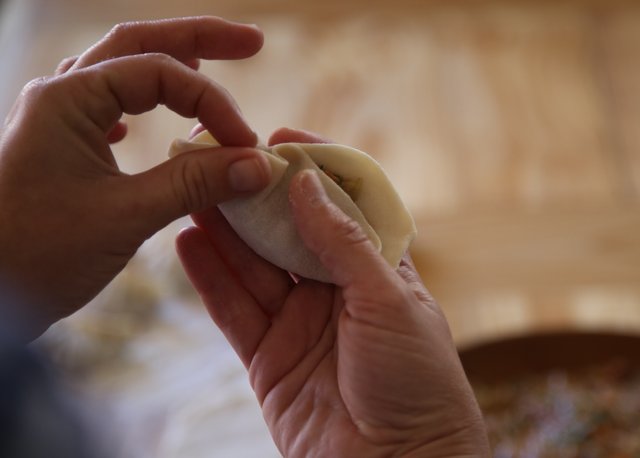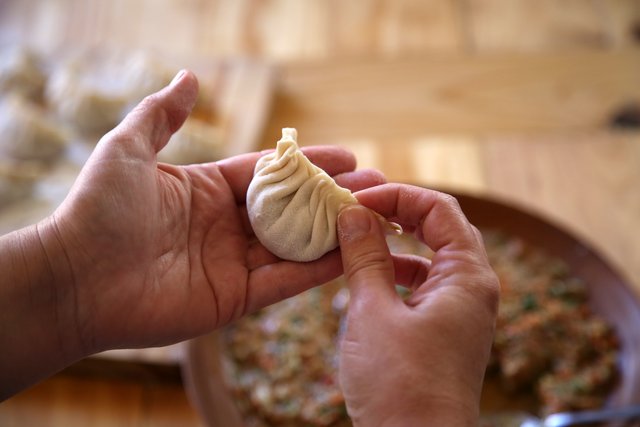 ---
---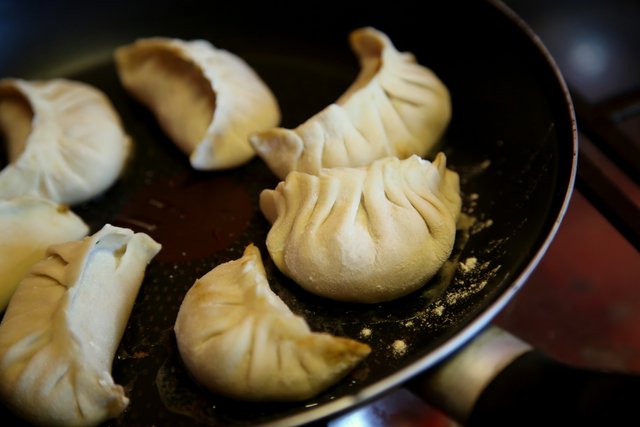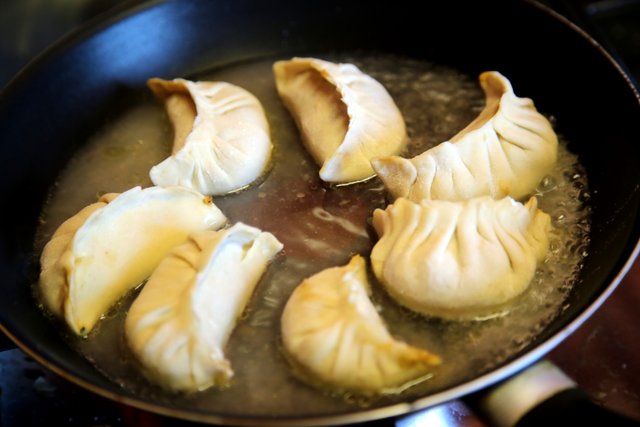 ---
To Steam Fry (With 'Wings):
2 Cups Water
2 Tbsp Corn Starch
1 Tsp Sesame Oil mixed with 3 Tbsp Vegetable Oil
Brush non-stick pan liberally with oil mixture and turn heat up to medium.
Place potstickers 8-10 in a pan, ensuring they don't touch.
Mix corn starch with a little water to form a paste before whisking in the rest to form a loose slurry.
Add about 1/3 cup of water to pan and cover securely with a lid.
Steam-fry for 5-6 minutes or until all the water has absorbed and the crispy 'wings' around the dumplings have turned golden brown.
Remove from heat and allow to stand for a minute so the residual steam can release the wings from the bottom of the pan.
Carefully tip the pan over onto a plate if you want to keep the dumplings connected, or break them apart and serve separately.
Drizzle with dipping sauce and sprinkle ginger, chili, coriander and peanuts. Serve with an extra bowl of dipping sauce on the side.
---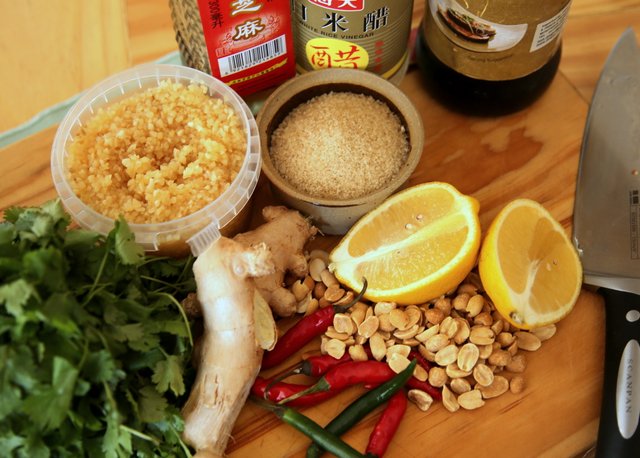 ---
The BEST dipping Sauce Ever
This is subject to opinion. My opinion is that it's the best. I could drink the stuff. I do drink the stuff
1 Tbsp Corn Starch
2 Tbsp Sugar
1/4 Cup Rice Wine Vinegar
1/4 Cup low sodium soy sauce
1 Tbsp Sesame Oil
4 Red Thai Chilies, sliced on the bias
1/2 cups each chopped Coriander leaves and Spring Onion or Chives
1/2 Cup Salted Peanuts- roughly chopped
1 tsp White Pepper
1/2 Cup Water
Juice of Half a Lemon
Method:
In a small saucepan or microwave safe bowl mix sugar, vinegar and corn starch and heat until thickened and straw-coloured
Add soy, sesame oil, chilies and pepper and stir to combine.
Set in fridge to cool or until ready to serve.
Add herbs, peanuts, lemon and water and stir to combine just before serving.
---
If anyone was wondering whether the Tabasco helped with the cursing, the short answer is...no.
But I have learned a lesson. Like the chili, there's a place and a time for everything, and the odd swear word is now used to season a conversation when necessary (primarily behind the steering wheel. City traffic warrants linguistic release and I stand by the opinion that it's better to curse wildly while the windows are up, than try and confront a South African about their driving prowess.)
Here are some pretty pictures to make up for my ugly language!
---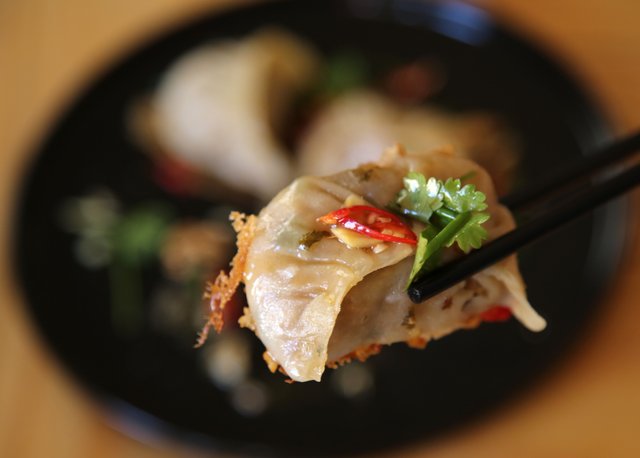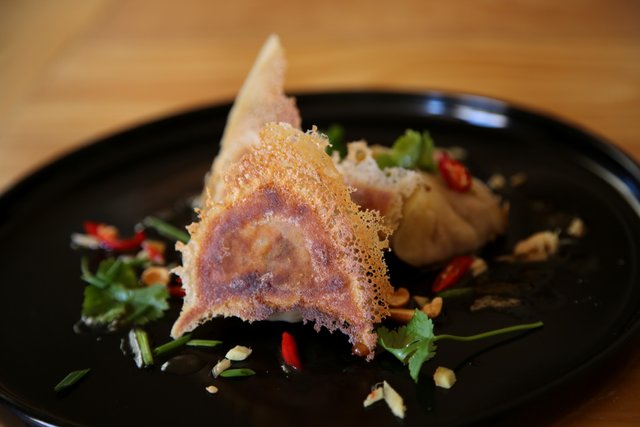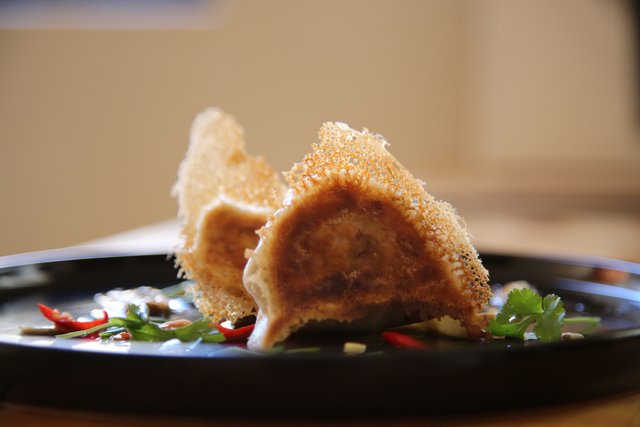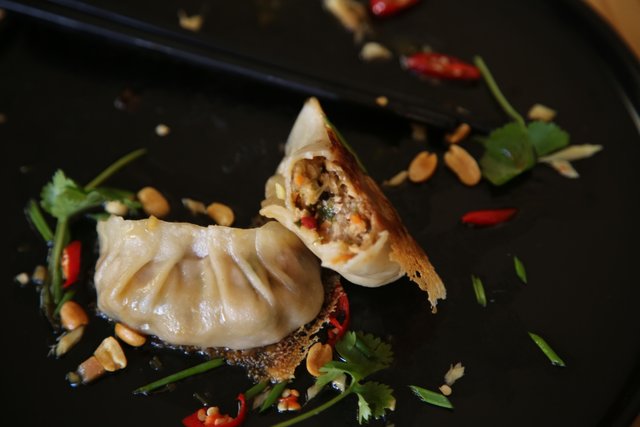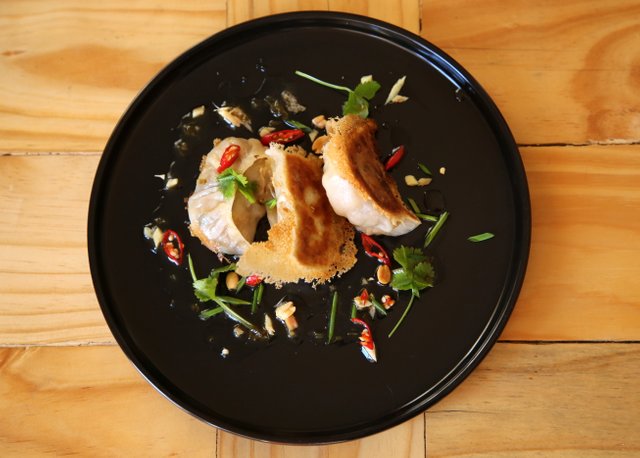 ---
Have a great break @cookwithus team and look forward to seeing everyone's culinary genius in 3 weeks!