Who loves Kimchi?
I do! I do!
Finally, @monchhichi23 - I'm getting my post about kimchi! hehehehe (even though I tried really hard to be a..... you know what. LOL shake your head in disgust when you say it! - but no! i'm not! I'm posting - see????)
First, let me say - I have the BEST recipe from Maangchi to make this! You can certainly go use her recipe - but don't you want to see if a regular person can make it? I knew you did! And yeah - I guess I did make some alterations to her recipe - but I think she's ok with it! You know why? ALL great recipes go by FEEL, and TASTE, and SMELL....
DON'T TRY TO CONFORM, PEOPLE. LIVE YOUR LIFE FREE.
Ok - so here are the basics! Do as you see fit with them. I will never judge.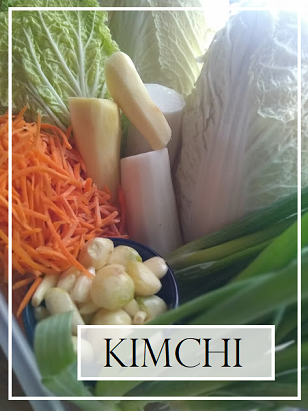 Napa cabbage
carrots
Daikon radish
green onion
leek (sorry - didn't have it. I'm a rebel I just used more of the stalks of the green onions and it was great!)
salted squid (yeah i totally would do this. but didn't have it. see above rebellious statement)
Kimchi MAGIC paste (mmmmm so delicious and spicy. Recipe below!)
Ok first. Chop up the cabbage, salt it and toss it all around (I use a big storage container that I ONLY use for Kimchi. So much easier than trying to do this in a bowl!) Every 30 minutes, toss it again. The salt will draw out the water and wilt that cabbage down significantly.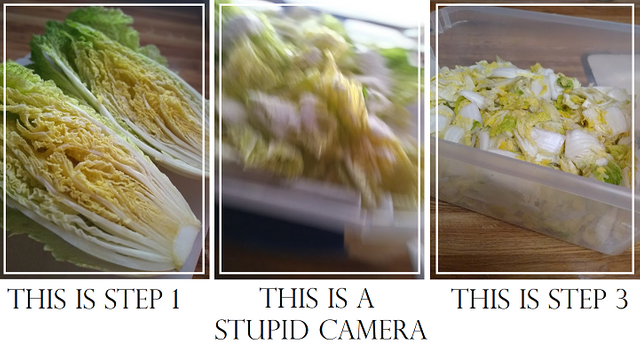 THIS MIDDLE PICTURE is me shaming my camera. I swear to you, @shadowspub - this picture was fine!! But I use a funny setting - so that it takes the picture and then when you move it - it SECRETLY takes it again...mocking you. Ridiculing you. So, dear camera - I'm flipping the tables and showing the world what a stupid camera you are. Sorry! but it had to be done! After 90 minutes - the cabbage will be reduced by half, as it wilts! That's osmosis, baby!
While that's happening - you can start making your magic kimchi paste!
Make a little porridge with your sweet rice flour (1/2 cup) and water (3 cups). Boil for 5 minutes. Add 1/4 cup of sugar until it's dissolved and then put it aside in the fridge to cool.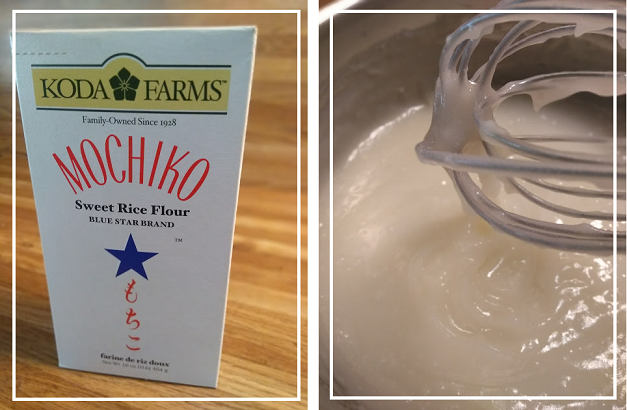 Then... you're gonna grind all these ingredients up in a food processor or blender. 1 cup of garlic (Remember how I showed you how to peel all those lovely garlics? check out this fast way!!!!) a thumb sized portion of ginger, 1 small onion. Grind that all up until it looks like the last pic!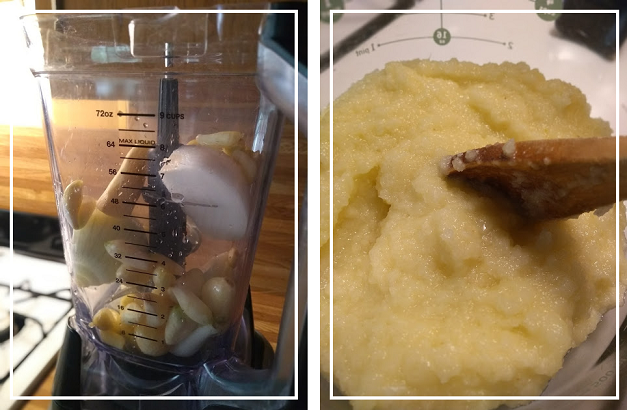 Add 1 cup of fish sauce (this stuff - do NOT get it on your skin... or else!!! I'm just telling you. DON'T. It is super funkadelic) and 2.5 cups of Korean red pepper flakes. You can get whatever kind of pepper flakes you want but I get these cuz you're supposed to!!!!! so.... be rebellious if you like. Here is my bag!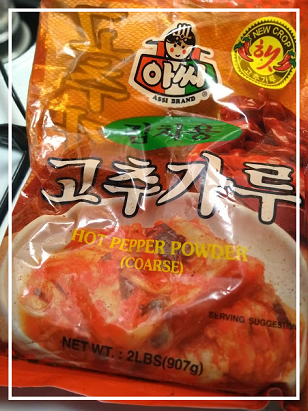 Mix it until it turns into this beautiful magic kimchi paste. And it doesn't matter if you have too much! Just put aside anything you don't use into the freezer! And its ready for morrrrrre cabbage later!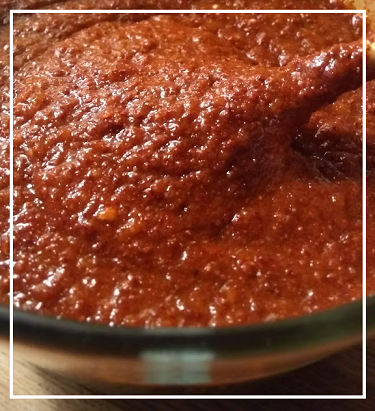 Then, you're gonna want to julienne some veggies. Would you like to take all day to do this? Or a few minutes. Right - here is how you do it in a few minutes!!! (remember that tip?)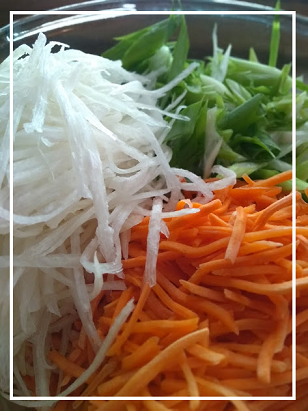 After you're finished with the onions... don't you dare throw them away! What should you do with them? HERE! HERE! LOOK HERE!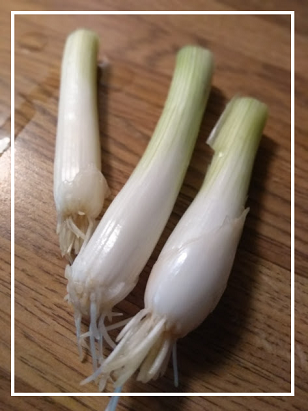 Now you can either mix the paste into the julienned veggies, AND THEN add to the cabbage. Or put it all together and mix! I like the second way. I don't know why - i just do. I use gloves. You should probably also use gloves.
Now, you can eat this IMMEDIATELY if you want. But every day, it shall become even more glorious as it ferments. Think sauerkraut! That flavor just intensifies and gets a bit more sour. mmmmmm!!!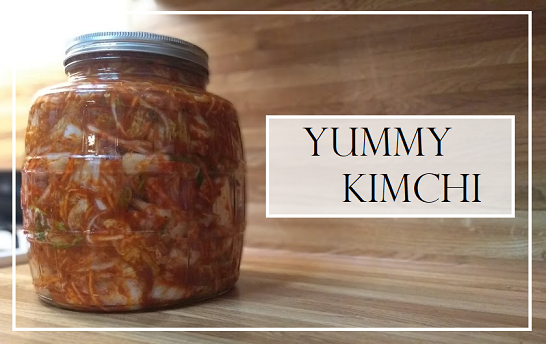 So so so so good. And here's the thing.... You can go out and buy that kimchi that you've seen in the grocery store if you really want to! But I swear - it will NOT be as delicious as what you just made. Don't be afraid of making lots! It lasts a long time - and fermented veggies are SO amazingly beneficial to the health of your gut! YAY FOR PROBIOTICS!
Maangchi - thank you for changing my life! hehehehe
ENJOY EVERYONE!