NOOOOOO! NOT PADTHAI!!!
Yes! You heard (saw) that right. I will be giving away my $700 (7 STEEM) to fellow Steemians who I have chosen to be the winners of Anything but Pad Thai [PHOTO CONTEST!] - 5 STEEM Giveaway!
No! I'm not exaggerating! 7 STEEMs would totally worth $700 in no time as @adetorrent said so.
Wait.. is it 5 STEEMs or 7 STEEMs..?
It's 5 (3 for 1st and 2 for 2nd winner) + 2 (2 extra entries I have chosen) = 7 STEEMs!
Thanks to all for joining the contest!
All (Most) of them look sooooo good but I will have to go for the one that made me hungry the most as it's the contest I hold haaa. ❤
This time, I have to say.. I'm not the best contest holder but you know, people do learn. I hope you bear with me :) ha!


---
㋡ Hot Fudge Oreo Ice Cream Cake by @alphasteem
1st Winner (3 STEEM)
Not that I'm bias but come on, look at the photo below. It's professionally taken and layers! Layers of sugar we all love!! She made it herself as well. Her post has been written beautifully with some small joke that would make you giggle LOL Have a look!
If you want to get sugar high, then this is the recipe for you!
It contains layer after layer of sugar! The crumb is made of smashed oreos and butter! The next layer contains Vanilla Ice Cream. Stacked with hot fudge (and frozen again). Top that with whip cream. Sprinkle some chocolate bits.. and why not cram a full Oreo cookie on the top as well?
Oh my god! Lydia is killing meeeee!!!!
㋡ Peanut/Sesame Tofu Monaka by @chefsteve
2nd Winner (2 STEEM)
This dish looks so classy and fancy. Oh! Healthy too ,of course! Chef Steve took us to this fine dining restaurant and show us a few dishes. Though, this one that he chose, looks INTERESTING (They all do, actually). It's something I have never tried nor heard of so I would totally love to try one day. Check it out!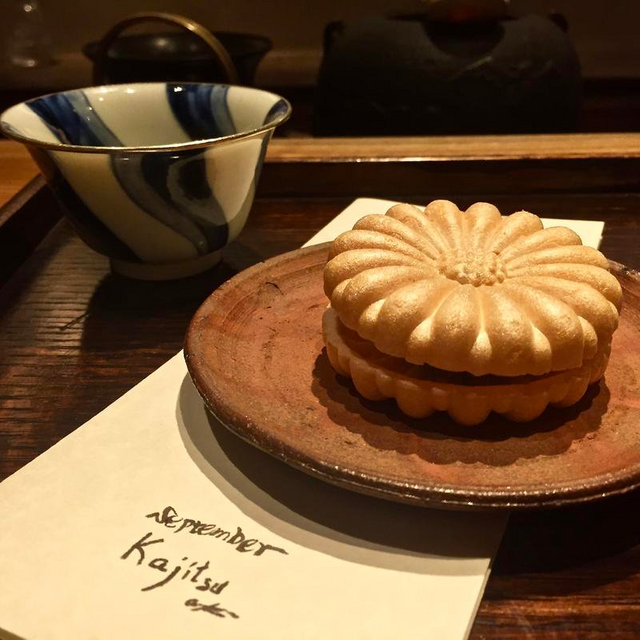 It is peanut/sesame tofu monaka. Basically that means that they make tofu that is infused with peanuts, sesame and mochi and then they make a crispy cracker from mochi as well. The tofu is served hot and sandwiched between the crackers like a vegan Japanese hamburger! It is insanely delicious. Because the tofu has mochi mixed into it makes it pleasantly chewy and the peanut and sesame just make it so savory and satisfying.
Yes, that the way CHEFS talk about food. #deep huh?
---
The following posts get 1 STEEM each..
㋡ Chocolate & Banana Waffle by @catwomanteresa
I love the tones of the photo and yes, it sure makes me hungry! Love how she wrote it in 2 languages also (EN & CN) What an effort. Let's have a look!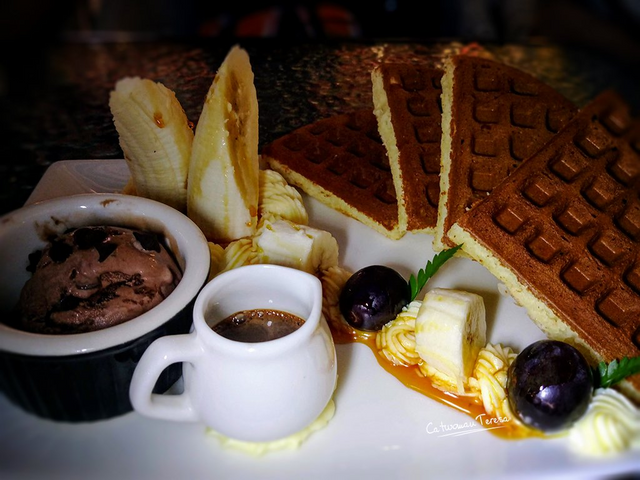 My favorite is that the internal softness is moderate, the outer layer is somewhat crispy, and the different syrups or different fruits can be used to change a variety of flavors. The waffle here is well controlled on heating time. If you like the waffle,「Perfume Dance」 will be a good choice to try.
The food itself is nothing fancy as I'm used to the dish. Though, I love how the post was written and along with the short videos the dolphin make. Oh, it was bilingual as well. Thanks for such an effort and your support for the contest. Go see the GREEN noodle!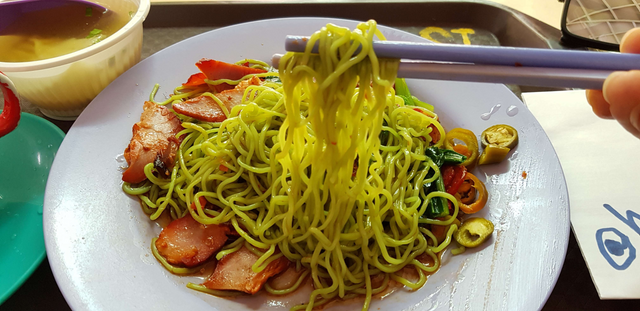 So, @happydolphin needs to need and may as well eat something that is @waybeyondpadthai because I may just win a prize to pay for the meal
There, see, funny, ain't it?
---
I appreciate all the entries, I DO! and hope you all will be joining the next ones !
---
Check out my previous posts!
I DO USE. I DO LOVE ! ❤

THE CAMERA
It's so compact and affordable. Yes! It's great for vlogging as well :)

THE MIC
Great sound creates great video contents so yes, the mic needed

THE MINI TRIPOD
This thing makes my life so much easier. Yes, it does!
㋡ Check them out on AMAZON
㋡ Oh! Best deals on FLIGHTS and HOTELS
---

All copy and photos are original content by me.
© waybeyondpadthai.com
Lots of lots of love,
Mo ❤
We would love to talk to you ! on Fundition Discord server & eSteem Discord server