Welcome to Punday Monday!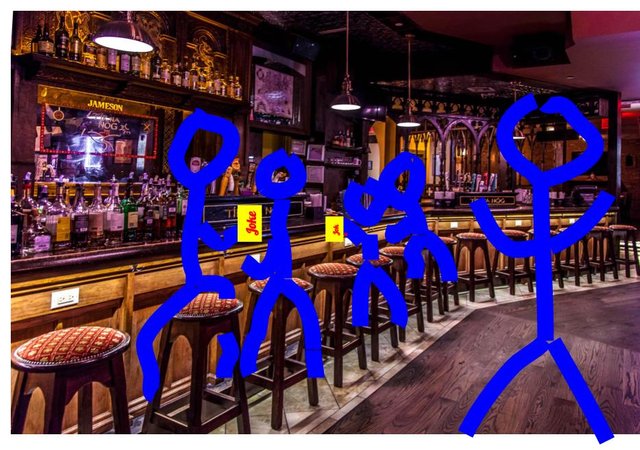 If you're new here, pull up a stool, order a pun-t, and get to know some of the regulars! I'm your puntender, @improv.
You can jump in any time, and if you aren't sure how to make a pun, here's a handy dandy guide:
https://steemit.com/contest/@improv/puns-and-prizes-learn-to-pun-easy-fun-anybody-can-be-a-hit-at-parties
If you're an oldtimer, welcome back! Get to know some of the whippersnappers, here, we have a red. Something in-between Carlo Rossi and Charles Shaw... On the house:
(Even wine snobs drink too much sometimes and wind up choosing a Cab.")
And since you're an oldtimer, you might be interested in the results of our first annual best pun contest:
https://steemit.com/contest/@freewritehouse/punday-monday-year-one-day-awards-ceremony
If you're an any-timer, old or whipper, make sure you visit @freewritehouse! There you can meet fellow lovers of goofiness and find even more contests every week! We're also now featured in the @steembasicincome contest round-up! Find more opportunities to win SBI there!
Hang on to your punderwear...
There's no business like show business, so let's show you the business we're dealing with today!
Here's last week's post, and all the puns that are eligible to win this week are in the comments!
https://steemit.com/contest/@improv/contest-open-to-all-punday-monday-63-comedy-open-mic-round-30
Rookie of the Week!
Goes to @kigigha! Welcome and congrats!
Pocket Choice awards
Every Friday, I put up a post to solicit audience favorites! They can vote on their favorites by sending POCKET to whomever they want to win. This week's post is here:
https://steemit.com/pocket/@improv/pocket-friday-find-some-pocket-and-spend-it-on-a-friend-friend-defined-someone-who-is-good-at-puns
This week's winner won a #steembasicincome share, because @freedomshift sponsors an SBI award for our #ccc qualified contest posts. Check out what the Curation Circle Creed is all about by visiting this link: The Honor Code - the Creed (Conditions and Limits Inside)
@littlescribe won because @paul.atreides' chose her! You could be choosing these winners! Check out the feed every Friday to find out how! She wins! As I'm sure you all remember, we're coming up on the big annual POCKET Choice awards ceremony. Just 2 more opportunities to be inducted! So, go find the biggest POCKET holders, and advocate for your pun to win! That post goes up on Fridays.
If you want to LEARN about POCKET, so you can participate in voting for your favorites, go ahead and check out this link
https://steemit.com/pocket/@improv/pocket-friday-for-punday-monday-here-s-a-way-to-use-your-pocket-and-get-a-laugh
You can also check out more info by @biophil, the creator of POCKET, and he'll teach you. Check out his posts!
The folks in the POCKET Choice winner's circle are @aloha-creations, @professorbromide, @tcpolymath, @miniature-tiger, @lilygolightly, @chrisroberts, @stinawog, @f3nix, @doctorcrypto, @heroic15397, @littlescribe, @diebitch, @acolucky, @ablaze, and @paul.atreides.
and our grand prize…
The prize for best pun
Best pun of the entire week
Winner of our weekly SBI share giveaway
Best Overall Pun
DRUMROLL, PLEASE
.
.
.
@dollarsandsense! Check out that density!
Another big week with many puns! Hooray that many of our regulars are back! Hooray that new folks are finding us (SBI FTW!) Huzzah! Go read them all! It's never past payout for a laugh attack.
And what prizes do they win, you ask?
Why, as usual, all the punsters got full strength upvotes on their submissions. (WORTH $0.02! So much value!)
Our category winners will each get to choose a post (of their own or someone else's) and I will give that post a fully powered upvote and a @tipu tip!
And they all get big, exciting SBI prizes!



(@littlescribe, you'll get your POCKET Choice award from @freedomshift!)
This week's pun topic is...
Glass!
As in,
Why do improvisers love the beach? Because it's so easy to say YEA SAND!
Bada-bing, you been punned! See, it's funny because a thing that improvisers say is "Yes, and" because it helps to affirm other people's contribution to the scene, and to add onto it, by "and-ing" it. Then, if you're at the beach, it's easy to celebrate your excitement about the turf, with a "YEA, SAND", which sounds like "yes, and"
Perfect,
I'm so good at puns....
If you've never punned before, it might seem like magic! You can do it, too! Learn how in My Free How-To Guide on Punning!
Who do I nominate for @comedyopenmic's comedy challenge? (And guess what, I'm a judge in Round 30! Please me with puns!)
Everyone participating in this week's Punday! Go forth and comedy!
---
And, as long as I have your attention… well, this place is probably already saturated with people who have referral codes for various "free money" things, but here are mine!
Coinbase: Cryptocurrency investment- https://www.coinbase.com/join/5929c0788331aa072d9e347e
(Hot tip, I buy BTC on pro.coinbase.com, then send it to bittrex to trade for Steem and send steem to my wallet here. It's the most efficient way with the fewest fees I've found. If you've found better, let me know.)
Robinhood: investment platform buying/selling stocks- http://share.robinhood.com/brendaw92
Earn.com: small tasks for small rewards (need a business or .edu email) - http://earn.com/improv/referral/?a=qmk07e7tzua677hk
Mannabase: sign up for universal basic income distribution funded by cryptocurrency- https://www.mannabase.com/?ref=3984bea863
Swift: Yet another attempt at a UBI: https://www.swiftdemand.com/?referred_by=lochleinn