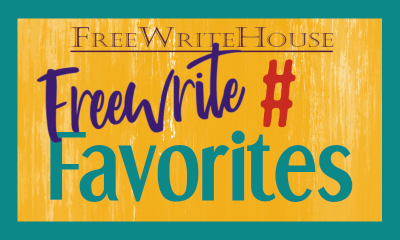 )
Click on the photos to read the blog posts
Remember if a post is older than 6 days, try to find something more recent to upvote so they can get the rewards. Thank you so much for your support!

Before you get to see whose freewrites are nominated this week
Actually, you can see that any time by visiting the Tuesday post, Week 6/4/2019 - Win a Membership in Steem Basic Income - Tell us About a Favorite Freewrite, I'd like to remind @freewrite members that a lot of us have "dual enrolled" at Twitter, so to say. Note the icons at the bottom of each post. If you don't have funds to upvote, you can show your appreciation by Social Media Sharing.
---


Facebook and Twitter are just two of the options. Here's an example of a Tweet that shares a Steemit post:
---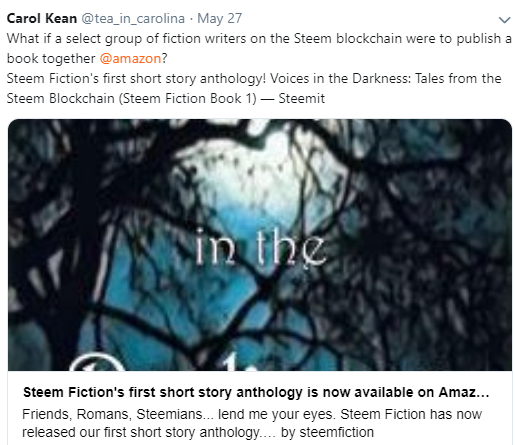 ---
I also tweeted "Help!"
@ tea_in_carolina
I need a quick way to tag Steemit writers of Twitter nominated as #FridayFavorites. @FitinfunSharon was easy to find but othrs (like me!) have different handles on Twitter. Does a list already exist for Steemit's #FreeWriteHouseTweeters?

---
@Felt.Buzz is active on Twitter as @FeltBuzzWrites, and this would be a good time to remind everyone of the #zapfic contest: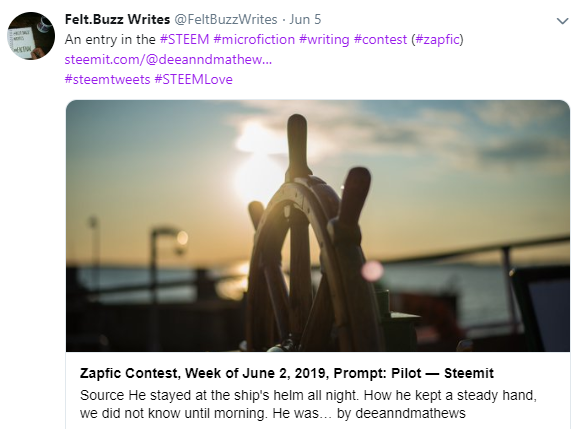 ---
Now for the Friday Favorites!

What a beautiful freewrite by @deeanndmathews. She composed music on the piano inspired by a photo that a friend gave to her and wrote about it also. You can listen to her piano piece while reading her story about Tom Soaring who used ear phones and a playlist to go along with the beauty he saw while on a commuter train, refusing to let distractions get in the way. Breathtaking talent all wrapped up in one.



#GottaLove noise-canceling headphones!
@botefarm with "The Naked Man" has so many epic lines in this poem!

And naked he shall go to His maker.
Great line!
I love this:
To the wealthy who sleeps rich
To the poor rat, whose clothes are stitched
A denominator for them all that fits
Naked, with nothing they shall go six feet.
---

I have three this week:
@ireenchew has a very cool story for the ear phones prompt, about the scene we all know of people in their own world and unaware of what is going on around them.

@tristancarax has written a story with a twist and some carnation tea for that prompt. Going to the Nurse's office is never a good thing, but this story has a surprise.

@wakeupkitty tells about Prince Bernhard of her country who wore a white carnation, and I had to go see the wiki. There he was in the photo with his carnation in place.



@wakeupkitty met him and did not like him, and the wiki info tells me she was on the right track in her belief. This is a very interesting read, and you will probably get side-tracked like me.

I wish I could recommend a freewrite written in German but except for mine, I can not find another one. Kind of disappointing. 😞
So glass bottle is the prompt used for my 1st recommendation.
Some bottles not just lay around in the open. They have a message or even more for the one who finds it. No message in but on a bottle this time.
I ask you kindly to read this post and help the writer, @carolkean, to finally write her story.

The prompt used for my 2nd recommendation is earphones. The writer shows us a picture of a great homemade bread with raisins. No, the earphones are not hidden inside and you can not make a call with it either. One thing is clear: it takes time to write and way less if the clock is ticking and there are things to do.
If you know why it is called ear phones or head phones @owasco still waits for an answer!

Here it is my 3rd recommendation. The prompt is rule and I only used it in my German freewrite.
After a ride, it is time to relax on the beach. It sounds more like big stress as relaxing time if you ask me.
We all know rules are seldom kept by those who make them or they are stupid or... make you feel stupid. I hope the guy who will be, unexpectedly, involved in the game won't mind.
Read what @freedomtowrite wrote and you know what I am talking about.


@carolkean
I have to say how much I love not just this story, but the author's aside:
A real deal freewrite, five minutes plus a bit to tidy it up. I swear, even considered and polished piece of mine that gets more than ten votes and a dollar doesn't give me the thrill that writing these babies does. AND I got a new voice exercise to work on my 'k's' with. Bonuses like that only come when I'm really in the flow, no judgment, letting them out.

is a continuation of one of
@owasco
's earliest freewrites:
Day 455: 5 Minute Freewrite: Friday - Prompt: church lady

Five months!!! Has it really been that long?
I suspected "Carnation Caramel Cream Chess Pie" came straight from real life, but @owasco tells me it's pure fiction. I love the periwinkle blue vase (an antique, no less!) and the audacity of mixing pink and red. Now I'm dying for more David (who bakes cakes!) and Evelyn (who is going to allow herself a slice). Will she stop at just one? How else will David tempt her? That pink boutonnière - anything could happen!

take the same prompts and hit the ground running, and where the prompts, in turn, take them!
takes a lot of dark turns in this punchy tale - a wise narrator, surrounded by awful people. I love the shift in POV to the man, who judges the narrator, and seems to deserve his lot in life (and yet I feel for him, at the end!).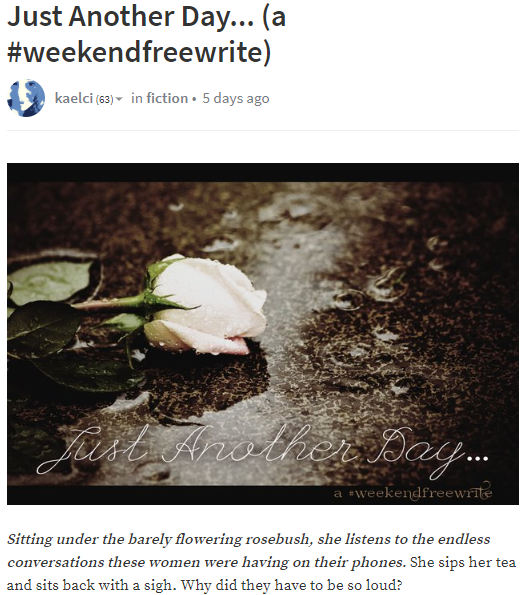 is another polished, professional writer who seems to spin stories effortlessly. This one is full of surprises. Poignant and packed with insight, seamlessly written, this is a must-read!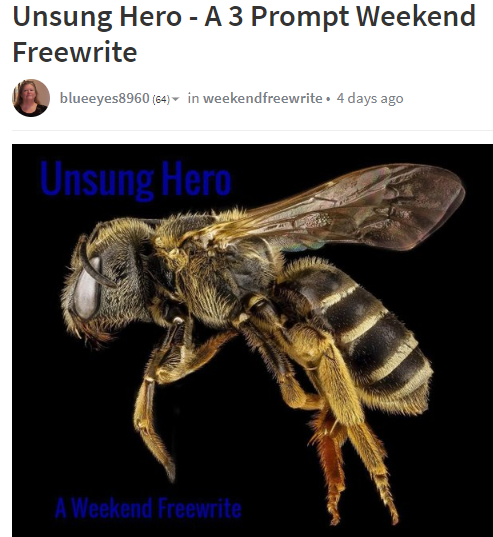 @carolkean
@isgledysduarte
also delivers a poignant tale - I had to look up Toros coleados, and it is not for the faint of heart.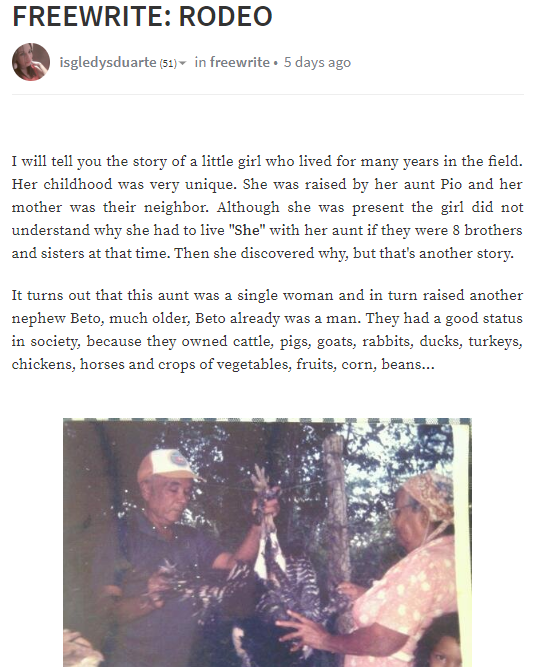 "Our hearts cry," she writes (in English translated from the original Spanish) when animals are cruelly abused-- harmed for sport, even killed, and regarded as disposable. There's a silver lining in this cloud and a sense of family that transcends the evil around us.

@carolkean made a 3 part story out of the prompt words and the last was was on the prompt rule. Throughout the three parts she threads it all together with the mention of Mom's cousin, Lenna. Lenna is different and suffered a breakdown after finding the mummified corpse of her beloved cat.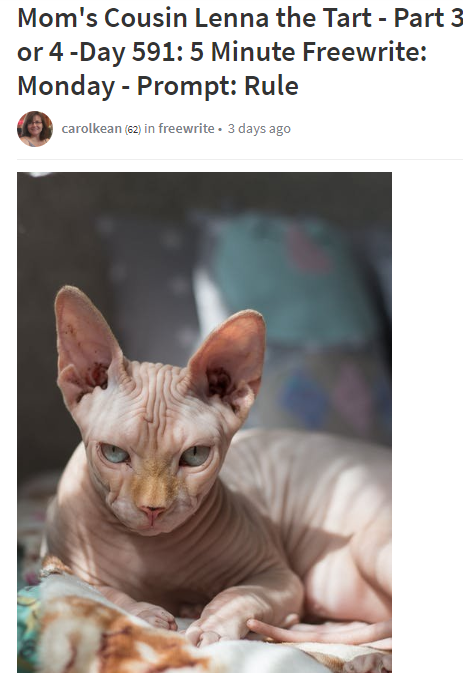 Lenna is without email, credit card and pretty well untraceable. It's a perfect place to go to escape a SOB of a husband.

In other news,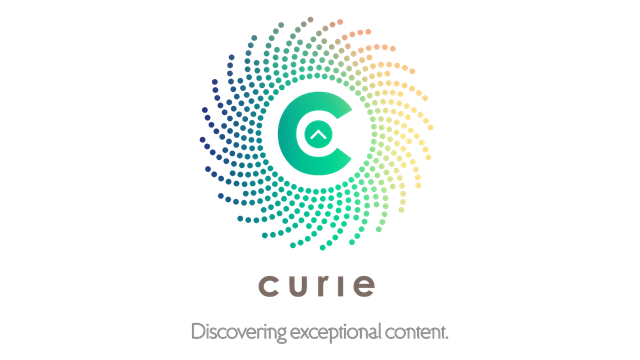 Curied!
is another word we love to see along with Freewrite Favorites. Several @freewrite members have been curied in recent weeks. How can you tell what posts have been upvoted by Curie through curator/reviewer operations?
Visit becquerel.io to see a record of the most recent posts upvoted through Curie curator/reviewer operations and leave thoughtful comments on them for your chance to win!
This one was not a freewrite,
but a lot of us are familiar with her, and we've been encouraging her to take up freewriting, so I'd like to sneak in this #ShoutOut to
for her lively and informative and (as always) well written post, Adventures in goatkeeping, proposed by @lordkingpotato (yes, those curie curators have some funny user names!):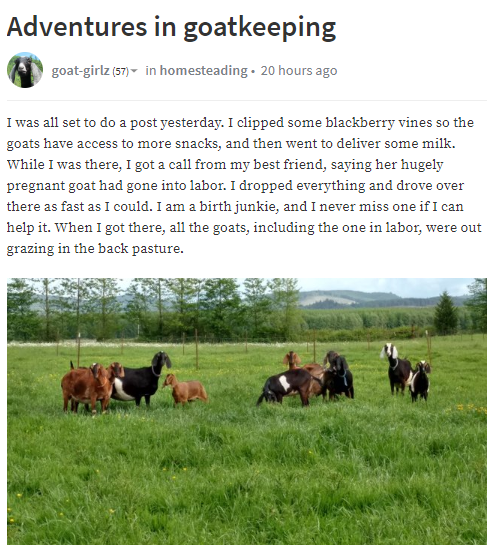 Adventures in goatkeeping
Ninety five percent of the time, goats can deliver their kids just fine without any help from us. We just get in the way. Hence, when Tracy and I midwife goats together, we take a bottle of wine out to the barn with us and have a quiet chat while we witness the miracle of birth. After a fair amount of wine had been consumed without any progress on the babies, I went to see what was going on. I saw what looked like a foot, which is what you want to see. After another half hour of pushing with no progress, I looked a little closer. Keep in mind that the lighting in the average barn is, shall we say, sub-optimal.
The following illustrations are courtesy of Storey's Guide to Raising Dairy Goats. It's kind of like Goatkeeping for Dummies....

I don't know how long I will sustain tipping, because there are so many worthy writers and only so many dollars in my wallet, but one can !subscribe or unsubscribe at any time.
In this post you will find informations about the @tipU subscription feature which allows you to automatically reward other steem authors :)
By default the subscription reward is 0.05 SBD.
0.05 SBD/STEEM may not seem much but every steem author can have many subscribers - in this situation he will receive combined reward from all subscribers. The nice thing is that the subscription rewards are sent instantly after the new post has been created so there is no need to wait 7 days for post reward.
With each new post, the subscribed user will receive 0.05 SBD/STEEM and your deposit will be decreased by this amount. The obvious downside, when comparing to upvotes, is that you need to pay the subscription reward from your funds.
@tipU does not take any fees for this feature.

To make a deposit, send any amount of SBD/STEEM to @tipU with memo: deposit.
You can withdraw the deposit at any time without any fees. To do this, send 0.001 SBD/STEEM to @tipU with memo: withdraw.


Remember the Monday prompt is a collaboration with the microfiction contest with @jayna - look for the Contest post on her profile - win 2 Steem.
Check out her contest post for more info. Contest starts every Monday and ends the following Saturday evening. fiction flashfiction microfiction powerhousecreatives steempress
Curie Comment Contest
is ongoing. Earn Steem by leaving good comments on posts upvoted by @curie. Find out how here.


In the spirit of Curie's mission to promote undiscovered but exceptional content, we wish to use this twice-weekly section to provide an author showcase for some of the outstanding authors who received Curie upvotes in past week. Curie curators and reviewers nominate authors for inclusion in this showcase and author approval is sought and attained.

Speaking of Twitter,
here's another example of a Tweet that shares Freewrite Favorites:
---