The Dark Overlord Hackers Begin Releasing 9/11 Documents - WTF is Going On?!?! Legit Hack? Psyop? Fake Truthers? - '9/11 Papers MegaLeak'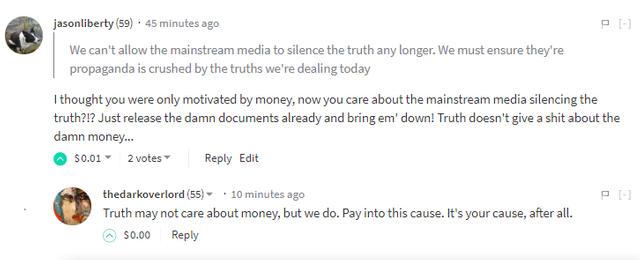 What appears to be a legitimate hacker group going by the name of the The Dark Overlord claims to have carried out large hacks getting much incriminating 9/11 evidence, but unlike Anonymous, this group appears to care only about the money, not about the truth, though they pretend to care about the truth in order to extort money from those who do care about the truth, as seen in the screenshot above - my comment quoting from their post.
@activistpost gives a good rundown of the announcement, the hacker group's credibility and demands in their recent article on this news (Activist Post Article link). A little confusing as it seems to be reported that the hackers are threatening to release the files if their 'ransom' demands are not met, but they have made it clear that their demand is for 'truthers' to 'pay up' for the hacked documents. In fact they are demanding both. How strange... Regardless, having reached the first level of payment required, they have made their first release of documents.
This group has a newly created Steemit page (@thedarkoverlord) releasing posts every few hours currently at this point. Link to the Steemit post of the first release which the screenshot above is my response to is here - link. Screenshot below:

From the post:
We're now calling this megaleak, the '9/11 Papers'. Keep giving us cyber-cash for cyber-cache.
Hello, world. As you're well-aware, we designed a compensation plan that would allow for the public crowd-funding of our organisation in order to permit the public disclosure of our "9/11 Papers" in the interest of the public. Part of this plan was to create a tiered escalation plan that would result in multiple layers and milestones (which we're calling checkpoints) to ensure the powers at be are being properly bent over a barrel. We've said it before, and we'll say it again: we're financially motivated, and you (the public) has spoken to us in our language (internet money, specifically Bitcoin). Through voicing your satisfaction by sending us 3.27 BTC for a total of over 12.000 USD of BTC (at the time of writing), you've successfully unlocked Layer 1 as well as Checkpoint 03, Checkpoint 04, Checkpoint 05, Checkpoint 06, and Checkpoint 07. As with our previous paid releases, we've demonstrated to you that we're honest about our intentions and we're transparent. As a result of this most magnificent achievement, we're continuing to follow the wishes of the public by releasing the Layers and Checkpoints we promised you we would. Remember, continuing to fund our wallet will continue to keep us motivated to help break the truth to the world by open-sourcing what we're calling the "9/11 Papers".
Link to layer 1 of this first leak in GoogleDocs so you can see the info for yourself - thanks @kirkins: https://drive.google.com/open?id=11po4R8PVxhMXnxvFSVxRG_LKl-za__HA
I'm part way through reading one deposition at this point, nothing too interesting yet, let's scour these documents and see if there is anything of value to bring down the criminals responsible for 9/11, and I'm referring to those in our government and the Zionists in Israel. We all know it was an Inside Job with help from the Mossad, Saudi funding too but minor role in comparison to those who planned and orchestrated this false flag attack. If these docs paint the picture it was a Saudi-funded Jihadist operation with 19 hijackers as the official story already stated, then beware this hack is a likely psyop, don't give these guys your money and watch how the Q followers respond. Their response to comment by @aggroed further reinforces the idea that their aim is to swindle well-intentioned truth-seekers - beware:

I don't really know what to think of this, though I have to keep my mind open to the possibility (high likelihood?) this is somehow a part of the QAnon psyop despite wanting to hope the 9/11 conspiracy is about to be blown wide open. Truth be told there is already overwhelming evidence of 9/11 being an inside job, of those behind it, and yet we've got nothing to show for it but many awakened souls. Would more proof even bring the criminals down without Americans also standing up?
The info may be legit, time will tell, but I ain't gonna give a dime, crypto or fiat to anyone who would withhold the very truth which could bring down these treasonous murderers over extorting a little crypto. Something smells fishy here. Let's dig into these docs and see what we can find. Hopefully this is a legit hack, but I have a hard time trusting anyone fishing for money in this manor in the name of truth, especially when they openly state they care about the money and then turn around and pretend to care about the truth in order to fleece us, and I for one am not falling for it. I'll happily dig through the docs though, and hopefully we can put this puzzle together!
The Dark Overlord latest Steemit post is a threat to "the nation-state of the United States of America and the greater deep-state":
We're going to continue to bend you over a barrel and fuck you if our demands are not met. You know the score. Your censorship and fakenews coverups won't silence this organisation or its public support. You were warned. To all the other parties involved (airlines, litigation firms, investigation firms, FBI, TSA, FAA, banks, security companies and more), we're going to burn you down unless you begin to 'play ball'. This entire situation will soon become far more tragick to your survival. Make the right choise.
We're peeling these layers back like an onion. No one can save you except for us. Pay the fuck up.
What heroes for the truth, threatening to burn the criminal system down only if the criminals don't "begin to 'play ball'." And offering to save the very enemy of humanity, in fact claiming to be the only salvation for the criminal "deep-state" Zionist banking and media cabal and at the same time calling themselves "The Dark Overlord" - how heroic these hackers seem to be :) Give me a freakin' break. At least they are being honest about their intentions I suppose - cash over truth. Seems obvious who's side these guys are on, and it appears not to be the side of truth or humanity.
Those are my thoughts, maybe I'm way off, who knows. I would love to hear your thoughts. Let's put our heads together, dig into the leaked docs and get closer to the truth of what is going on here.