Welcome to the Minnow Power Up League.
The Minnow Power-Up League is kindly sponsored by Steem witness @yabapmatt, and @steemmonsters! Prizes will be issued in @steemmonster packs and Steem - https://steemmonsters.com/
We now have 116 minnows that are growing and tracking their progress and road to dolphin-hood. We also have 19 graduates. Together this week, the league member's have powered up a total of 10296.163 Steem Power. All participants since joining have powered up a massive 150713.561SP. To learn more about this minnow initiative please do have a read of our introductory post:
https://steemit.com/engagement/@steemcommunity/announcing-the-minnow-power-up-league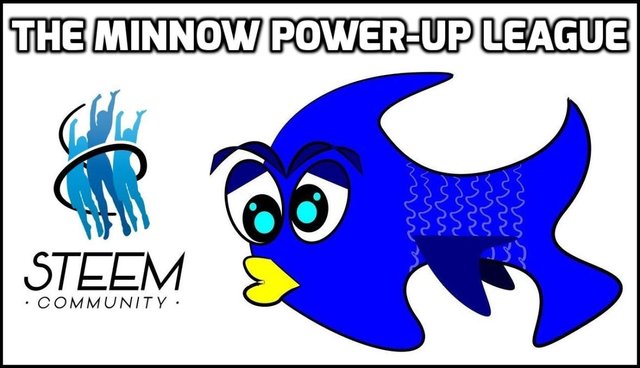 Shameless Promotion
@steemcommunity is a witness project by @paulag and @abh12345. There are many good witnesses out there and doing your research is important. I hope you will take the time to read our witness introduction post and consider us as one of your Steem witness. If you are not sure how or why to vote for a Steem witness drop a question below and I will do my best to help you.
You can vote for our witness using SteemConnect here: https://steemconnect.com/sign/account-witness-vote?witness=steemcommunity&approve=1

Do you want to join?
You can join or leave at any stage, all you must do is leave a comment below and let me know that you want in or out.
Let's Grow Together
Don't forget we are all trying to grow so please do consider supporting the person above you and the person below you in the league by visiting their blog posts or even voting on their comments in this post.
The Minnow Power-up League
Every Thursday we will be using SteemSQL database managed by @arcange to gather details on the Owned SP for each person that has entered the league. The current weekly owned SP will be compared to the SP held last week. The person with the highest SP growth for the current week will be on top of the leader board.
There are 4 levels depending on your SP levels. Once you graduate from one, you will be automatically placed on the next. When you graduate from the 4th you will be placed on the Minnow Wall of Fame. As this post could get rather long with the 4 levels, as we grow, we may consider splitting this into different posts on different days.
Level 1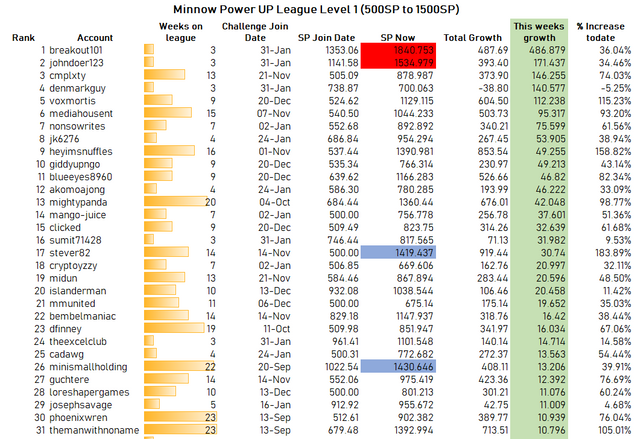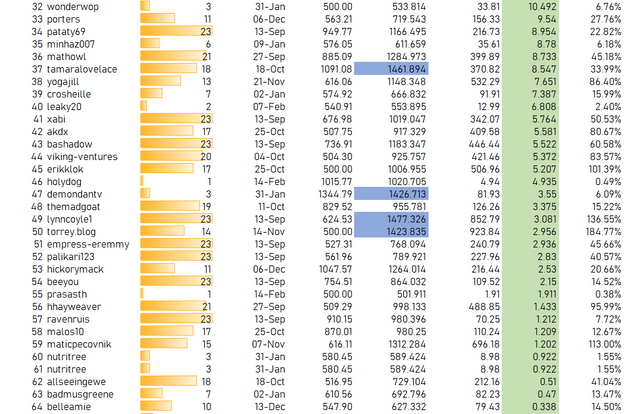 Congratulations to @breakout101 being first in the league this week with a massive power up of 486.879P.
In second is @johndoer123 and third is @cmplxty. Well done the both of you!
Also in the top ten is @denmarkguy, @voxmortis, @mediahousent, @nonsowrites, @jk6276, @heyimsnuffles, @giddyupngo. Well done on the Power-ups, if you bought STEEM I hope you got a good price :-)
Graduating this week from level 1 to level 2 are @breakout101 and @johndoer123. Congratulations & nice work to both of you.
On the home stretch in level 1 are @demondantv @torrey.blog, @minismallholding, @tamaralovelace @stever82 and @lynncoyle1 you are so close to graduating from level 1, Steem on.
Level 2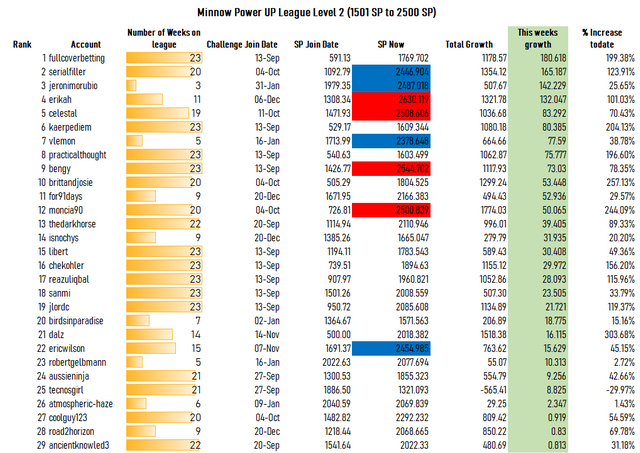 There are now 29 participants on level 2, and this weeks winner is @fullcoverbetting with an amazing SP growth of 180.618 this week.
Congratulations also to @serialfiller who finished in second place again this week.
On the home stretch this week from level to is @serialfiller, @jeronimorubio, @vlemon, @ericwilson keep going level 3 is in sight.
Graduating from level 2 to level 3 are @erikah, @celestal, @bengy and @moncia90 - nice work!
Level 3

@raj808 you are first in this weeks level 3 league with an SP growth of 903.176, nice!. You also graduate from level 3 to level 4, congratulations.
Also, good stuff from @scrawly you are in second place, and nice work @cryptoandcoffee you made third.
On the home stretch from level 3 to level 4 is @scrawly, @riverflows, @veryspider and @gillianpearce. Level 4 is in reach, go get it.
Level 4

@melinda010100 you are first again in level 4 league this week with growth of 194.135SP. @carlgnash in second place.
Wall of Fame
Welcome to the Wall of Fame. This wall is a showcase of the minnows that took part in this league and graduated to dolphin-hood. We had 2 new graduates this week. Congratulations to @masterthematrix, finally you are a dolphin, nice work. Also a massive congratulations to @definethedollar - what a power up you hand indeed. Jumping from Level 2 minnow-hood to dolphin in a week. Very nice!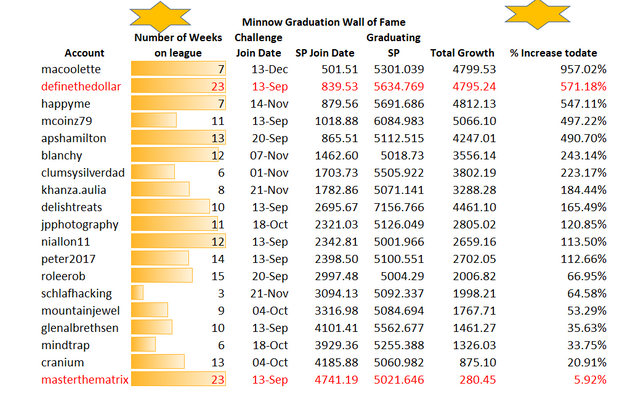 This weeks prizes
Well done to @johndoer123, @cmplxty, @denmarkguy, @voxmortis, @serialfiller, @jeronimorubio, @erikah, @scrawly, @cryptoandcoffee, @carlgnash, and @trincowski who have all received some STEEM this week.
And congratulations to @breakout101, @fullcoverbetting, @raj808, and @melinda010100 for placing 1st in their respective level and picking up a pack of @steemmonsters cards. Some of the cards are worth 100's of dollars - be lucky!
That's it for this week, cheers all!