My name is @steemmatt and I encourage you to follow me for first-hand creative inspiration and knowledge on how to supplement your income... or even generate enough to quit your job and be free!
Selling thrift store and free curb finds has fully supported me for ~2.5 years, debt free, while living in the heart of a major US city. My location gives me the volume and high-end inventory to make this possible, but everyone can do this to some degree. In the spirit of becoming fully self-sufficient, I use most of my profits to build on my cryptocurrency portfolio and a brand new silver bar/coin stack.
What I'm most proud of is that I recycle a LOT of consumer goods, which keeps them clean and usable. This includes what I find to sell, and a TON of reused cardboard, bubble wrap, packing peanuts, and paper wrap for my shipments.
As of October 7, 2017, I've sold exactly 2,535 items with my bare hands (split between thrift store purchases and free finds), so you can imagine how much the salvaged items and recycled packaging helps the environment downstream. I hope you can find a way to help too!
I'll be posting in four main categories:
My Thrift Store Finds Of The Day (items picked, their cost & potential revenue)

My Free Curb Picks Of The Day (items picked from city recycling nights & potential revenue)

How To Part Out Household Items To Sell For More Profit (workflow & estimated resale values)

My Past Thrift Store Finds & Free Curb Picks (notable finds for ideas)
In anticipation of doing this at some point, I've taken pictures of many of my notable finds with their price tags and/or receipts, or them sitting where I found them on the curb. Older finds may not have a full photo history, but you'll quickly see that what I'm doing is legit. I also meticulously keep all sourcing and financial records for tracking and tax reporting.
I sell my items via various channels, so I'll just list initial costs and projected revenue. Some channels will have fees and shipping costs, while others will be cash and carry. I get my revenue estimates by analyzing recently sold listings on eBay, what's currently listed on any of the sites I use, or from my past experience selling similar items. Some finds are so rare that I can make my own price to reflect the supply!
Here's What I Found Today.
(Time Spent Shopping = 1 Hour)
Total Spent: $6.96
Realistic Total Revenue Expected: $265.00
I had other stuff going on today to not shop more, but not bad for a quick stroll...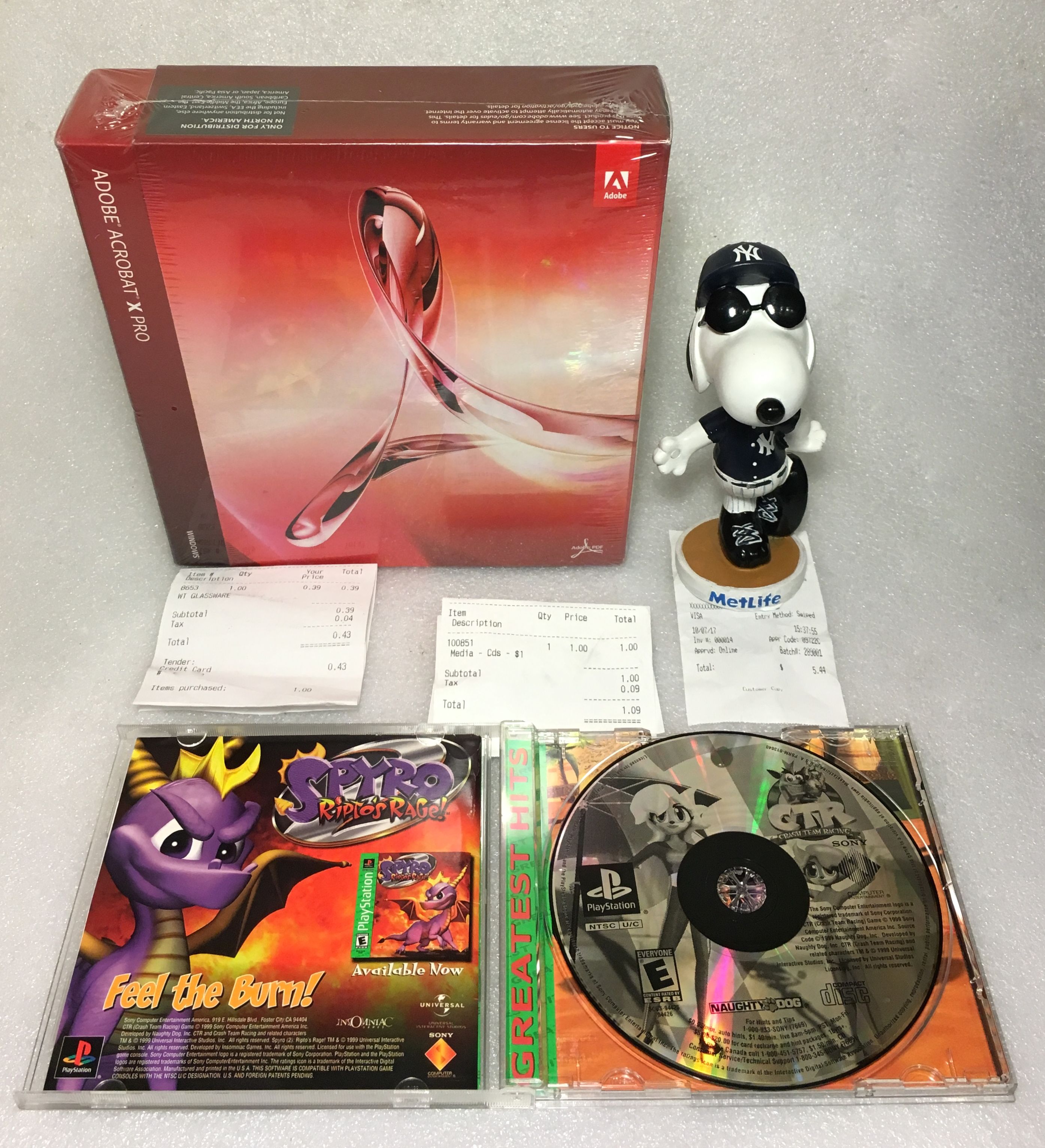 FIND 1: Sealed New Adobe Acrobat X Pro - Windows Retail
Cost $0.43 > Projected Revenue $175.00!
This thrift store sells by weight so it's easy to win if you can maneuver the mob of people who fortunately focus on clothes and books, two things I don't care to resell. I actually got this by walking up to someone who I thought was an employee that had this on the top of their cart, but they saw me peering and offered it to me for nothing but "friendship". He shook my hand and asked for my name, and said he'll see me again. He knew its value, so that this was a nice gesture of humanity.
::UPDATE - SOLD for $174.99 one day after listing it!::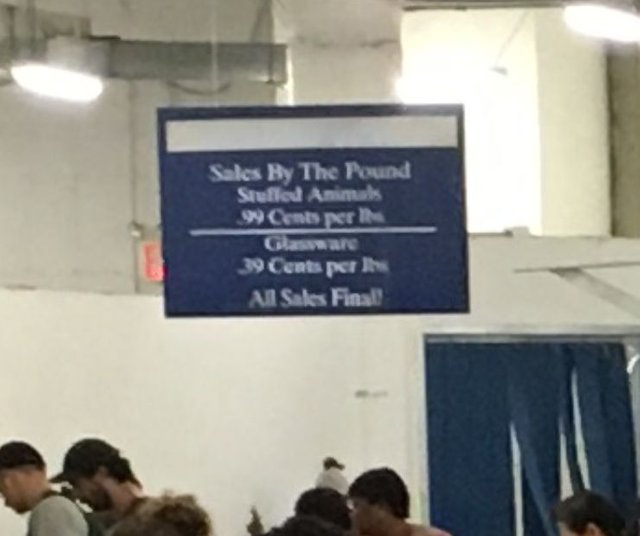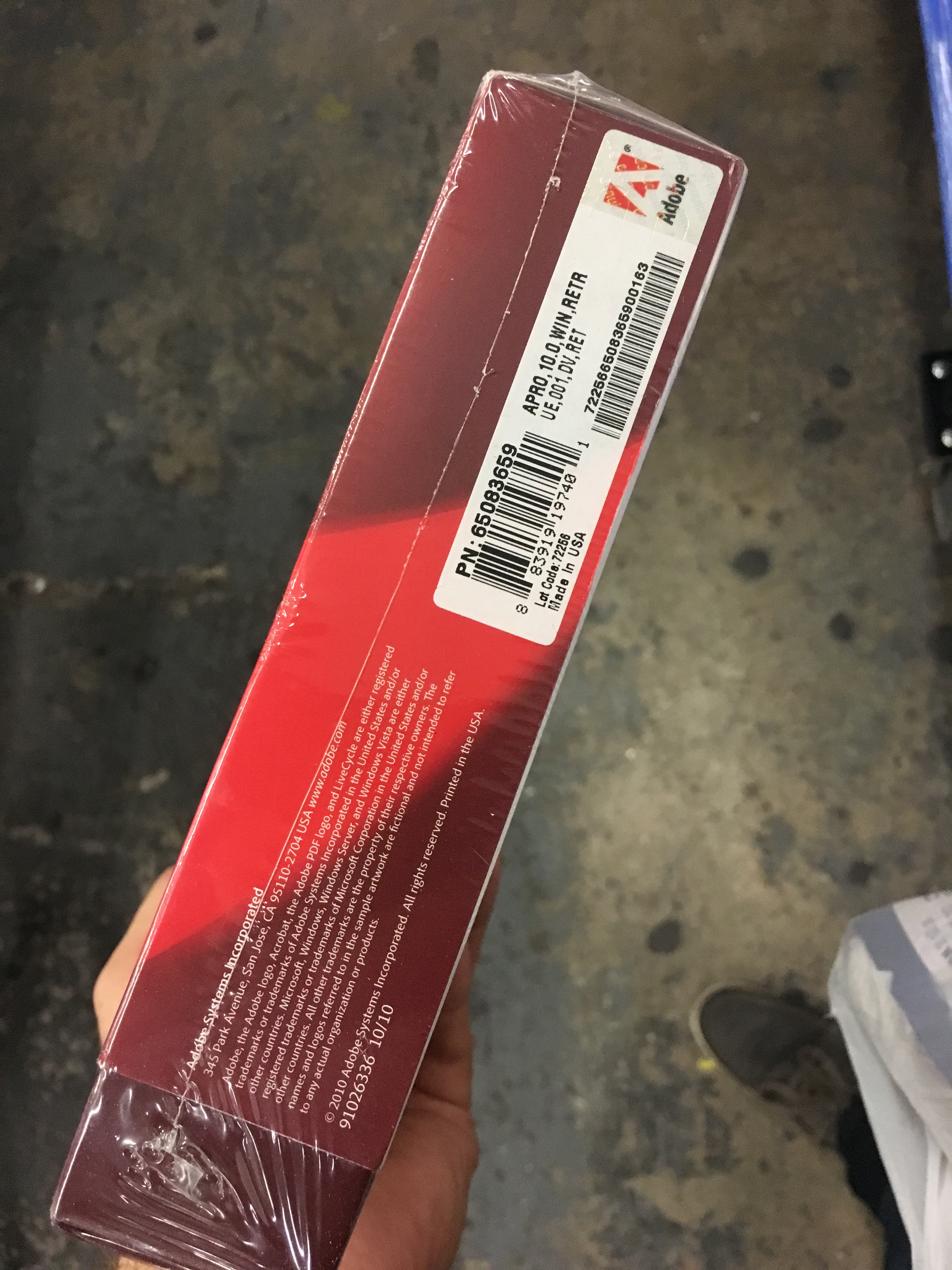 FIND 2: Yankees Snoopy Metlife 2012 Bobblehead
Cost $5.44 > Projected Revenue $75.00
I almost missed this one on the shelf behind the cashier because I looked up the wrong one on eBay when valuing it from far away. I left the store and then went back in to double check it in hand, and was glad I did. It was priced at $10.00, but I negotiated it to half off because it was missing the baseball bat accessory. Without the bat, it still sells well given its rarity, and is small/light for cheap shipping. Some bobbleheads are relatively valuable and sell fairly well.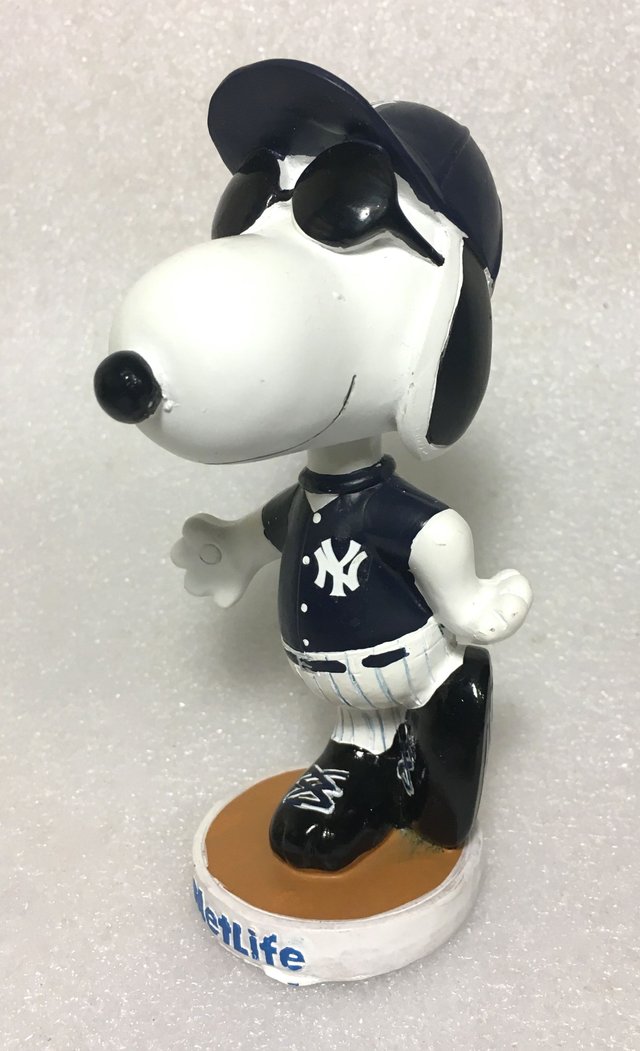 FIND 3: Playstation 1 Crash Team Racing Game
Cost $1.09 > Projected Revenue = $15.00
I usually don't spend my time picking small profits, but this ratio was good and the game will definitely sell. I sometimes pick up these small wins to offset subway and bus fares, or a snack while I'm out on the hunt.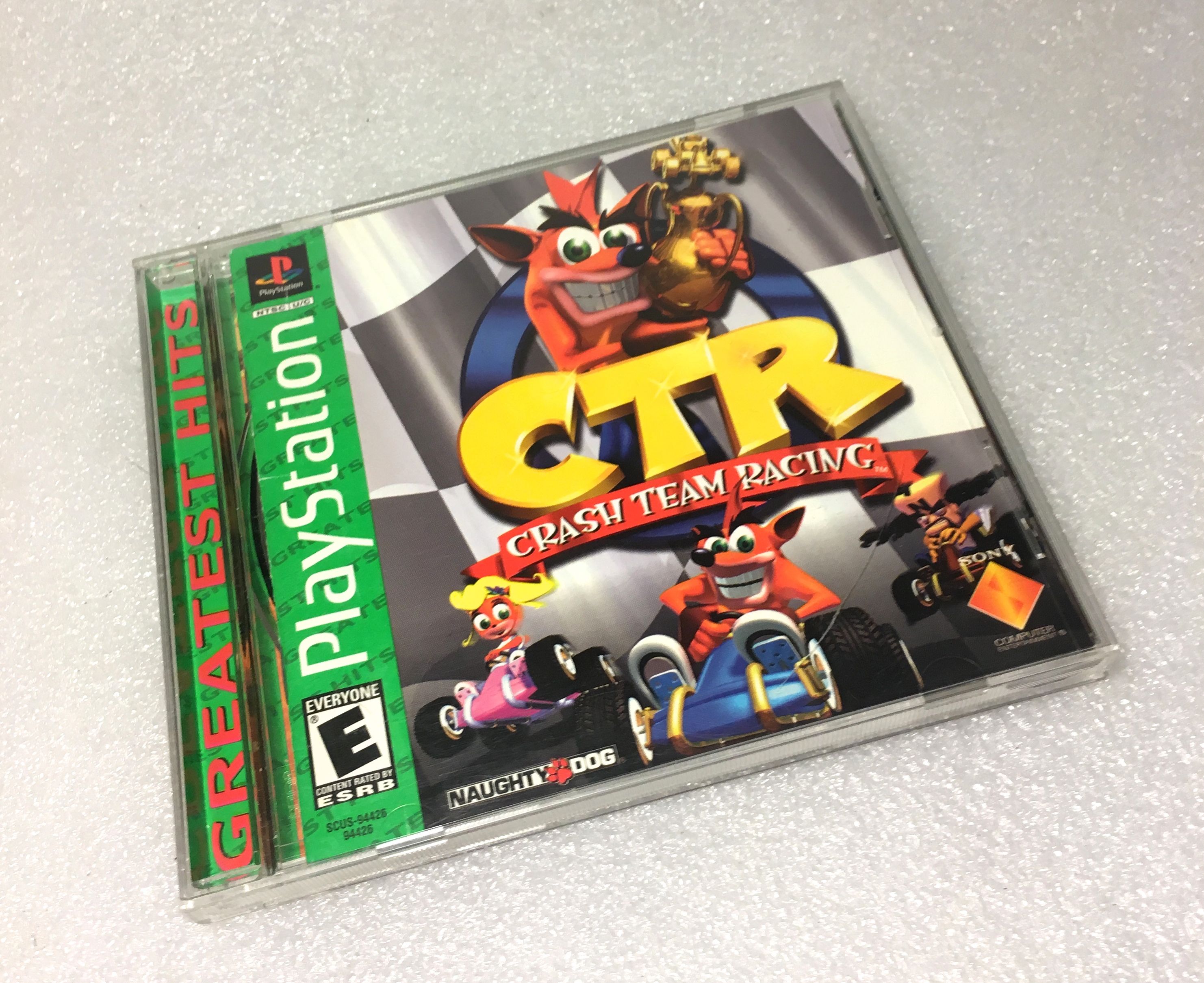 More of my new material:
Please upvote, follow & resteem if you'd like to help me in my vision of sharing this knowledge.
~steemmatt