Dirty Chai - My New Guilty Pleasure
Dirty Chai's are one of my new favourite drinks as of late. I don't know why. I guess it is the cinnamon and that heartening/warming effect that you get from it.
I have been having one at least once a week, when the feeling hits me. I have found a great coffee shop that seems to be able to smash a good coffee out of the park every time I go there.
I have been also making them at home of a weekend, usually with a T2 chai tea that I was given a while ago.
Below is a recipe for how I do my homemade version of this little treat.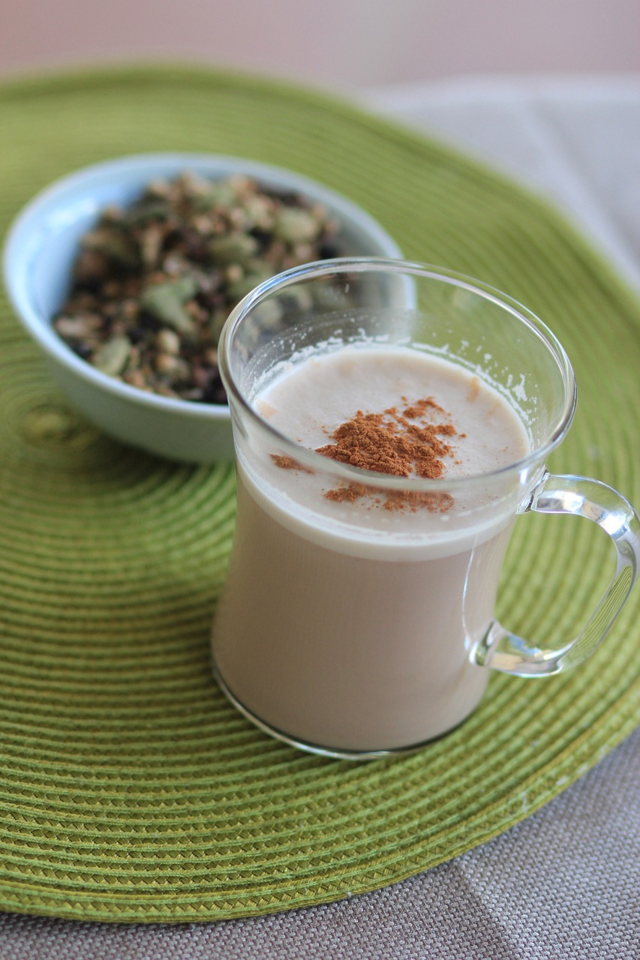 image source
---
Dirty Chai
Ingredients (Serves 1)
1 chai tea bag (I prefer without the bag but it works in a pinch)
whole milk (enough to reach the ¾ of the mug)
2 shots of espresso
1/2 Tbsp of honey (I use Tasmanian honey as the flavours bring a richness to the drink)
1/4 tsp. cinnamon
Optional
1/2 tsp. vanilla (I only use this sometimes)
---
Step 1
Pour the Bean - Make Your Espresso
Espresso is key. Make it however you do at home, whether that be the stovetop method or with a machine, I'm lucky to have a Nespresso machine. So I only have to make sure I pick the best blend for the job.
Step 2
Groovin the Moo - Prepare the Milk for Mug
Fill a mug ¾ of the way with milk to get the right measure for your mug. Pour the milk into a small saucepan. Add the honey and cinnamon while whisking the milk constantly, and bring to a simmer.
If you want to use vanilla then add that too.
Step 3
Pour Baby, Pour - Add Chai Tea to the Milk
Once your pot is simmering along sweetly, add the chai and keep up with the stirring. This is my favourite part as you start to get that really nice smell that you associate with Chai Lattes etc.
Step 4
Shake, Shake , Shake - Froth Your Milk
Once your milk is nicely warmed up, remove it from the stove and get to a frothing it. You can use a handheld milk frother/shaker or an immersion blender or as in my case an Aeroccino.
Step 5
Time to Make it Buzz - Add Your Espresso to Your Favourite Mug
Add the two shots of your espresso to the bottom of your mug. You can of course alter the amount of shots if you get too much of a buzz off of 2 shots or inversely not enough. :)
Step 6
Build it and They Will Come - Bring the Latte together
Now for a Latte, you will need to angle the mug and then pour your frothy milk concoction over the espresso so your Latte looks as a Latte should. I find it helps to use a frothing jug or anything that has at least a spout on it, otherwise you'll end spilling some of this precious nectar.Top with a sprinkle of cinnamon just to finish it off because we a all fancy like that.

image source
I hope you all enjoy as much as I do