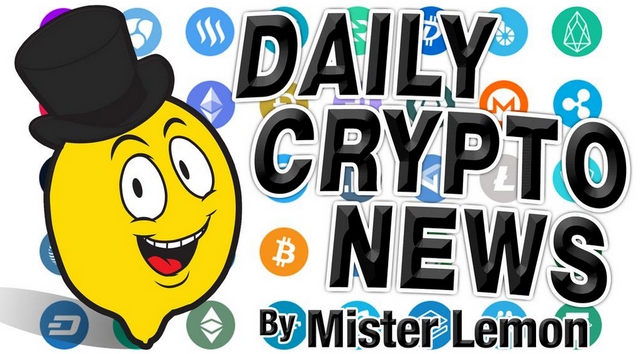 Jack Dorsey Announces New Twitter Team: Square Crypto, but for Social Media ;
MakerDAO Responds to Dev Accusing Network of $340M Vulnerabilty ;
Why Bitcoin Price Is Headed to 7-Month Low If $7K Support Fails ;
From Health Care to Mining, Central Asia Stays on the Blockchain Beat ;
BitMEX and Arthur Hayes Now Have USD 300 Million Problem ;
🗞 Daily Crypto News, December, 12th 💰
STEEM Trading Update
Welcome to the Daily Crypto News: A complete Press Review, Coin Calendar and Trading Analysis. Enjoy!
Jack Dorsey's latest foray into decentralized technology could be a harbinger of a radical shift in social media infrastructure. It all depends on the execution.
On Wednesday, the Twitter and Square CEO announced plans to support an independent team "of up to five open source architects, engineers, and designers to develop an open and decentralized standard for social media."
"The goal is for Twitter to ultimately be a client of this standard," Dorsey said.
The new team would follow a model similar to Square Crypto, a bitcoin-focused entity separate from Dorsey's fintech unicorn Square. Likewise, the new Twitter entity would focus on open standards for decentralized processes across social platforms, rather than proprietary structures. Although Dorsey didn't directly associate the disparate efforts, he hinted that the "fundamentals" of blockchain technology might offer some tools for "open and durable hosting, governance, and even monetization."
The Maker Foundation has announced a series of governance polls aimed at security after software developer Micah Zoltu explained how any hacker with $20 million at their disposal could stage an attack on the MakerDAO network and steal close to $340 million.
In a Dec. 9 blog post, the Maker Foundation interim risk team announced a series of governance polls into its voting system, with one poll asking the Maker community whether the governance security module (GSM) should be upgraded from 0 seconds to 24 hours.
Earlier on Dec. 9, Zoltu had made the claim that it would cost a hacker around $20 million to attack the MakerDAO network and potentially walk away with $340 million worth of Ether (ETH) locked within the MakerDAO. Zoltu said:
"Maker DAO v2 was supposed to launch with safeguards against a hostile MKR holder stealing all collateral and potentially robbing a good chunk of Uniswap, Compound, and other systems integrated with Maker in the process. Instead, they decided not to."
For the past few days, Bitcoin price (BTC) has ranged between $7,400 to $7,100 and it seems bears are keen to push the price back below $7,000 before this week closes.
Earlier in the week, MATIC made headlines after dropping more than 60% in the span of a few minutes and a few other Binance IEO tokens followed with double-digit losses.
Fast forward to today and many altcoins are back to producing double-digit gains on their BTC pairs. At the time of writing FunFair (FUN) is up 26.6%, WAVES 15.31% and THETA 12.36% and that's just pointing out a select few.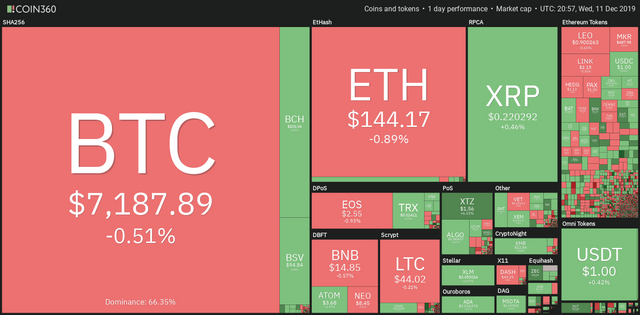 Interestingly, despite Bitcoin's bearish bias, Bitfinex longs have increased significantly (56%) since Nov. 22 and this shows that many traders believe the decrease in selling pressure and the last major drop to $6,530 on Nov. 25 was the bottom.
The current price action suggests otherwise, and savvy traders will recall what usually happens when either long or short positions skyrocket.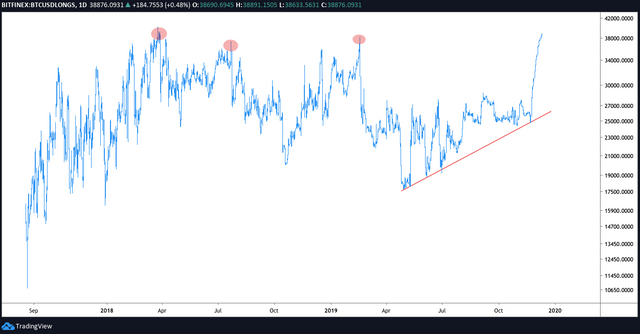 Cryptocurrency and blockchain technology continues to be a global phenomenon, with adoption and utilization cases emerging in almost every corner of the globe. Digital technology has become so popular that it is now a major talking point not only in the financial sector but also in politics and governance.
The seven "-stan" countries of Central and South Asia — Pakistan, Kazakhstan, Afghanistan, Kyrgyzstan, Uzbekistan, Tajikistan and Turkmenistan — haven't shied away from the sweeping digital technology phenomenon. Whether it be revitalizing Afghanistan's healthcare sector with blockchain adoption or introducing a waiver for crypto mining in Kazakhstan, digital technology utilization appears to be gaining a foothold in these countries.
Major crypto exchange BitMEX and its co-founder and CEO Arthur Hayes just got into another problem.
The company and its CEO are now being sued for USD 300 million by Frank Amato, a former JPMorgan Chase commodity derivatives trader, and RGB Coin Ltd., who claim to have been the first seed investor of BitMEX in 2015, Bloomberg reported.
According to the suit, the initial USD 30,000 investment was supposed to later be converted into equity, but they weren't granted the equity, the report added.
Amato and RGB Coin want to recoup the value of their equity, more than USD 50 million, and USD 250 million in punitive damages, it said.
🗞 Daily Crypto News, December, 12th 💰
"We will be announcing the Partnership on December 12."
Binance Coin (BNB), Bitcoin (BTC), General Event (CRYPTO), Flixxo (FLIXX), RSK Smart Bitcoin (RBTC), Zcash (ZEC)
Latin America Bitcoin & Blockchain Conference in Uruguay from Dec 12th - 13th.
"Aeternity blockchain and @aeventures invite you to the Demo Day on December 12th at @micmalta ."
The xDai Network will upgrade to Instanbul.
Team updates at 4:30 PM UTC/ 11:30 AM EDT: Engineering, Node network, Product/UX, Helpdesk, Legal, BD, Marketing, CEO Closing thoughts, AMA.
STEEM Trading Update by my friend @cryptopassion
Here is the chart of my last analysis :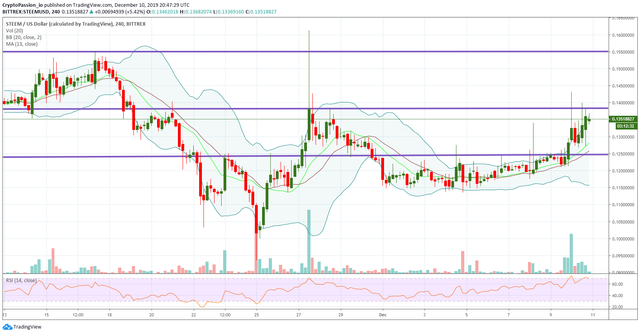 Here is the current chart :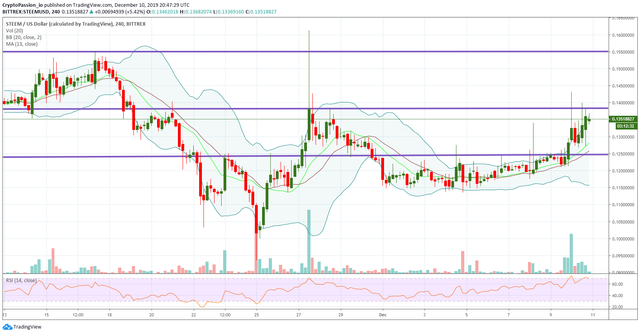 Since the break of 0.124$, we immediatly went test the next resistance line at 0.138$ but we failed to break it. So now we are doing a pause between these 2 lines before trying a new break out. Let's hope the BTC will help us by stopping his current correction. Any way, this UP is a nice sign that STEEM is not yet dead and that some investors are still interested to buy it.
Last Updates

You don't want to miss a Crypto news?
Join SteemFollower and get Upvotes back !