Bitcoin BTC Feb 22 - Technical Analysis Evening Update - Specific Setup To Consider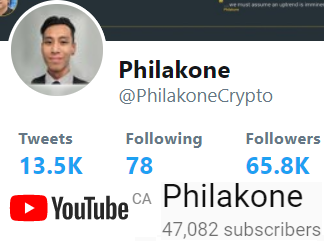 General Tone:
WYX is complete. We may see a slight
bounce at the 382 fib level, which is ranging near $9,450,$9,600
Long Term Bias (6+ months) - Bullish
Medium Term Bias (Next Week) - Neutral
Short Term Bias (Today) - Neutral
Long Term Target Prediction - Primary Wave 3, $35,000+ by 2019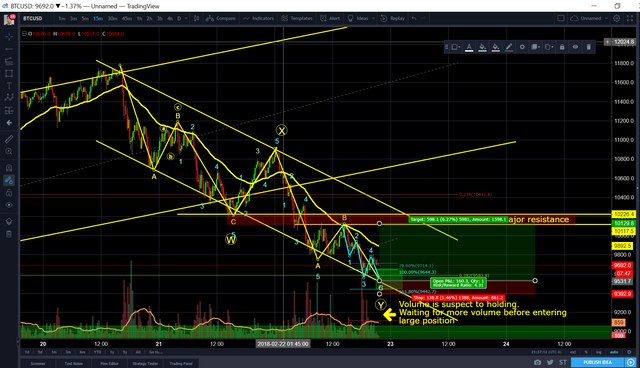 Here is an alternate count and waves 1-5 subwave for the final C could be done already. If we break about $9,850, it'll confirm which count.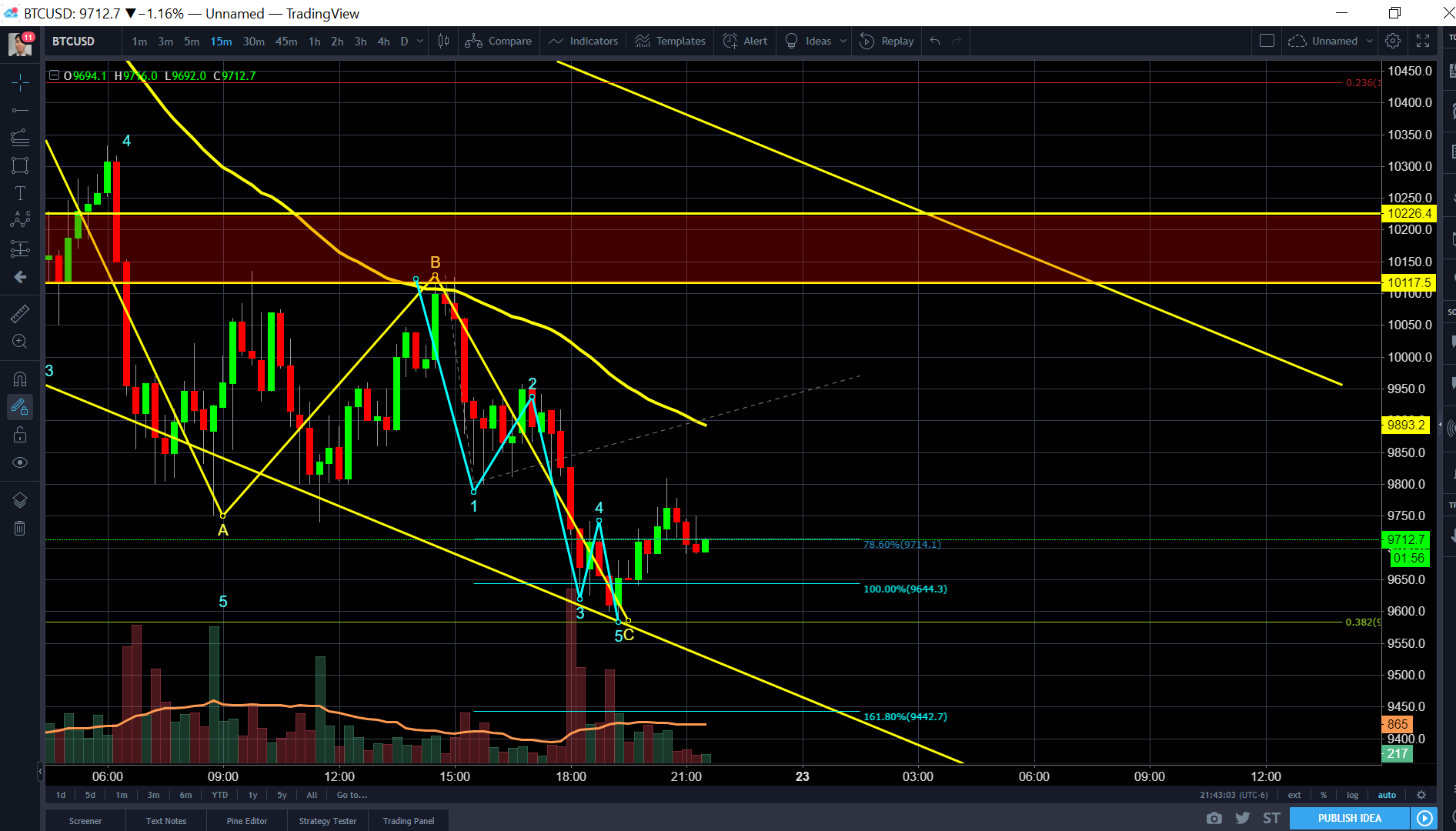 Support zones remain unchanged.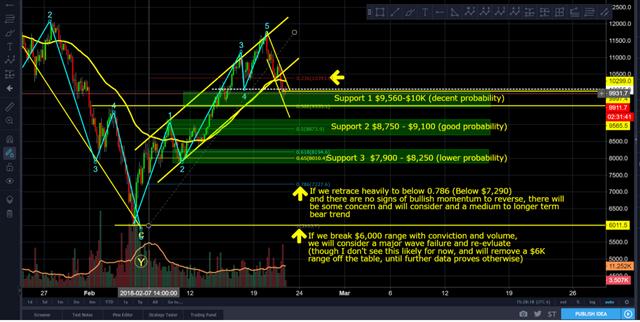 My Comprehensive List of Tutorials
Please consider upvoting if it has helped you
Please consider purchasing me a 33 ft' yacht
if you have reached incredible success
Lesson 1 - Bitfinex Tutorial - How to Customize and Set Up Bitfinex
Lesson 2 - How to Analyze Candlesticks Charts with Strategy
Lesson 3 - Moving Averages
Lesson 4 - Relative Strength Index RSI with Advanced Strategy
Lesson 5 - MACD and Histogram
Lesson 6 - Margin Trading Long, Shorting, Leveraging
Lesson 7 - Basic Risk Management
Lesson 8 - Fibonacci Retracement Part 1
Lesson 9 - Fibonacci Extension Part 2
Lesson 10 - Laddering
Lesson 11 - How To Interpret Time Frames
Lesson 12 - Swing Trading Advanced 55 EMA Strategy
Lesson 13 - Introduction To Elliot Wave Theory
Lesson 14 - Using a Basic Excel Tracker for Risk Management
Lesson 15 - Automatic Stop Sell/Buy Executions
Lesson 16 - Advanced 55 EMA Strategy with Time Frames and MACD Part 2
Lesson 17 - 6 Hours Live Trade Scalping. Growing $2,000 Account into $3,500
Lesson 18 - Bitcoin BTC Feb 6 - BTC Update - Summary of ABCDE with live play.
Lesson 19 - Elliot Wave Theory, Fibonnaci Retracement & Extension (Combined with Feb 11 BTC TA)
Lesson 20 - Advanced Elliot Wave WXY With Feb 11 Technical Analysis
Lesson 21 - Using Elliot Wave, Fibonacci, And Extensions To Obtain Targets (Combined witFeb 11 BTC TA)
Lesson 22 - Risk Management, Channels, Fib Retracement, Fib Extension. Summarizing Feb 11 BTC
Lesson 23 - Fibonacci extension, Fibonacci Retracement, Elliot Wave, Shorting, Playing Downtrend - Summarizing Feb 21 BTC + ETH
Twitter - https://twitter.com/PhilakoneCrypto
Youtube - https://www.youtube.com/user/philakone1
If you think I've helped you tremendously, donate crypto to my dog's tequila / vodka problem.
BTC: 1PruhmsYXU2gPkNw574xZSMyBG4YW5Wnq9
NEO: AaZu8fiiMW3vnizUaSkRj6JoobswkeCKPQ
EOS: 0x2538b728f9682fc1dc2e7db8129730f661753850
Ethereum: 0x2538b728f9682fc1dc2e7db8129730f661753850
LTC: LPeaZpGiF3XdCw5XPN7LXztDagTEZAMgYd
Bitcoin Cash: 1AY2FPANCe5URB71Nvy6tkCgoTS8iHgmZD
XRP Address: rLW9gnQo7BQhU6igk5keqYnH3TVrCxGRzm / Wallet: 4110054236
The ultimate goal is to help the crypto community because I think there's a lack of these type of videos. I want to share everything I've learned because knowledge is only power if passed on. These are educational videos intended to teach how to think through thought-out rationalization.
DISCLAIMER:
Legal stuff here. I'm not financial advisor. This is just my opinion that I'm sharing with the community. All information is for yours to process how you wish.