Elon Musk Foresees us Adopting Some Form of Universal Basic Income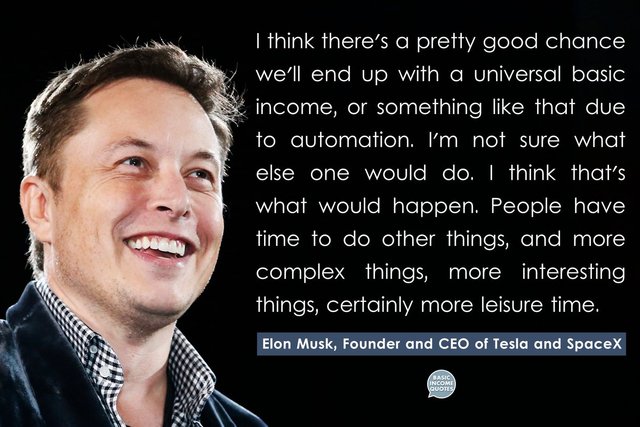 Likelihood of Automated Jobs
It's become pretty common knowledge by now that as robots and artificial intelligence are automating many tasks, there is concern over what jobs would still be available for humans. We've already seen large number of job losses in the manufacturing industries, McDonald's is replacing workers with automated kiosks, and there is even an artificial intelligence Lawyer called Ross Intelligence that has started being hired by some firms.
"THERE IS A PRETTY GOOD CHANCE WE END UP WITH A UNIVERSAL BASIC INCOME, OR SOMETHING LIKE THAT, DUE TO AUTOMATION."
-Elon Musk, Founder and CEO of SolarCity, Tesla, and SpaceX
Many of the jobs most mentioned as being threatened by automation are lower skill jobs such as telemarketing, accountants and salespeople. Professions that more with non-routine tasks or require high social skills are currently viewed as being safer from such replacements in the near future including engineers, psychologists, doctors, therapists or editors.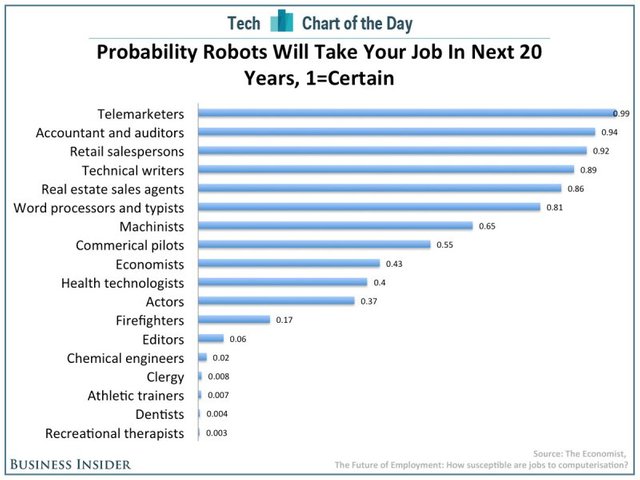 Why Universal Basic Income
As the global workforce modernizes and low-skilled workers lose their jobs, momentum builds around the idea of a universal basic income, or a fixed, regular payment that all residents, no matter their employment status or wealth, would receive from the government.
-Source
Most estimates that I've read have estimated in the US that Universal Basic Income (UBI) would provide each person with approximately $1000 per month. This would by no means put someone into a state of luxury, but enough to at least survive by having the ability to eat and a place to stay. Obviously the actual buying power this would provide would vary with costs of living being differing from place to place.
It is important to have an idea of how this would be paid for however. Personally I see more damage then good to get a number of people dependent on a system like this only to have it suddenly ended, leaving them scrambling to pick up the pieces which they hadn't seen the need to budget for. Rather than seeing this as a pure expense that has to find new funding, Universal Basic Income would replace the vast majority of the current social programs in place that provide citizens with a safety net such as "Social Security, Medicare, Medicaid, food stamps, Supplemental Security Income, housing subsidies, welfare for single women and every other kind of welfare and social-services program."
The estimated spending on welfare programs in the United States is currently estimated at a little over One Trillion Dollars. It's worth mentioning that not all of this money is what actually goes into the hands of welfare recipients with the various administrative and oversight costs that go along with this, where a UBI system wouldn't incur these expenses.


Has Universal Basic Income Been Tried Anywhere?
Finland
A two year experiment will be running from 2017-2018 in Finland where people already receiving unemployment benefits will be replaced with a monthly income of about $600 per month to use as they wish. Their goal is to "assess whether basic income can help reduce poverty, social exclusion, and bureaucracy, while increasing the employment rate." Even though this experiment is referred to as an incremental change in the welfare system versus implementing a Universal Basic Income, it will be interesting to see the results towards their stated goals.
Read more on this here.
Oakland, California, USA
Y Combinator is funding a pilot Universal Basic Income program in Oakland, CA for 100 families in the city. Each family will receive between $1000-$2000 per month for between 6-12 months which they can spend as they choose with no restrictions.
First, UBI subsidizes disruptive technologies. "The motivation behind the project is to begin exploring alternatives to the existing social safety net," Elizabeth Rhodes, the research director for Y Combinator's UBI project, told Quartz. "If technology eliminates jobs or jobs continue to become less secure, an increasing number of people will be unable to make ends meet with earnings from employment."
-Source
Read more on this pilot program here.
Other similar UBI experiments (some planned, but yet to begin) can be found in the Netherlands, Canada, Scotland (if passed,) and potentially New Zealand.


Won't This Just Make People Stop Working?
This really tends to be the big question in my eyes over the actual costs (since Universal Basic Income would replace the huge welfare system costs.) Ultimately this is why I'm so interested to follow these trials and experiments to see the effect is has on individual motivations to work. I've seen many arguments that those receiving UBI would pick up part time jobs, freelance or on-demand work, as well as some say allow individuals to actually take more risks such as starting their own business since they have a safety net in place.
In the 1960's and 70's both the US and Canada performed some trials to see the effects that a UBI would have in regards to 'work' from the recipients. Finding from the experiments run in Manitoba, Canada found "The reduction in work effort under Mincome was modest: about one percent for men, three percent for wives, and five percent for unmarried women" with some of this resulting in mothers choosing to spend more time at home with their children and teenagers not getting part time jobs to instead focus on school where sharp declines in drop out rates were seen.
More reading on the effect of UBI on work can be seen here.


For Additional Reading:
On the Future on Employment
Robots will eliminate 6% of all US jobs by 2021, report says
The Future of Employment
These Are The Jobs That Will Be Safe From The Imminent Invasion Of Robots
On Universal Basic Income
[Of Course We Can Afford A Universal Basic Income: Do We Want One Though?]
Elon Musk says robots will push us to a universal basic income—here's how it would work
Why Silicon Valley is embracing universal basic income
A Guaranteed Income Would Be Better Than Our Corrupt Welfare System
Universal basic income wouldn't make people lazy–it would change the nature of work
A Guaranteed Annual income: From Mincome to the Millennium (2001)
Will Your Job be Done By a Machine?
(
http://www.forbes.com/sites/timworstall/2016/06/04/of-course-we-can-afford-a-universal-basic-income-do-we-want-one-though/
)
Automation and anxiety

Are you new to Steemit and Looking for Answers? - Try https://www.steemithelp.net.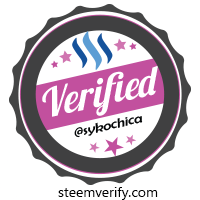 Image Sources:
Elon Musk Quote
Job Chart