Weekly report (19-26 July 2018)
Weekly report
This week in steemit has been fabulous. I worked hard during the weeking in my tutorial on curved drawings.
The
first lesson
, did not have a big impact, however,
@veryspider
and I perseverd. Good wok always bring fortune, so never surrender.
So I posted the
second lesson
, concentrated as an old samurai, oblivious to external events. When I was about to go sketching with my friends
@veryspider
chatted me: Go and see your blog !! We got the jackpot!! It's a huge reward for a job well done.
But the surprises did not end there, a fever of talent took hold of steemit.
@veryspider published a great drawing that I scored with three "Olé" (and in Spain, especially in Andalucia, to get an "Olé", you have to perform really well).
This drawing from @veryspider integrates all the arguments that a work of art has to have. Generosity, abundance, rhythm and great sense of graphic density. It's like a three point shot from Larry bird against the Lakers over the counter.
I started to discover also @scrawly, whose mind is a labyrinth with many rooms, all mysterious and surprising. My attention was attracted to her work and the way she described his Master assasin and peter pan . This girl had to be working as a screenwriter in a series like Black Mirror.
I also understood, throughout the week, that steemit's kitchen is not in steemit itself, but in discord's rooms. It is there where one becomes known among the groups of curators. It is an investment in time that I recommend, then, while having a good time, the more popular you are in discord the more your work is analyzed by groups with great voting power. Following the advise of @anasav, I met @mathowl, from the scientific community called steemstem, We chat during a long time as I was having a few doubts about a mathematical post (Alien level) in which I am working. The next day, I was really surprised, because steemstem had voted my second drawing lesson in curved spaces.
Finally, an unfortunate accident while I was trying to synchronize my web page with steemit, gave rise to a surprising result. My Memories of an idiot (an emergency post made with old material non published so far) generated many comments and good acceptance. And I again attract the vote of the great @kommienezuspadt. Thanks man, and happy birthday!
I forget many people and many intelligent comments and interactions, next week I promise I´ll do better.
Now, Let's go to the gift:
The Ilustration
I am happy to introduce you to Dr Spherikus a CriptoArtist. I hope @scrawly will make the corresponding biographical memo, mental diseases are welcome!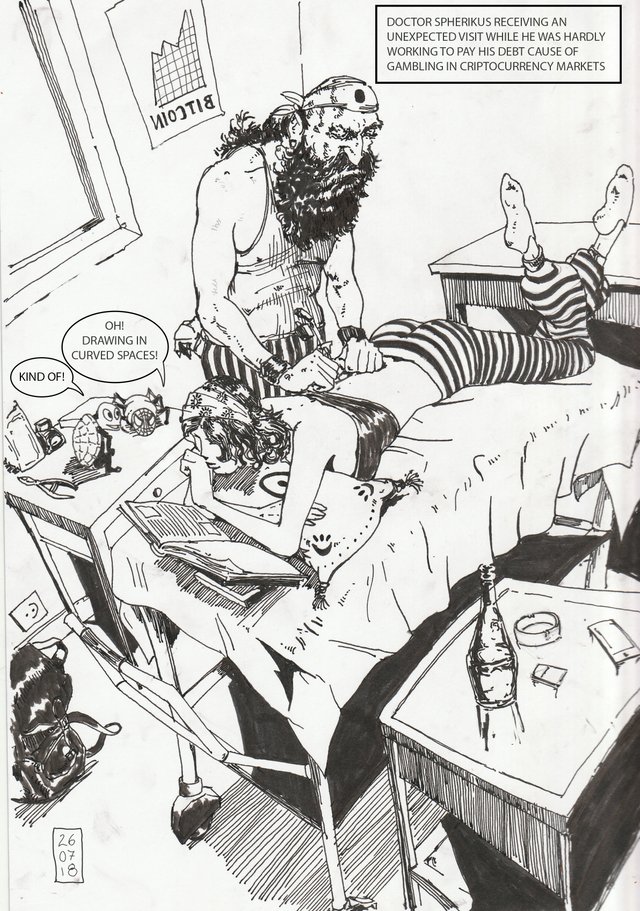 Dr SpheriKus, @veryspider and @scrawly
The Beneficiaries
I am happy to announce that this post will share the 50% of the eventual author reward to:
20% to @veryspider cause of Curie management.
20% to @mathowl cause of SteemStem management, and his patience with me.
10% to @scrawly cause she is very funny.
Have fun and thank you for reading!
Au revoir
PD: There use to be a beneficiary buttom but I can´t find it. In any case, I will send the transfer once the bid is closed.