My picture of Apollo and the story of Greek mythology
Traveling in Greece is not only the enjoyment of ancient architecture and landscapes, but also an excursion into mythology. Three weeks we traveled around Greece by car and all this time we listened to stories about gods, muses, oracles. This is amazing, because you see Mount Olympus, where the gods live, you see the ruins of the temples dedicated to them, you see people who believe in God the only one, but they remember their history. You feel how much all this is real, because myths and legends left their physical incarnations literally at every step.
Apollo is the son of Zeus, one of the most revered and beloved by among people. Apollo is the patron of arts, divination and medicine.
According to ancient mythology, Apollo is the son of Zeus and the Titanide Latona (Summer). Zeus "officially" was Hera's husband, but his love gave the world a lot of children from other beautiful maidens. Hera, however, pursued and punished the insidious mistressr in every possible way. So it happened this time. Pregnant Latona was haunted by the terrible dragon Python. When Apollo was born and grew up, he decided to take revenge on the dragon. Found him in the mountains of Delphi and killed him with golden arrows. In honor of the victory, Apollo founded in Delphi an oracle, which announced to the people the messages of Zeus.
It is interesting that the Delphic Oracle really existed, it was the center of ancient Greece, the place where many temples were built in honor of Apollo. Millions of people came here to hear the oracles, they brought donations, thanks to which Delphi reached an unprecedented development. Today it is an architectural monument, a stunning open-air museum. I will tell you about this interesting place in one of the following posts.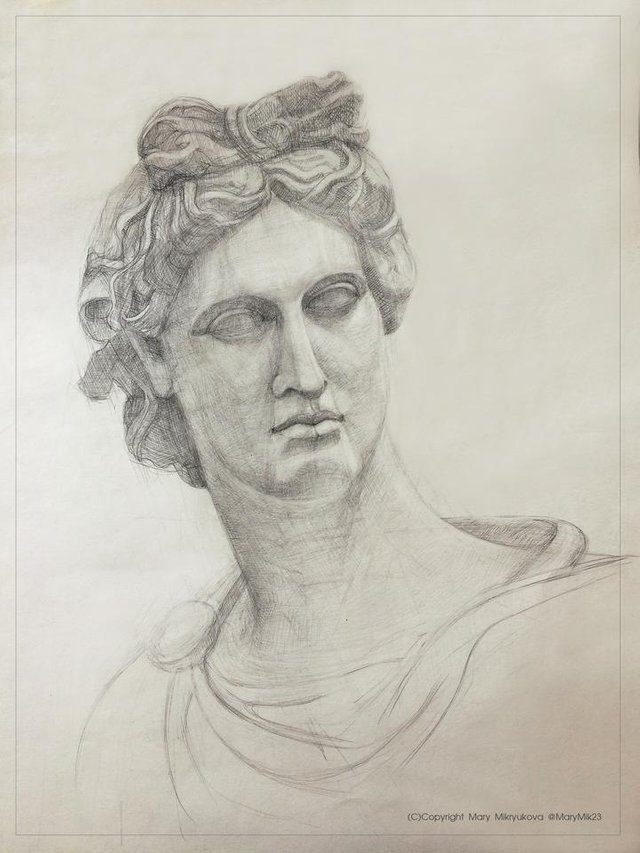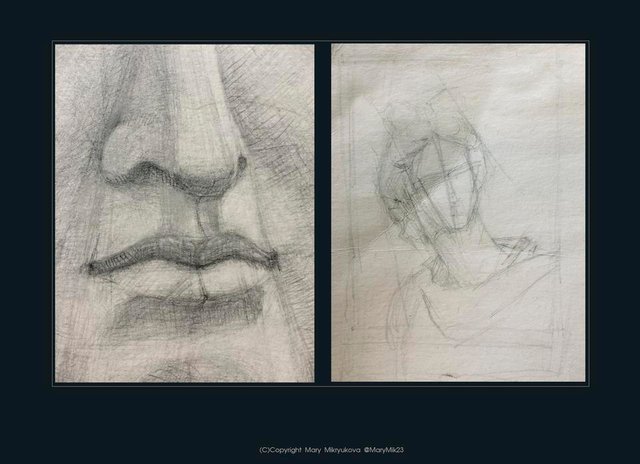 Paper, pencil, A2
Apollo is dedicated not only to a huge number of temples, but also statues, miraculously preserved to the present day. Apollo Belvedersky's head was at least once painted by every student-artist. The marble statue is a copy of the lost bronze, created in 330 BC by Leohar, the court sculptor of Alexander the Great. Traditionally, Apollo is portrayed as a fine young man with a bow or lyre in his hands.
I will continue the stories about modern Greece, subscribe to my blog in order not to miss interesting posts.
Text, photos and good mood - ©Copyright @marymik23