I Took My Watercolors to the Sea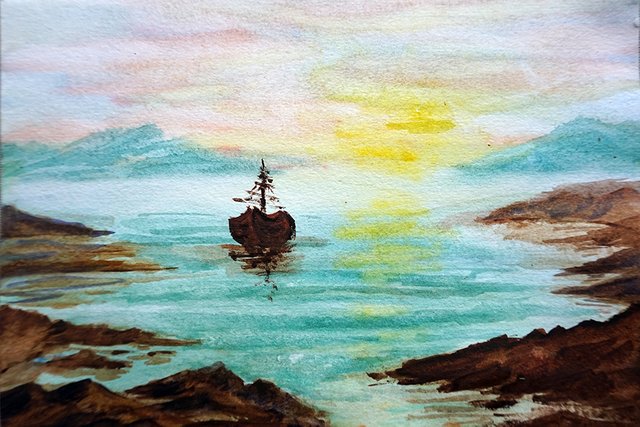 This one is actually a basic exercise of mine that I repeat from time to time.
And I thought I would have about six or seven beautiful and calm afternoons in which I would paint my memories on paper. It has to be a special paper. One that catches memories and watercolors right. (Lol, the first time I managed to type wotorcolor. That was a lot of o-s.)
In reality, it turned out to be about three afternoons. One of which I did a piece I later scrapped and I showed it already in this post.
What about the rest of the afternoons? Well, my wife Silviya, A.K.A. @silver.art, needs her beach time. It's a condition. And I need to be out of the Sun before it's noon. And not go back until late afternoon. It's a condition, too. Both conditions are more like mental than physical.
And it turned out that when you wake up, eat quick, run for the beach, when you come back tired, and eat, and bathe, and sleep maybe because of the exhaustion, there's no time to paint before you have to go to the beach again. And then it's dark, and mosquitoes are out, and it's not pleasant anymore at the porch of the bungalow.
And...for those who know me, I am a photographer. So I take photos on the beach, instead of sketching there. Mostly.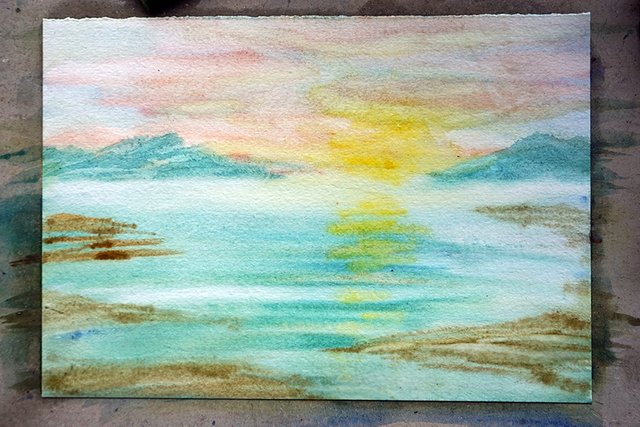 Earlier phase — I remembered to snap a pic of it this time around.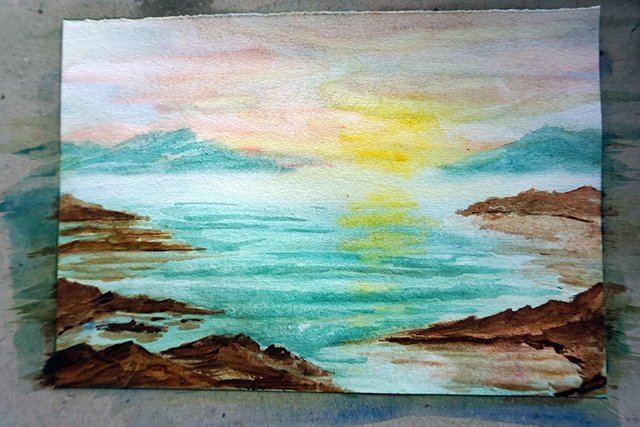 And a bit later with more solid colors in the foreground.
Now that I am looking at it, I see I couldn't remember to capture the sky reflected in the water. I don't know if I would have a chance to do it properly in moving sea waves, anyway. But I should try next time.
And one more thing...
This was imagination, not what the place looked like.
This is what it looked like: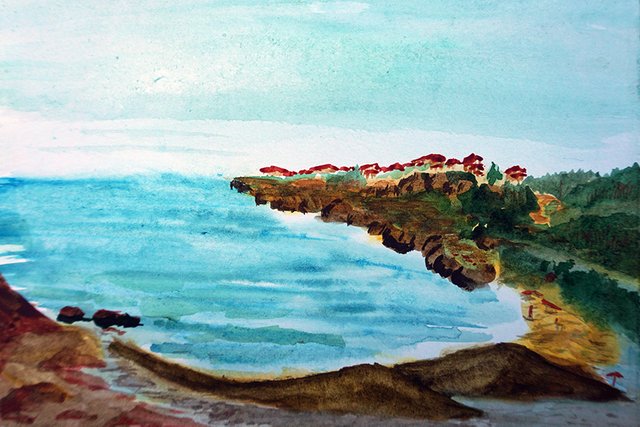 Veleka Beach where the river meets the sea. Well, Somebody should have left more room for the river in the composition.
But with...more people on it.
This one was done live. I mean from the beach. I was strongly encouraged to do that by @silver.art who prefers painting like this. Well, she is a pro, though. And she does it on canvas with oil or acrylic.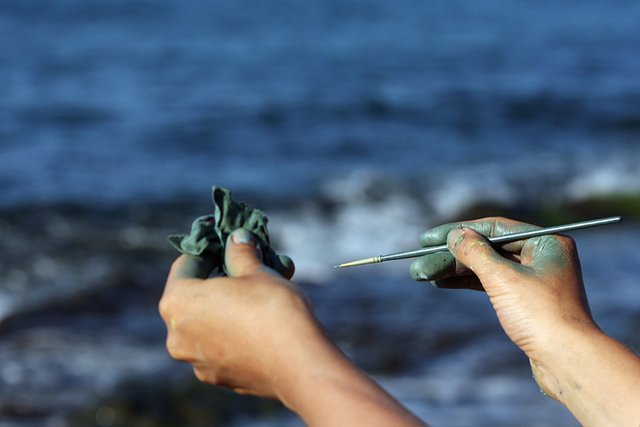 Oil this time, obviously. See how it glistens.
Well, I had time to start two more pieces and they both had mistakes but I also learned a thing or two from them and I think I am moving up. They were both on larger papers, I mean A4. The ones above are A5. The first of those pieces was an attempt at reworking the realistic view above, the Veleka Beach, but I made the same compositional mistake although I had more space to work on. Lesson learned? I have to make a sketch first.
The second attempt was again too closely composed. I mean not enough space. And in watercolor, as well as in photography, space around your objects looks generally nicer. But this time I improved my layering technique a bit. I don't have the time to finish those right now. I would rather start a new, anyway.
But for now, I have to get back to another painting job. The walls of my our bedroom need more potassium. Yes, @bananafish, I am making our balcony and bedroom go bananas! I'll show you later. Cheers!
Yours,
Manol