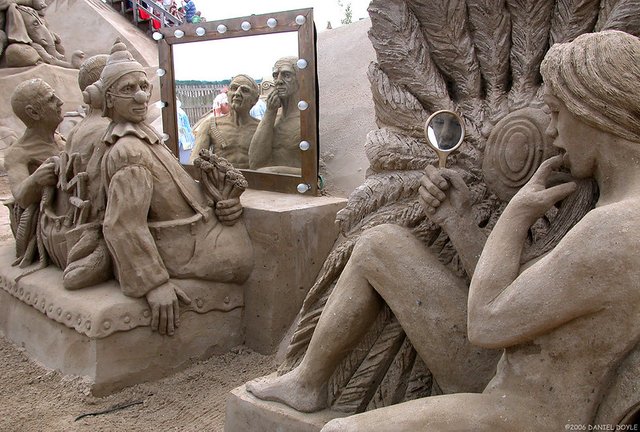 We are off to the circus and a sand sculpture festival I worked on in Travenmude, Germany. It is a really interesting theme for a project and to my surprise this is the only one I know of. There are so many characters and animals to base your work on, all different shapes and sizes and full of imagination. I perfect theme for a sand sculptor. I really had fun creating these.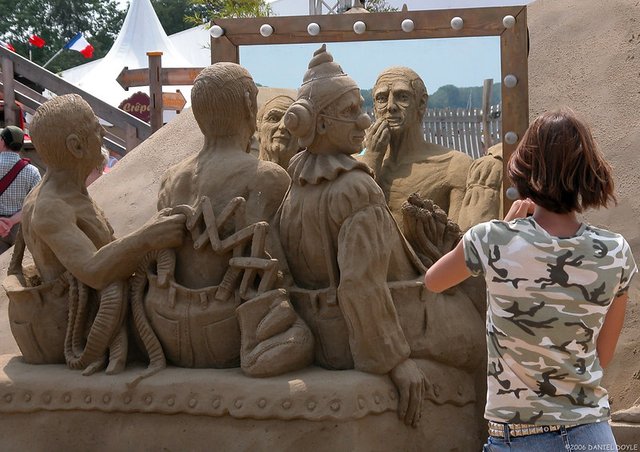 The dressing room
I was given the task of making a dressing room scene and told that I should make some clowns and fancy dancing girls. I was in my element.This time we would have different elements to play with along with the sand and I would get some makeup mirrors. While the technical crew built these I began making my clowns.
Clowning around
Three is always a good number when it comes to design so I made triplets each at different stages of make up. Clowns are funny, at least they are supposed to be but for me I wanted to lift the mask and see the humans underneath in their moment of preparation. This was to be no laughing mater.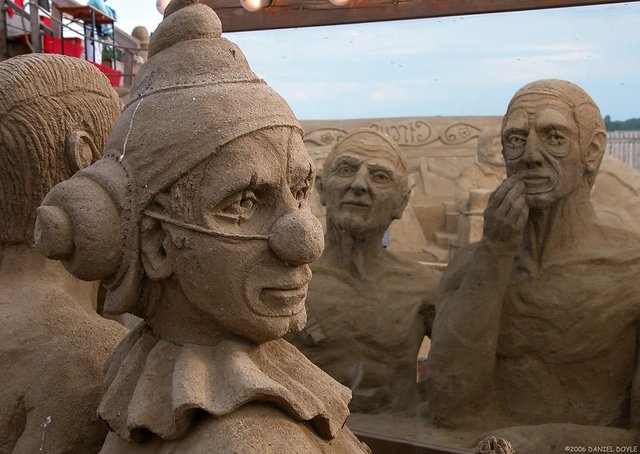 Old wizen men was how I chose to portray them. Their faces would give me a nice contrast to play with before they had their makeup applied. Their clothes were designed as I went along, Baggy trousers and a hat that looks like it was designed by princess leia herself but, with a twist.
Mirror mirror
The mirror was added near the end and quickly made the sculpture complete and give it meaning. Having the last clown looking right helped me give a connection to my second piece.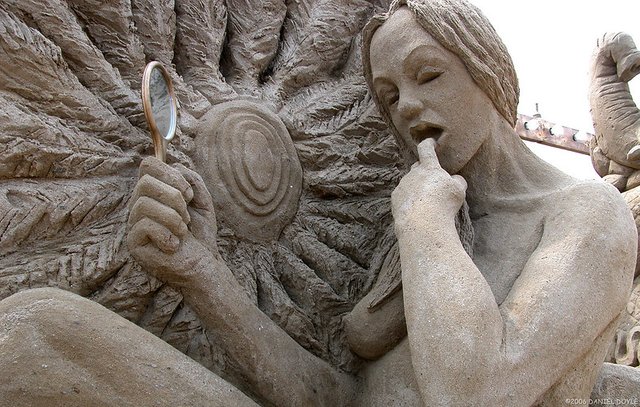 A naked chorus girl applies her lipstick as the clown looks on. I carved her fully nude to prove how like you and I these circus performers, underneath all the amazing costumes we are all really just the same, . ( or maybe it was because I just like carving naked ladies)
In her hand I placed a mirror. I think they have great possibilities to give you twice the sculpture for half the price and the different perspectives they display is worth more experimenting with.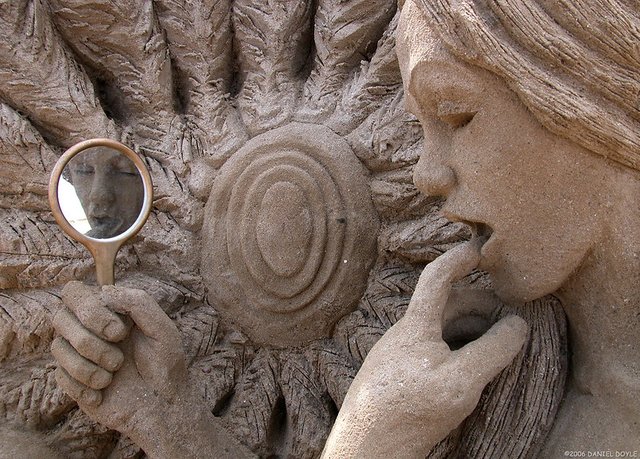 Behind her was a big feathery object. It acted like a nice backdrop to the girl and only made sense as to what it was when you looked in the mirror and saw the other figure putting it in place as a head-dress. I like when people have to discover hidden things in a piece.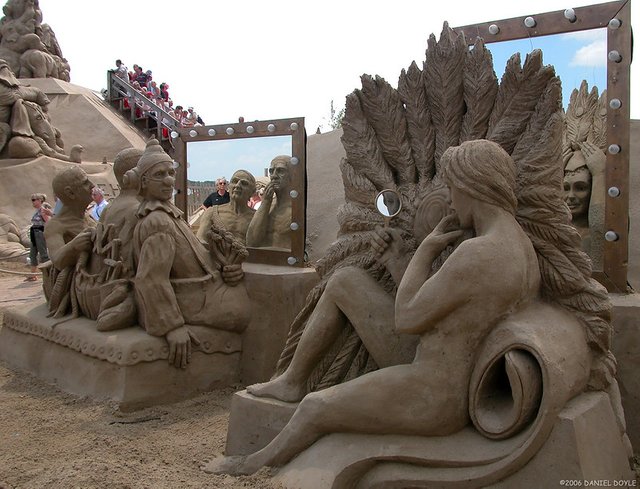 The calmness of the scene was quite nice compared to the rest of the circus figures on display. It was fun to be working backstage in my little corner.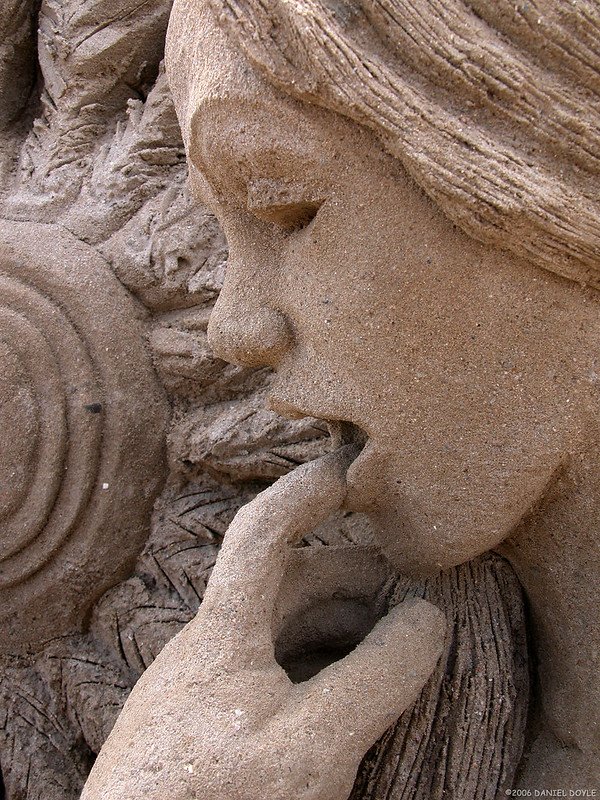 The sand was nice to work with and allowed for nice details and textures to be made. Even though the grains were coarse I could get some nice forms and finishes.
Other bits and bobs
When I was finished my scene I had some time left and I was directed to a piece of sand to think of a quick solution to turn it into. A lot of the times on projects like these there are many areas which need something but not to complex that may take away from the other sculptures around.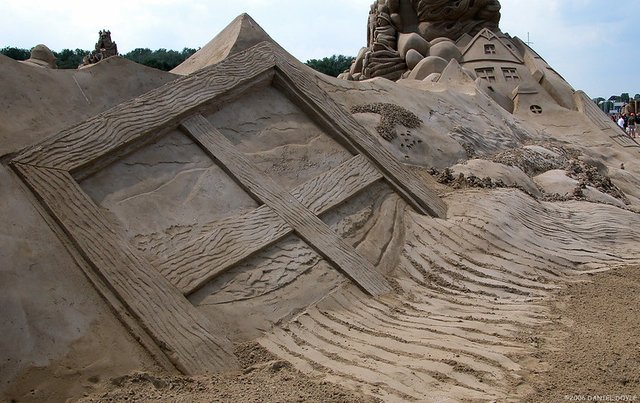 So I worked on this little landscape. Nothing too interesting, I admit and so I achieved my goal.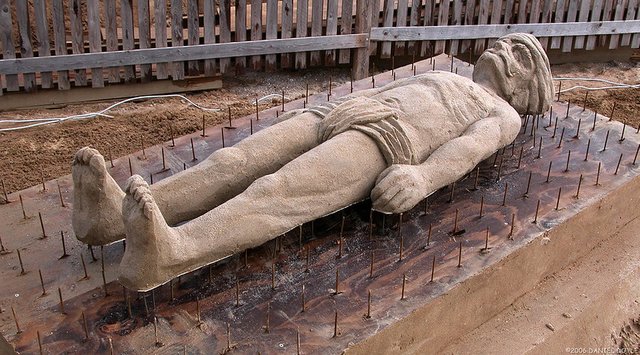 As a last minute project they also asked could I make this guy on a bed of nails. I got someone to lie on a piece of wood and drew around them making a template platform that I could then put sand on to make the character. This I then lifted on top of the bed of nails so it looked like he was floating there. Pure magic. Not the easiest of projects but I think it looked Ok.
---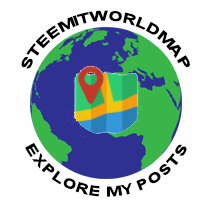 ---
Ps
Thanks for reading. I use Steem to document my work as an ephemeral Sculptor of sand, snow and ice, among other things. This will hopefully give it a new life on the Steem blockchain. Below you will find some of my recent posts.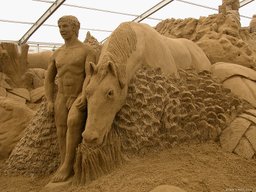 Romulus and Remus - sand sculpture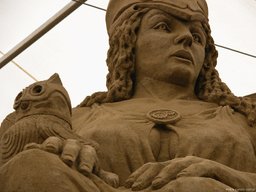 Athena - sand sculpture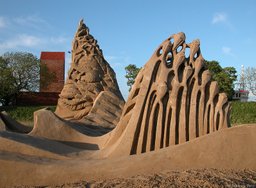 Birds and fishes (What happens when it rains) - sand sculpture
I hope you'll join me again soon
@ammonite