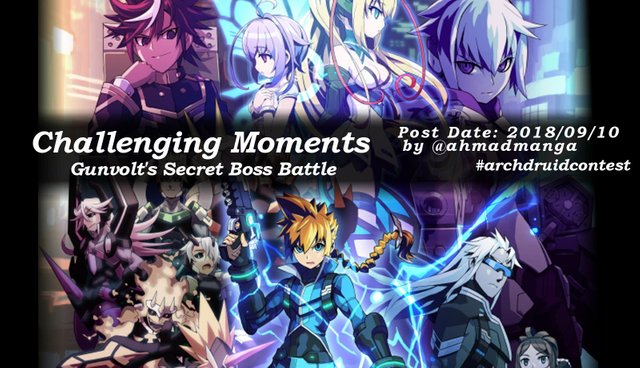 As a gamer I had many challenging moments, just recently I wrote articles About few of them. My post might be different than others because I almost only play games with a challenge level fit for me.
Let's start with me as a child. In. My. PS1 days. I played both MegaMan X4 & MMX5. God, I loved X5.
But when I said played I meant just that. Winning was never my goal and they were too hard for the younger me. I might have only beaten the tutorial and two levels in each one myself. Most of the time a level is beaten in my brother's turn. Or one of my cousins' if they were with us. Even with all of us, we didn't beat those games but they left us with great family memories!

Believe it or not, I love Zero more!
Now I'll talk about a similar game from the same creator after he left Capcom. It's easier to beat but if you want to %100 it. This game might be harder than any MMX: Azure Striker Gunvolt.
I reviewed ASG in the past.
---
WARNING: BIG SPOILERS EVEN IN IMAGES!
Most first-time players won't know about the secret ending
until they see the first ending or read a guide.
---
After you beat the final boss, he rants about how by killing him you doomed the world future.
Few game minute's later. Turns out He Was Right! The savior of Gunvolt and the leader of the liberation group asks Gunvolt to help him wipe out humanity.
Of course: Gunvolt refuses, he only cares about Joule safety and he doesn't hate humans.
So the secret boss goes "oh well,' and kills Gunvolt & Joule.
---
The End.

Too sad for an ending.
---
After the credits end, I was back to the usual stage menu. With all stages unlocked and a vague about a bad dream the Character's had.
Now. Reading a guide, I knew.
Under certain conditions, you can reach
the true ending of the game.
After Joule is killed, she finds herself floating as a ghost. Looking at her pendant the Dead Gunvolt wears the pendant that does nothing but wore only for her. She used the last bit of her power. She revived him by merging her ghost self with him.

Rage...
The revived more powerful Gunvolt went for revenge, as I playtesting my new abilities I could feel Gunvolt's Rage and Sorrow, I was moved by Joule's encouragement to him.
Then he fought his old friend and savior!
The Secret Boss!!
Asimov

The True Azure Stiker!
I refrained from mentioning his name for this moment.
He's Electric Master using the same abilities as Gunvolt and he's immune to every attack unless you damage his defenses first.
The repetitiveness of Asimov's attack pattern as a boss won't make his battle easier, due to how hard avoiding any attack of his. I could memorize every other boss pattern, creating a countermeasure to it.
Not so with Asimov.
If one attack from his gun hits you, you'll lose your electricity powers for a few seconds. Leaving you in a harder case to avoid his other attacks! In my case, most of my loses started with getting hit by his gun once.
I lost track of the number of times I died before I manage to attack him. I lost track of the number of times I lost because of not timing my attack with huge precision. I lost track of leaving him so desperate to activate his killing move and die right there.

Asimov has the same signature move!
The time I finally managed to beat him, I had 1 hit left in my HP an I won by luck. In a split-second, I managed to prepare for his strongest attack for minimum damage and with some help of God, my next attack actually hit him.

Notice that I didn't have any image of the fight itself,
I was too focused on beating him for four hours!!
That was the most challenging moment I remember overcoming. Of course, the game had harder modes and I never beat the four extra stages/challenges yet (well, I beat one and had 'a close one' in the second.) I still have one or two achievement(s) to perfect the game.
But for me, getting past that secret boss & watching the true ending was one of the most satisfying moments in my life.
---
PS: Capcom please, make Gunvolt 2 for PC happen!
---
If you liked this post you might like my review of the game. I'm not so skilled with platformers so other people may not find this challenging at all. But I'm glad to choose this game for #archdruidcontest "Challenging Gaming Moments" contest! At least I didn't talk about my trying to %100 achievements for Go Go Nippon!
---
Cover image is made using a pic from the official site of the game. Screenshots are taken from "Azure Striker Gunvolt" (Steam version before the major update.) MegaMan X5 screenshot is taken from here.