Here I talk about some experience I had with a monster necessary to quire one of FFVIII Guardian Forces.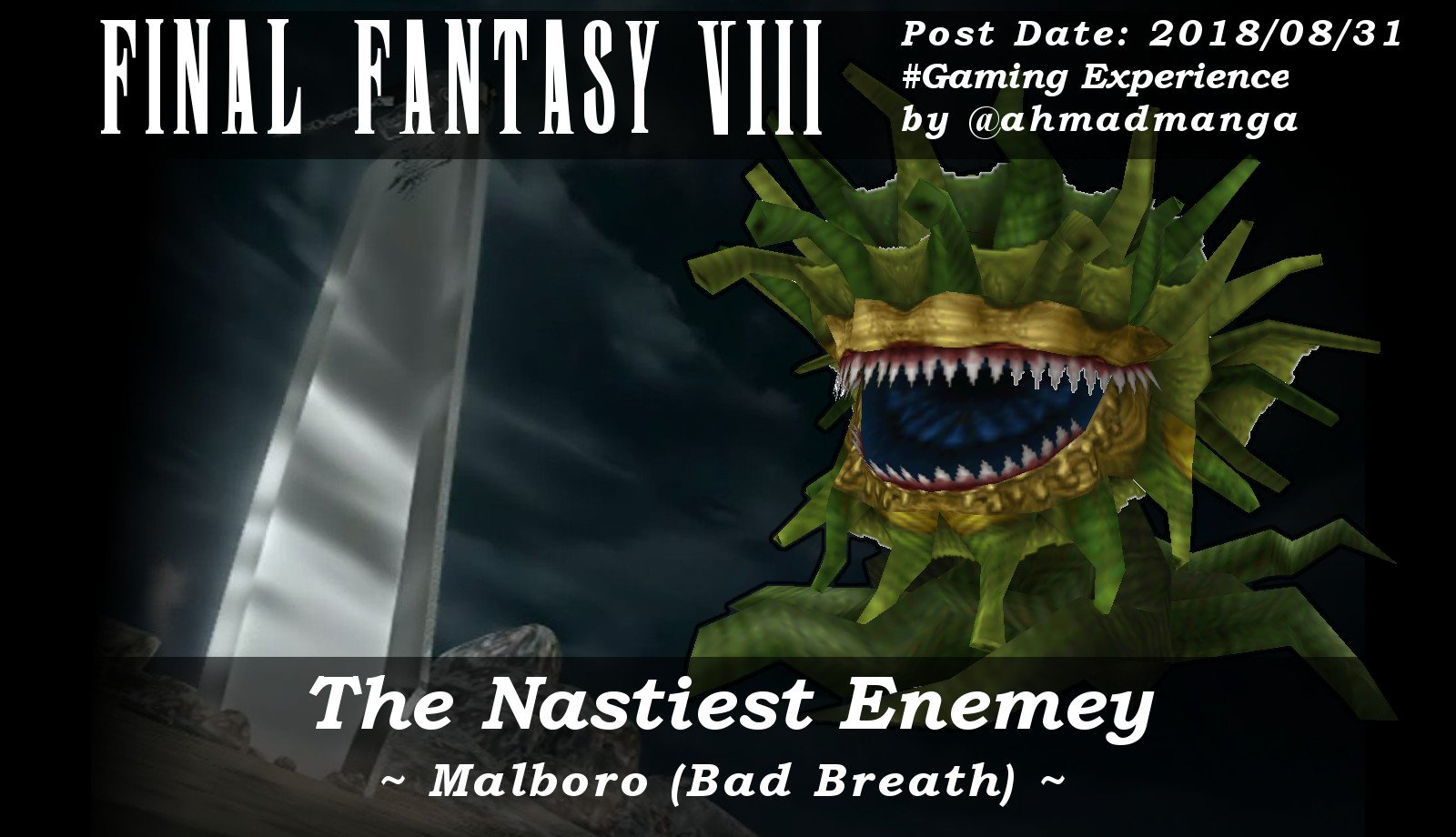 ---
No Story Spoilers
---
In Final Fantasy series, there's a lot of recurring elements, there's always a man named Cid, and most of the games have a chick-like-creature called Chocobo. There's a recurring enemy in the series, famous for his nasty attack: "Bad Breath." This evil plant is named Malboro. After some cigarette company.
One of the items only Malboro drops in Final Fantasy VIII is needed to acquire one of the Guardian Forces (GFs which are basically Summon monsters.)

Squall is dead... That's a good start!
This monster is rare. I needed to read a guide to find it.
And the first time I fought it....
What. just. happened?
GAME OVER!
---
Bad Breath is actually very strong magic/attack it has a chance of affecting all your characters with most bad states: Silence. Blind. Confuse, Berserk, Slow, Poison and maybe more. There's a chance to have all your characters get into all of these bad states at the same time.
If that happenes
INSTANT GAME OVER!

That's... Disappointing...
I only defeated the plant by using what I learned about the Magic Junctioning. ST-JUNCing huge amount Berserk magics to a character defense against the state. Ensuring at least one of my characters will keep his sanity at the calamity and use Remedy on the rest. Farming them wasn't easy but worth it.
This strategy didn't come to me naturally though. I lost in Bahamut side-quest so much that I was forced to experiment with magic Junctioning. Collecting and creating the best set of magic to defend against his one hit kill attack. I accidentally and proudly achieved the Maximum HP in the game in my quest to do so.

Squall Max HP here is 9999! YES!!
So, returning to Malboro. The monster plant has the maximum HP of the whole non-boss monsters. Since it only lives in areas accessible only in late game Malboro's the most troublesome non-boss to hunt because of its rarity (though when you actually defeat it, the items drop rate is high.) Malboro has the biggest mouth in FFFVIII and It even has Tentacles! (so lewd.)
I like the self-imposed quest of Malboro hunting. The item it drops is necessary to complete Quistis blue magic list & for the GF Doomtrain. Also, the bragging rights if you're able to defeat it at level 99! at that level, it might compete as the strongest thing in the game! (Probably not, there are super bosses in FFVIII.)
---
So this is my short article about my experiences with this nasty enemy. I wrote a similar article on one of the bosses of FFIV. If you want to read more Final Fantasy VIII posts here's my review and how I relate to Squall. If you want to read more about Malboro here's its wiki post.
---