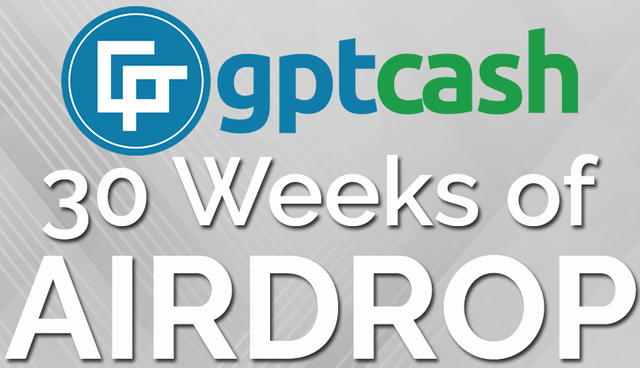 A new non-ico proof of stake cryptocurrency that will distribute its coin through airdrop for 30 weeks to help grow its community. This is a chance for crypto enthusiast to be part of this great new project.
What is GPTCash
GPTCash is a community cryptocurrency project and envisioned itself as one of the major payment currency in the GPT Industry. Our GPT platform will enable employers, advertisers and different companies to outsource job and manpower for more efficient and cost-effective way to complete their needs. GPT Industry is a billion dollar industry and many work at home people are turning to GPT Platform to earn extra money online.
Unlike Other Cryptocurrency Project we are not promising fancy blockchain technology but a real use case by creating a real ecosystem and market behind GPTCash as a online currency for payment of goods and services.
Airdroptalkforum Introduction
Airdroptalkforum is our native cryptocurrency community forum. GPTCash Airdrop will fuel the growth of airdroptalkforum as a community forum. Forum Features includes Forum Chatbox, In-House Forum Currency, Lotto, Bank System,contest to name a few. Join Airdroptalkforum a be a pioneer members of our new community forum startup.
Coin Specification
Algorithm - Scrypt
Type Proof of Stake
Coin name - GPTCash
Coin Ticker - GPTC
POS Rewards - 10% Annually
Min Stake age - 8 hours
Max Stake age - Unlimited
Coinbase Maturity - 20 Blocks
RPC port - 43036
P2P port - 43035
Coin supply - 100,200,000 coins
Premine - 40,200,000 coins
Premine Allocation
Airdrop: 30,000,000
Mini Sale: 3,000,000
Development Fund: 3,000,000
Founders Rewards: 1,500,000 (500k will be unlock after the airdrop)
The remaining 1M will slowly release 3 months after the airdrop on a monthly basis (10%) for 10 months
Bounty & Marketing: 1,500,000
Forum Giveaways: 200,000
Network: 1,000,000 (All Stake Rewards will be use for Giveaways)
Use only for Network Security and Stability. After AD10 Community will decide what to do with the coin.
30 Rounds of Community Airdrop Project
Total Airdrop Allotment
30,000,000 GPTCash Coin
Total Airdrop Rounds
30 Weeks + 12 Months Exclusive Airdrop
How to Participate?
To participate you must register in the Airdroptalkforum
To received the airdrop, download the GPTCash wallet here
After having your wallet address, fill up the form to participate in weekly airdrop here
AirdropTalkForum requires 10 post to qualify for the airdrop
80% Holding Requirements to qualify for the airdrop.
Distribution 1 User = 1 Stake, Equal Distribution.
Anti-Cheating, Abuse and Multiple Accounts
Registration Using VPN,TOR,Proxy is allowed but user that register using those methods will NOT QUALIFY for the airdrop.
Use your normal house internet connection or mobile data to register for the weekly airdrop.
Sharing IP within your household is OK!! but only 1 user can qualify for the airdrop. (1 Family = 1 Airdrop Qualification Only)
We have BOT and Manual Checking in place to prevent cheating and abuse from the airdrop.
---
Useful Links
GPTCash Website
Airdroptalkforum
GPTCash Twitter
GPTCash Wallet
Bitcointalk Ann