ADSactly Initiatives - Helping Underprivileged Children Access Education Part-4
Everyone has something to offer to support causes that matter to them. While monetary donations are always needed, they are certainly not the only a way to support a charity. Your voice is a powerful way to supports a cause that you care about and we have many people here on Steemit helping to support us—we are so grateful!
Have you heard of the first Steemit-community funded charity school, @SchoolForSDG4? School For SDG4. The school was founded on April 20th, 2016 by Mohammed Abdul Aziz @Azizbd and it is in Sylhet, Bangladesh.
The main objective of the school is to help local underprivileged children by providing free access to education (an important tool for change for the future) and help Bangladesh to achieve the Sustainable Development Goal 4(SDG4).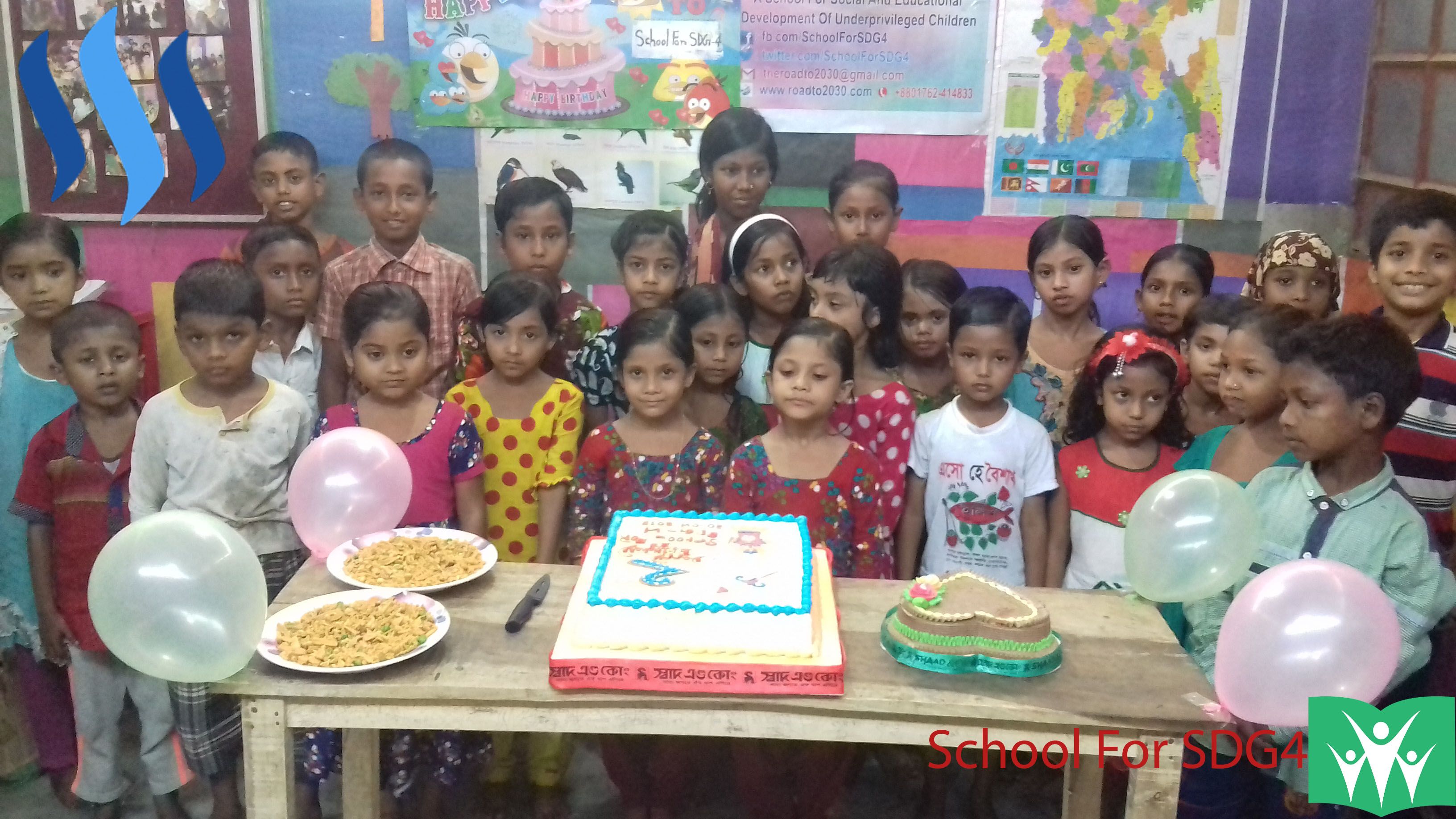 This post will allow @SchoolForSDG4 to receive 50 % of the SBD rewards up to 100 SBD. Every single up-vote will be used towards helping educate students in need.
On April 20, 2018 the charity school, @SchoolForSDG, celebrated its the 2nd birthday. During the birthday celebration, the school arranged a live hangout with some amazing Steemians from Steemit. @velimir @sircork @pennsif joined in the hangout to celebrate the birthday party and talk with slum kids at the school. You can read more about the 2nd year birthday celebration from HERE.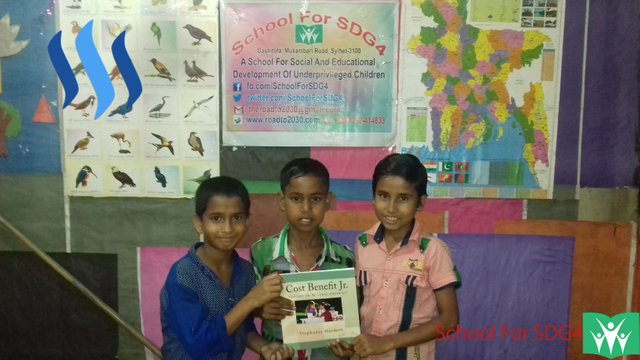 As said above, everyone has something to offer. @SchoolForSDG4 received @Geke's Cost Benefit Jr.™: Stories in Microeconomics as a donation for School. The young children are curious and like to read the book. The book will help the children to know more about economics. They will learn about demand, supply and market… all important concepts that can help better their future. They also can manage their money, which can help them to be good at money management.
In 2016, when we started the school, we had only around 15 kids. In 2017, the number of kids enrolled was around 60. Children are learning more about their community, social behaviour and
@ADSactly is the first community which is supporting the charity school for last 10 months. This support means the world to us because being able to provide education to these children that deserve it also positively impacts their entire families and ripples out to the community. It's amazing!
But, of course, donations are not only a way to support charity and if you want to get involved, there are plenty of ways to join in.
Over the last two months, I was super busy with many obligations. Unfortunately, I didn't have time to write an update about the project from ADSActly even though it is the biggest source of revenue for the school.
On June 2018, @SchoolForSDG4 completed 1 year on Steemit and 20 April 2018 was the 2 years of the school. On 20 April, SchoolForSDG4 arranged a birthday party with kids and donors from Steemit. @velimir, @pennsif and @sircork joined in live during the birthday party with the slum kids.
The above GIF is the part of 2nd year's birthday celebration on 20 April 2018.
Over the last 10 months, @SchoolForSDG4 was able to manage the funds for the kids through Steem blockchain. I would like to highlight the last two months ofeducational activities at the school to provide an update!
Weekly Fruits Program
Over the last two months, we were able to raise enough funds to continue our weekly fruits or snacks program with the support of @lindahas. She has been raising funds for the kids for around a year. She writes posts, we share them and promote them with our followers, and the impact is amazing—we are able to bring in weekly snacks for students and share pictures and updates each time.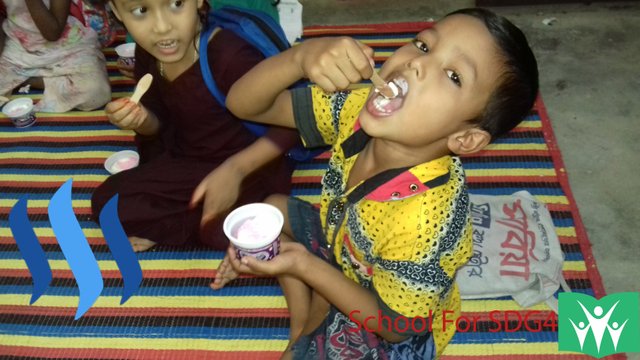 28 June 2018
SchoolForSDG4 has been arranging weekly fruits or other snacks program the slum kids for more than two years. And after we started crowdfunding on Steemit, the program got fully funded on steemit and even better! This is definitely the students' favourite program.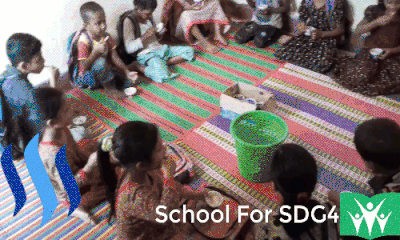 ---
Monthly Hot meal program
The monthly hot meal arrangment program was started in 2018 to give the kids a warm, nutritious meal once each month. Every month, the school arranges the lunch program. Last month, it was Ifter Party for the kids as it was Ramadan. Some of the school kids were fasting and we were happy to arrange Ifter at school.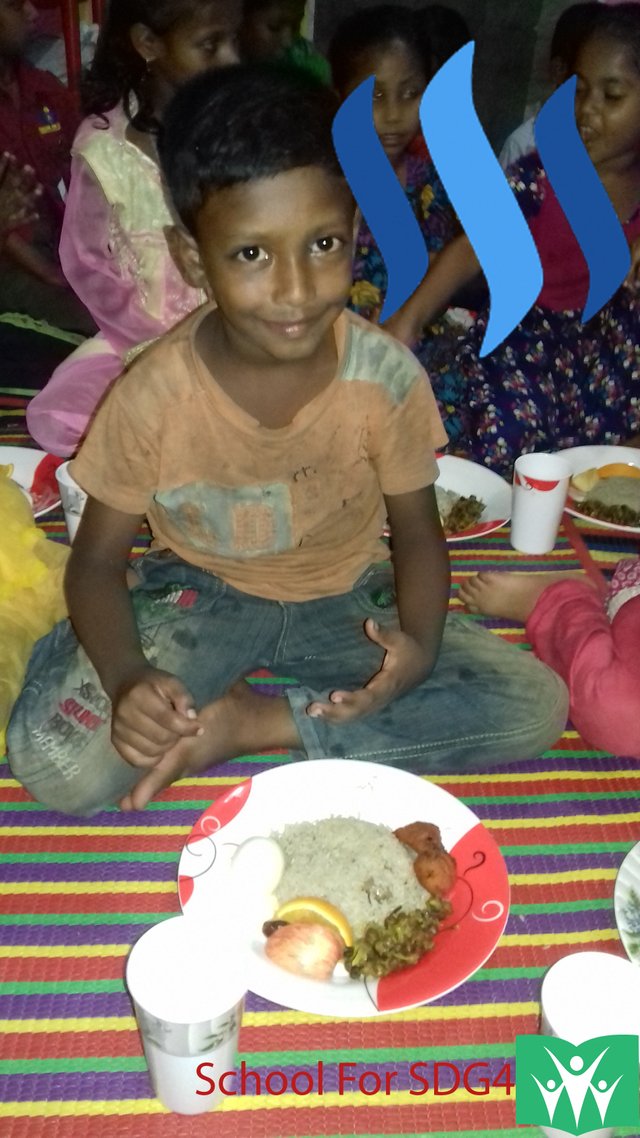 11 june 2018
It is our hope, that with the continued support of Steem, the school will be able to arrange the hot meal program for the kids more often in future.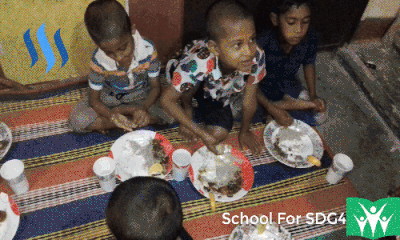 ---
The school was also able to arrange EID gifts allocation program for the kids. It was very nice to see them happy before EID and prepared for the EID-Al-Fitr.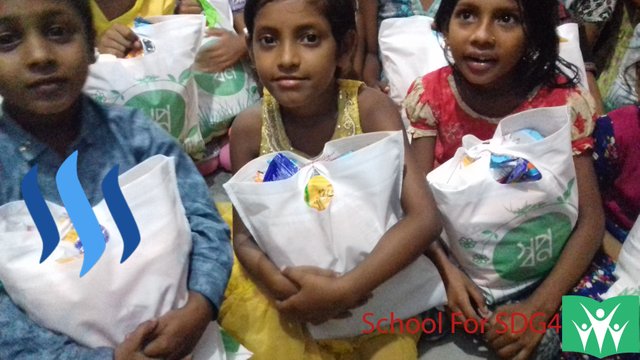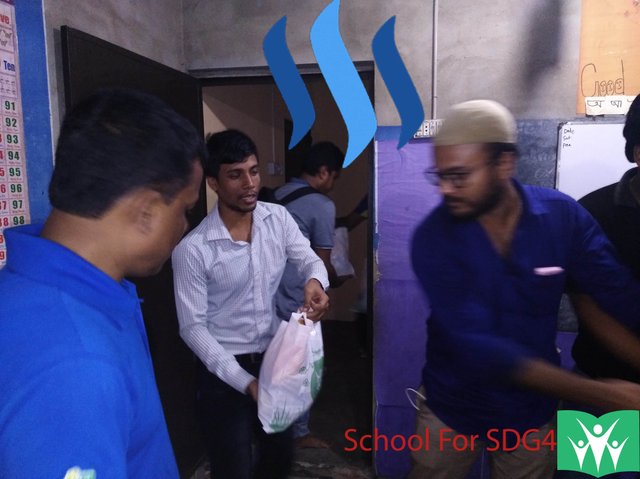 11 June 2018
After the food program, kids enjoyed a long holiday and they started school again on 23 June 2018. Junayed, Sumon, Emon and Arif dropped out from school this year and some of them started work and left school area. This is a common issue here and is something we try to avoid. We currently have 52 kids as regularly enrolled students and a bit of good news is that Mohima, a new student, started school this month.
Every school day, the kids start school with some physical exercise and national anthem of Bangladesh.
Steemit is changing the lives of these kids greatly with the support and the impact in Bangladesh is visible – you can follow along to see the update from @SchoolForSDG4. But sometimes we can't change what is not in our power. Al-amin is one of the start students, but he will be leaving school in September. He was studying for 2 years at @SchoolForSDG4. You can watch Al-amin which was Live on Facebook or on Dlive below.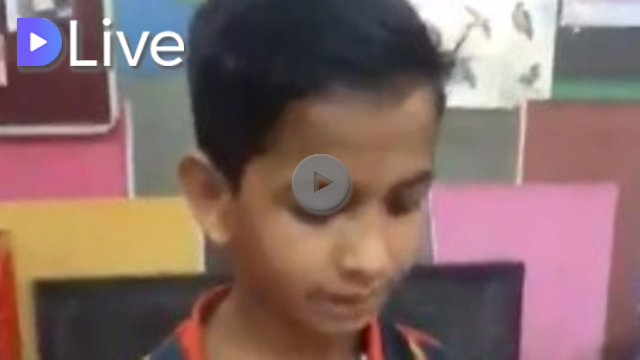 With the support of Steemit, @SchoolForSDG4 was able to bring Al-amin to school by providing scholarship benefits. @tecnosgirl was sponsoring a few months of scholarship from her fundraising posts. She also wishes to be active with @cooking4charity account to raise funds for the kids. The charity school also received a donation from some amazing Steemians recently. The @ADollarAday project one of the great support for the school for sdg4 run by @pennsif.
Also, the charity-run school regularly shares updates from the school blog and it is amazing to see support from @steemiteducation and @curie. What a great community!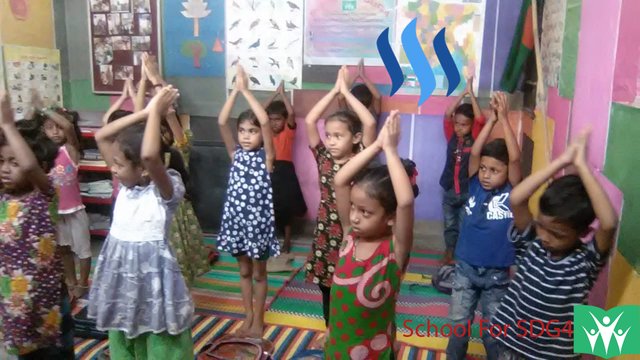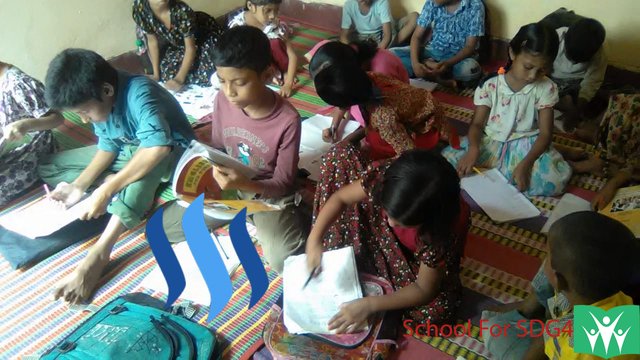 Education is the only way to support the kids for a long term. If we feed them for few days, the needs will still exist. But supporting them through education, every day, will assist them to achieve their dreams and make lasting, positive change in the community. Kids are angels from heaven and even though they don't know who specifically support their education, they are grateful and they are so deserving.
Right now SchoolForSDG4 has 57.679 STEEM and $300.390 SBD ( From May 15 to July 4 ). The price of Steem and SBD is not good enough to withdraw. So, we decided not to withdraw fund as we have backup $1385 as cash. But it will not support us for too much longer. Also, Steem Power is a backup fund for school, which will help in case we need it at any time. Your support, through upvotes, shares, writing posts, and any other ways you want to get involved, like commenting below, helps us to continue. For that, we are so grateful.
School For SDG4
A School For Social and Educational Development of Underprivileged Children
---
---
Click on the coin to join our Discord Chat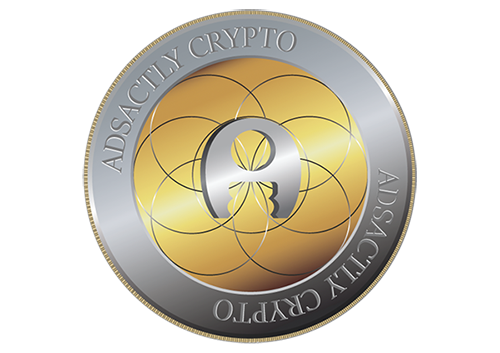 ---
Vote @adsactly-witness for Steem witness!
Witness proposal is here:



Go To Steem Witness Page
In the bottom of the page type: adsactly-witness and press vote.



Use small letters and no "@" sign. Or, click here to vote directly!
Thank you!

---