6 of 7 Days POSITIVITY Challenge: A Little Token of Appreciation for the Man About Town | Henry-Gant
Its not everyday that you meet a person who is willing to lend a helping hand despite the time that you have known each other or the distance that separates the both of you. Here is a true story of how a man about town has changed and touched the lives of steemies like me. A proof that this community is indeed not only about blogging but it is also a helping community.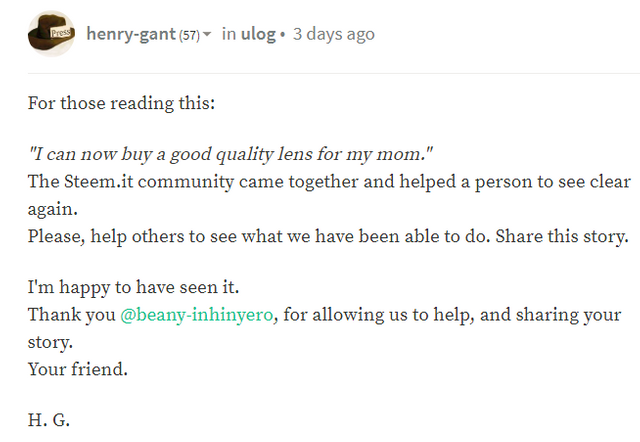 This was a reply I got from Sir @henry-gant when I posted my #ULOG Day 24: One Down, One to Go! last 3 days ago.
I started blogging in steemit last January 2018 and little did I know that joining this platform can have a big impact on my life. I met writers, traders, tech savvys, programmers, gamers, new friends, mentors, etc. but most of all, I was able to meet people who are advocates of kindness and generosity.
Last month, my mother told me that she visited an eye doctor and the doctor told her that her cataract is getting worse and if not treated immediately it may cost her eye sight. She got worried and of course she was also terrified of what could happen to her if she did not follow the doctor's advise so she decided to tell me about her cataract. At first I did not know what to do because I dont have enough cash to proceed with the surgery. Since I was already in steemit, I tried posting blogs and dedicated my earnings for my mom's surgery. Until one day, a good steemit friend @leeart told me about the idea of having a fund-raising thru @upfundme. From then on, I was able to raise funds. Help poured in from generous steemians including sir @henry-gant. He was so generous enough that he almost took care of everything that I needed for my mom's operation! And that my friends is just the beginning of my story. By the way, you can read about the successful operation of my mom on the ff links:
It was not only me whom Sir H.G. was able to help, but some members of the #SDFamily was able to receive help too. We couldnt contain all the happiness and gratitude that we feel for the "Man About Town" so here are some photos to express our heart-felt gratitude to Sir H.G.
---
@henry-gant is indeed a man of his word. When he told me that he was going to help me raise funds for my mom, he sent help right away no questions asked. I am truly honored and humbled to repay his kindness hence, all the earnings of this post will be sent to Sir H.G. as our token of appreciation. Thank you our dear friend H.G. and as we say it in filipino, Maraming maraming salamat po! And as the man said, I am sharing my story, our stories, to show that this community is not only about writing or blogging but it can save lives, bring happiness, shape the future and most especially make a brighter future.
Follow these simple rules and let's spread out good vibes here in steemit!
Write a post about something you have to be positive about today - this could be anything from being thankful for your current situation, someone being nice to you, being thankful for your friends and family, or even being thankful for the opportunity you have been given here on Steemit - just keep it positive :)
Do this for 7 days in a row if you get nominated.
Mention three people who should do this on each day.
Tag it with #7daypositivitychallenge and include these rules at the bottom of your post Include a picture of something positive (related to your story if possible.)
Tip: You need to put the # in front of 7daypositivitychallenge or it will not let you use the tag in Steemit.
And now I'm sharing the positive vibes to @kayegrasya, @juviemaycaluma and @geetharao.

Big thanks to the ff people who has always lend a hand to support and inspire me:
@sitiaishah my first friend here in this community
My @steemitdiversify family
@iwrite and @purpledaisy57 the mentors of our group
and to others as well @arcange, @henry-gant, @dreamryder007, @mahdiyari, @giddyupngo, @upfundme, and @hr1.
And especially to @surpassinggoogle who has been very supportive to us and other groups as well.
Please do support him as a witness by voting him at https://steemit.com/~witnesses and type in "steemgigs" at the first search box.
If you want to give him witness voting decisions on your behalf, visit https://steemit.com/~witnesses again and type in "surpassinggoogle" in the second box as a proxy.
You can also check good contents from: @beanz, @teamsteem, @good-karma, @busy.org, @esteemapp, @steemgigger, @kalemandra, @anomadsoul, @henry-gant, @paradise-found, @daveks, @geetharao, @leeart, @timcliff, @mahdiyari, and @bobiecayao.
Please support them too!