#ULOG Day 23: Were Almost there, Ma! #feedme entry as well
Hello uloggers, celebrities and fans alike!
It rained almost the whole day here in Cavite and so as they call it "bed weather". Im excited to share how my day went today on my #ulog. Hope you guys like it!
Its thrilling to be part of this new movement initiated by our own Sir Terry @surpassinggoogle which started in this link.
So what about this #ulog?
Basically, we will want to infuse more of awesome "YOU" into the entire internet, reshaping it altogether by means of your Ulogs. We want to hear your unique stories each day.
Overall, we want to create fresh content each day, each involving YOU.
Ulogs are simply steemit posts containing logs of YOU; whether it be Vlogs, picture-moments, stories, plain-text, write-ups or a combination of all forms of media etc.
Any steemit posts that records your daily activities; celebrating "YOU" and life are "Ulogs" and Ulogs don't have to be perfect! They simple need to be real and utmostly "YOU".
Day before the Operation
I am so thankful to Sir @henry-gant and to my #SDfamily for sharing some good amount of steem and sbd which I exchanged today at the nearby Cebuana Lhuiller via coins.ph. I can now buy a good quality lens for my mom. Her operation is scheduled tomorrow.
It is my first time to withdraw funds from steemit and also my first time to use the coins.ph app also. I transferred them to bitcoin then to my coins.ph account. Thank you to my ever supportive sissies @jovema @sitiaishah @yanzel4lyf for guiding me throughout the process. So I went to Cebuana Lhuiller, and made the transfer while I was on my way. Funny part because all the while I thought that the estimated time of payment was the only window time to make the redemption! lol Thats why I made the transfer while I was intransit because I might miss the time. And when I arrived at the Cebuana Lhuiller branch the guard on duty asked me where was my transaction code. Little did I know that I was supposed to receive a text message/email from Cebuana to confirm that I can already pick-up the cash. I was panicking because i didnt know what to do, I did not receive any transaction code then it came to me. That the estimated time of payment was the processing time! hahaha I was so occupied about my mom's surgery that I missed this small detail hahaha So I patiently waited for like 45mins and the transaction code arrived. I received a text message so that was the only time that I was able to get a number so my cashout can be processed.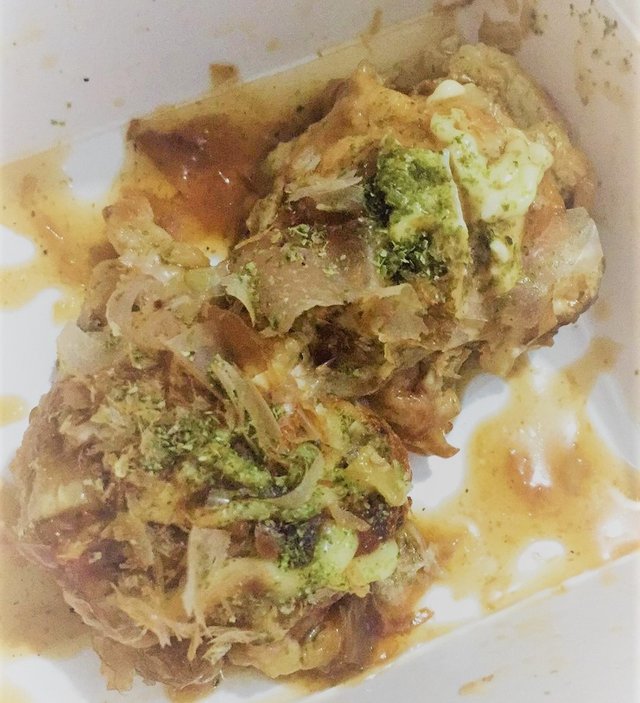 After being stressed on the cashout process, I was able to find a takoyaki store and surprisingly this was a branch of the same Takoyaki store that me and my friend always visit in Bacoor.
So tomorrow there will be a carpool which will fetch us at around 5:30am and that will be vise-versa. We already prepared our things to bring for tomorrow. Im excited and nervous at the same time because this will be a first for us. Hope God will guide the doctor tomorrow.
I shall also include the #feedme hashtag to participate in @oleg326756's giveaway contest.
It was a tiring day but it was again worth while. Simple things must not go unappreciated. I thank God for the blessings everyday and I always look forward to another day of challenges. That's it for now fellow #uloggers! I'll see you around!

Big thanks to the ff people who has always lend a hand to support and inspire me:
@sitiaishah my first friend here in this community
My @steemitdiversify family
@iwrite and @purpledaisy57 the mentors of our group
and to others as well @arcange, @henry-gant, @dreamryder007, @mahdiyari, @giddyupngo, @upfundme, and @hr1.
And especially to @surpassinggoogle who has been very supportive to us and other groups as well.
Please do support him as a witness by voting him at https://steemit.com/~witnesses and type in "steemgigs" at the first search box.
If you want to give him witness voting decisions on your behalf, visit https://steemit.com/~witnesses again and type in "surpassinggoogle" in the second box as a proxy.
You can also check good contents from: @beanz, @teamsteem, @good-karma, @busy.org, @esteemapp, @steemgigger, @kalemandra, @anomadsoul, @henry-gant, @paradise-found, @daveks, @geetharao, @leeart, @timcliff, @mahdiyari, and @bobiecayao.
Please support them too!