Another year of this #x-daysofmusic challenge set up by @backinblackdevil.
The epitome of BBC bad-set-but-rock-solid-story science-fiction TV began in 1978:

I was utterly besotted with Jenna (Sally Knyvette).
The opening credits have echoes of Doctor Who and Star Trek - they knew their audience - but the setting is dystopian despair, unlike either of the more famous series and closer to the old Quatermass adventures of the 50s and 60s (and set to be given a final, massively depressing story in 1979).
In 1978 I hadn't started buying records, not on my pocket money, but the library had most of what I needed, but not this...
Kate Bush - Wuthering Heights



From The Kick Inside. Top of The Pops classic


Loved the song; thought the performance was hysterical. We were watching this in black & white, which I think rendered her a little less gothic. This is a bonkers song for a bonkers character in a quite tedious and depressing book. I wonder how many read the book because of the song?
Justin Hayward - Forever Autumn



From Jeff Wayne's Musical Version of The War of the Worlds


This album sat in the charts for the best part of 6 years, a brooding tripod presence amongst the punks, headbangers and new romantics who came and went during the Thatcher years. From Richard Burton's Journalist to Phil Lynott's Parson Nathaniel, it was brilliantly cast and performed. Except for Julie Covington's delivery of the line "He's delerwious"...
Captain Beefheart And The Magic Band - Bat Chain Puller



From Shiny Beast (Bat Chain Puller)


A return to form for the Captain along with a legal battle that lasted long after his death. this a great example of all thats good in the Captain's music - weird rhythms, opaque lyrics and great guitar work. Fun fact: John 'Drumbo' French based the drum pattern on the sound of Beefheart's car's windscreen wipers on a day when it was raining as Beefheart drove to the studio. (Ref: John 'Drumbo' French: Drumming On The Edge of Magic, Proper 2010).
This album was NOT in the local library.
Queen - Mustapha



From Jazz


Jazz was in the local library and I loved it to death. It was the first full Queen album I heard and was a revelation for the breadth of their songwriting. This song is just Mercury having fun, and after the restraint of Sheer Heart Attack, who can blame him?
Black Sabbath - Never Say Die



From Never Say Die. Don't remember this on Top of The Pops. Sorry it just drops out at the end


Another library pick-up. Never Say Die had some jazzy moments that make it one of my favourite Sabbath albums, even though it broke up the band and most fans hate it. This song is blueprint for the Dio era, with a more accessible metal sound and less bonkers drumming from Ward.
Gillan - Message in a Bottle
From Gillan The Japanese Album. Lousy picture, but it runs to the end of the song.
Apart form the subject matter being close to my heart, I could write a whole article on this album. Ian Gillan had left Deep Purple, been crucified as Jesus and experimented in jazz/rock/fusion. Now he had a new direction, a new band and all that was needed was to grow his hair out a bit more. Gillan had remarkable chart success while they existed and were one of my favourite bands at the time. In 1978 I didn't know about them, but this album is too central to my rock'n'roll fandom to ignore.
While digging out the Blakes Seven theme, I found this: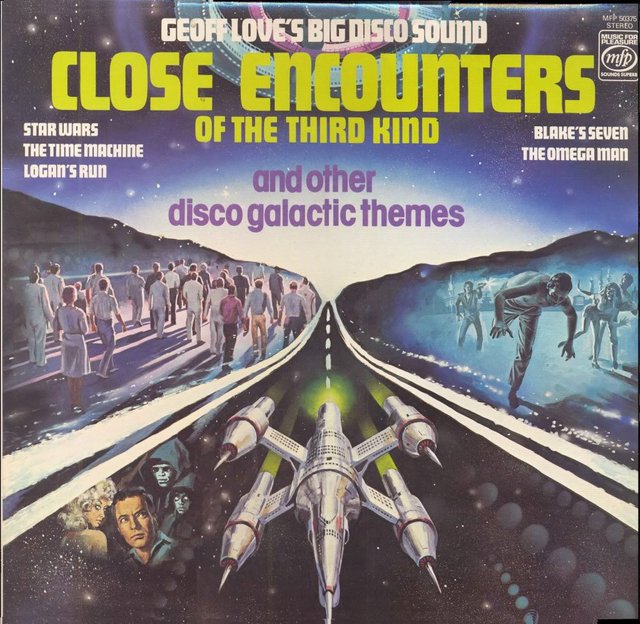 Source
I had this! I may even have bought it at the newsagent at the other end of town ('cos they sold MFP albums). It was released in 1978 so that would make it the first album I ever bought..! "Geoff Love's Big Disco Sound". I'm almost tempted to dig up some audio on the web. Almost.
I also had the Geoff Love Big Bond Movie Themes album, but I'm pretty sure that was a present from the parents...
My days of music: 1967 - 1968 - 1969 - 1970 - 1971 - 1972 - 1973 - 1974 - 1975 - 1976 - 1977