A Buck's Life
A Buck's Life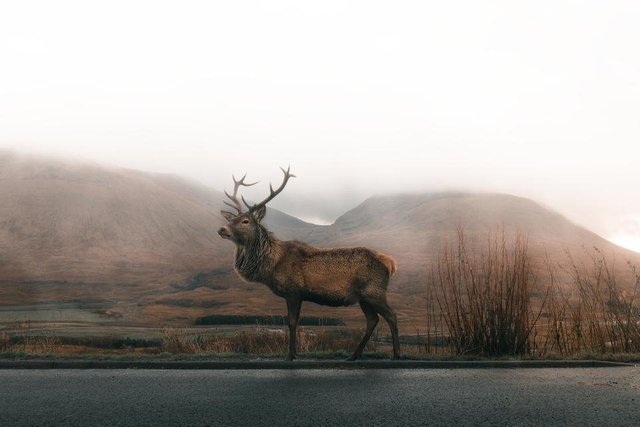 The mist covered the hills like a blanket. The cool morning air was crisp. A beautiful scenery of nature that a straight, pavement road ruined. The road was just in the middle of it, almost out of place. A straight line of man-made rock that plowed through the land, rather than winding with it. Like a knife cutting through the beauty.
I strode on the ground. A buck, tall and strong, with deep, wise eyes. I stared at the road with pain, a reminder of what happened in my past. I sighed. My breath came out a white puff and it faded. I had a flashback and suddenly relived my whole life.
I blinked. The light poured into my eyes and temporarily blinded me. My ears rang. The sunlight warmed my fur. I was a newborn fawn. I continued blinking. There was a speckle of white splashed on my back.
My mother nudged and licked me as if saying, "wake up." I looked at my mother and sniffed her. I sneezed. My curious eyes searched my environment. I was in a forest, it was spring time. The air was full of the sweet scent of flowers. The leaves filtered the sunlight, making the light softer and green.
A large buck, my father walked to me and sniffed me. He took a step back, nodded up, and snorted as if telling me to stand. I attempted to stand on my wobbly, skinny legs. I fell at first, but on the second attempt, I managed to stabilize myself. I tenderly place one hoof in front of the other on the ground, then moved a back leg forward. I soon started to get the hang of it.
I started happily hopping around. Then I tripped and fell flat on my face. My father used his antler to help me up. I looked back and forth between my family and started playing again.
Almost a year later, I had grown into a strong buck. I stayed with my family and herd. We would find patches of grass to munch on, stand on our hind legs to eat new leaves in the spring, and enjoyed our peaceful life. One day, my father and I wandered a little farther from the rest of the herd.
I was chewing on leaves when my ears perked up. There was a strange sound that I never heard before. My father noticed this too. We slowly stepped towards the sound to figure out what it was. We ended up at the edge of the tree-line, where a meadow began, we stayed in the trees for camouflage in case there was danger.
We saw creatures that stood on their hind legs and their front hooves had five stick-like thing attached to them. I would later learn that these creatures were called humans. One of them had a neat black suit on his body and he stood next to another man. They talked back and forth, gesturing towards the forest every now and then, until they shook hooves, or hands, and left. They left in shiny, large things that moved on a large, straight, black rock. I had no idea what happened. My father looked weary and a concerned look formed on his deer face. My father gestured that we should get back to our herd and we slowly walked back.
A week later, after seeing the strange creatures. I heard a loud bang. It was one of the loudest things I ever heard, like the volume of a tree cracking and falling down, but all at once and with an echo ringing in the air. I and my herd bolted, waving our white tails in the air as a warning. When I looked behind me, I saw a doe laying on the ground, with a hole in her that red liquid leaked out of. We ran as fast as they could. There was another bang, but no other deer dropped and a hole appeared in a tree.
I ran in terror. I had no clue what had happened. When we felt that we were safe again, we stopped and pondered what happened. I didn't know much, but I knew that everything would change and that it wasn't over yet.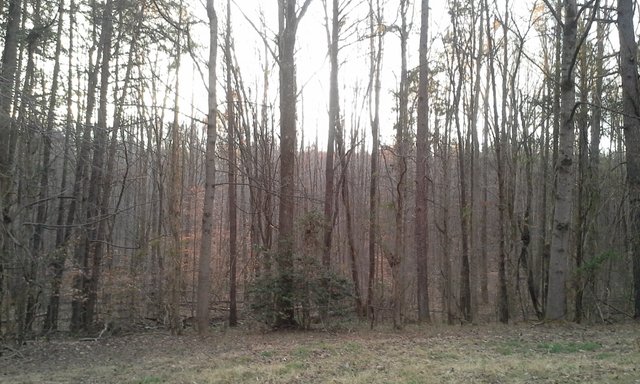 The herd wandered in the forest. The tips of the leaves were starting to change to red, orange, and yellow. A younger deer sniffed at the ground as it found the first acorns to fall that year. My father bent down to eat some of the acorns.
Suddenly, other deer and I heard a sound. It was loud, and continued. I was unable to describe the sound. Almost as soon as the sound started, trees in the distance started to bend over and fall. I had seen trees fall before, but never so many at one time. I also noticed those trees were not ready to fall, it wasn't likely that they fell naturally. When the herd started running, I saw that the kind of creatures I had seen in the meadow a few months ago, they were behind the trees and carried something that made the sound.
My father, who was more disoriented and confused because he was too focused on eating acorns to see what happened, veered off course of the rest of the herd. My father couldn't see the creature behind the tree. I bleated a warning, but it was too late. The tree cracked and fell. My father didn't notice fast enough and the tree landed right on top of him.
My father's legs stopped moving and were motionless. I bleated out in sadness, if I could speak a human language, I would have yelled something that translated to "DAAADDDD!!!" My legs felt like lead. My mother had to urge me to run. Her eyes were distant too. I continued with my herd, convinced this was the worst day of my life, and yet, had the feeling that it wasn't over yet.
The creatures cut down almost all of the forest. The herd was willing to stay in the area that wasn't cut down and grieved for their home. I argued that they would cut down the rest of the forest and that it wasn't safe to stay there. We needed a new home. They disagreed, they were attached to what had been their home for as long as we can remember, and they believed my emotions were effecting my judgment. I couldn't convince them and we stayed in the forest. I considered leaving, but my mother would not want to leave me or the herd, and maybe the creatures would leave us alone, but I doubted it.
~
This is a story for #365daysofwriting. This is the first half of the story. Thank you for reading
This is the link to part two: https://steemit.com/writing/@scarletskylor/a-buck-s-life-part-two