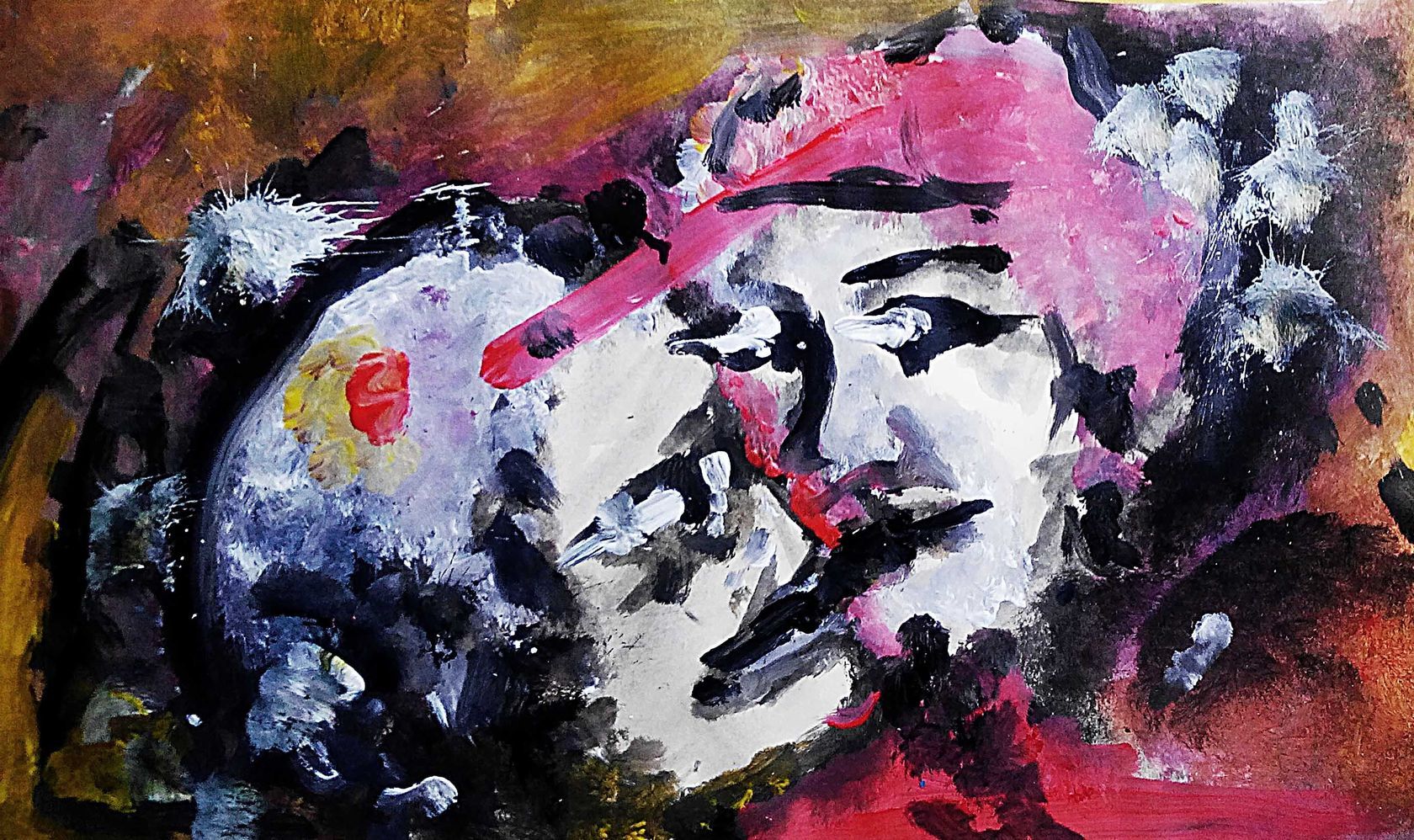 This is my submission for @gmuxx's Art Prompt Writing Contest, using for inspiration this beautiful painting by @yusaymon.


Silence After Chaos
She didn't know his name, nor did he know hers.
But the skin on his face smelled of crushed marble - it was dense and insensate - and it comforted her. Pressed so rigidly against him as she was, it should have bothered her, this icy detachment. Instead it soothed her. It was a stillness that she had never known; and had never known how badly she longed for it.
Until this moment Hydrea's life had been one of passion and fury, of movement and agility. Her place in the most prestigious House of Courtesans was hard-won and although she wasn't the most beautiful or the most intelligent, she was unequaled in her ability to know exactly what a man wanted. However unlike her Sisters who were equally if not more skilled in giving up their bodies to pleasure, what made Hydrea one of the more sought-after (she even allowed herself to think "famous" when she was in a particularly powerful mood) was her ability to satisfy far more than the sexual stimulation these travelers were after.
According to her Mother and not a few of her guests, what set Hydrea apart was an innate sense of knowing - of unmasking - a person's true desire without him having to utter a word. She called it her "sense of smell" for lack of a better sensory descriptor. It seeped from a man (or woman) like a cloying perfume that wafted from his pores - an unconscious appetite for, X. If she were to ask directly (as the Ladies were trained to do), "what do you want?" he would respond with this or that frivolous desire at the forefront of his brain. But Hydrea was able to pick up on that scent, that unseen yearning unrecognized even by the man himself, of not what his brain desired, but his heart. She didn't give him what he wanted. She gave him what he needed. And that was why men and women came to her in droves from places near and far.
It was an enjoyable life, to be sure. Wine flowed endlessly and wherever cups of wine went, laughter was quick on its heels. This seaside metropolis was a renowned haven for indulgence and liberal hedonism. A place to forget yourself and your tentative grasp of this strange and colossal world and let yourself relax into pleasures that had no time limits, no constraints, and no redress.
But for all her luxury there was one thing Hydrea never had: silence. Living in the environment that she did, silence tended to be synonymous with unease. Where was the ring of cups clanking together in a cheerful toast to good health or good sex? Where were the delicate chirps of feminine giggles and the throaty guffaws of masculinity? Where was the chorus of moans and gasps that persisted underneath it all? Without those elements, the structure of the House was askew, the was the symphony was incomplete.
So she basked in the commotion of human pleasure and sought it out when there was little to be had at the House. At the wharf was a market with fruits, breads, and fish. Vendors by the dozens shouted their wares and customers shouted their orders in return. Hydrea knew of this market only by its sounds; she had passed through it on the day she disembarked into this land, but had not set eyes on it since. A woman of her station wasn't to dirty herself with lowly places, even if it was simply to watch the ceaseless movement of the masses and listen to their cacophony.
What she could do was stroll with her Sisters, however, and two streets away was a stonemason's facility. Although not as populated, the din of metal chisels striking solid marble always struck a chord with Hydrea. It was melodic and entrancing; the repetitive blows beat a meditative rhythm in her head that calmed her busy mind and she often found herself lingering near its open workspace, breathing deeply, pacing to the strikes of the chisel.
Now pressed against this man so tightly, Hydrea could only inhale and exhale - and remember. That must be why this man's scent was so soothing, coupled of course, with the fact that his heart had no distracting desires.
It had been this morning when Vesuvius erupted.
The volcano was seen smoking for days, but no one thought it would actually burst, or that when it did, it would be so catastrophic. She tried to run with the shrieking crowds, but the air was thick with ash and the heat singed her hair and back. A few moments after she began to flee, her body was thrust to the ground by a cannon blast of wind so hot it carried jets of flame within it. Fire and wind roared overhead, piercing her eardrums while flecks of stone stung her skin.
And then it was over. And when she opened her eyes, she saw blackness; when she opened her mouth, she gagged with dirt. Her ears felt clogged and thick. Her limbs were frozen in place. But she could smell.
She smelled a man and his skin like crushed marble. And for the first time, that was the only thing she smelled. No desires leaked from his pores, no aching for a need she must fulfill, no breath pressing her with intention. He was still. The air around them was still.
And instead of unease, a warm wave of relief seemed to soak the length of her body. She inhaled and exhaled this man as best she could under the weight of ash pressing down and her mind retreated to the sound of chisel striking stone. Over and over it thumped, rhythmically, soothingly. Soon the beats grew slower and softer and with one last shallow breath, she joined him in silence.