Before going into what being self-employed looks like...here's how my old days unfolded when I worked a 9-5:
[5:30a]: Wake up, shower, quick breakfast
[6:45:] Out the door to fight traffic
[7:45:] Get to work, sit down at desk dreading the day
[8:00:] Catchup on email, waste time
[8:30 - 12:00p:] Work, work, check fb, text my wife, work
[12:01 - 1:00p:] Eat lunch..but keep working
[1:01-1:30p:] Get distracted with coworkers
[1:31 - 5:30p:] Work, work work
[5:30p - 6:40p:] Fight traffic, make it home
[6:45 - 7:45p:] Play with daughter, eat dinner, put kid to bed
[8:00 - 11:00p:] Time with wife
DAY IN, DAY OUT
Now....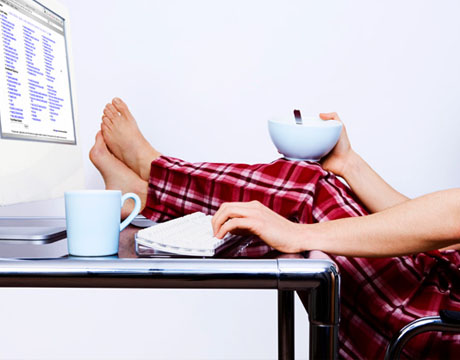 [7:30a]: Wake up to my daughter wanting to get up
[7:30 - 8:00]: Hang out in bed with my wife and daughter
[8:01 - 9:00]: Get daughter breakfast, have laptop open checking emails with breakfast and chatting with kid
[9:00 - 10:00]: Wife comes down, I go up to work. Post on steemit and other forums before diving in
[10:00 - 12:30]: I may take a shower or run an errand. Else, i'll be doing work for clients...going after new clients!
[12:31 - 5:00p]: Work on copy, chat on phone with clients, interact with other copy peeps. HARD stop at 5:00pm.
[5:01 - 7:00p]: Hang out with wife and daughter, eat dinner, go on a walk with family, etc.
[7:01 - 7:45p]: Bath time with daughter, more hanging out time
[8:00 - 11:30p]: Hang out with wife, chat. Will have laptop out doing more passive work (not active writing).
[11:30 - 1:00a]: I'll do work into the night
What you might notice:
--> More time with my family
--> I work more as a writer than in a 9-5
Butttttt....
I enjoy my work and prosper more. None of my client fees go to a 'boss.' I'm the boss.
Business rewards risk-takers.