"I'm not even close to being finished with you yet."
WARNING: This post contains sexual content! Read at your own risk ;)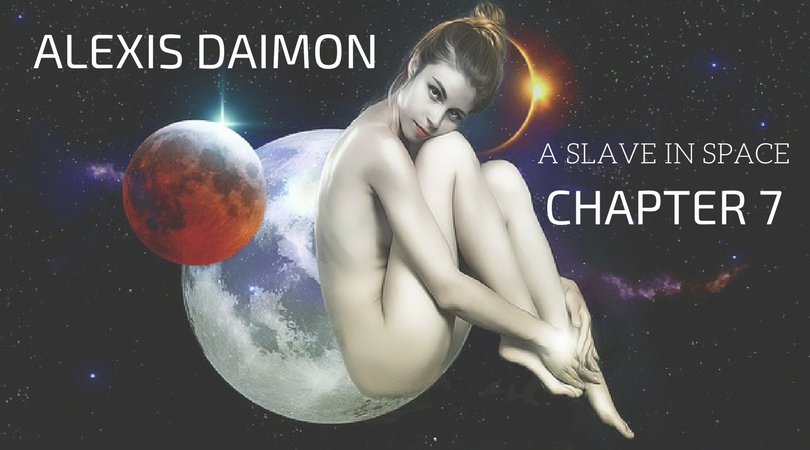 Hello, lovely people of Steemit! It's been a few weeks since I've been around, but I think I can safely say I'm back. Life happened. Now things are settling back down to a normal routine again.
If you're here for the first time, you may want to catch up. This is the seventh chapter in a serialized novella I'm writing here on Steemit. If you'd like to read the first six chapters, you can find them here:
Alexis Daimon, A Slave in Space — Erotic BDSM Sci-Fi Novella — Chapter 1 (Serialized)
Alexis Daimon, A Slave in Space — Erotic BDSM Sci-Fi Novella — Chapter 2 (Serialized)
Alexis Daimon, A Slave in Space — Erotic BDSM Sci-Fi Novella — Chapter 3 (Serialized)
Alexis Daimon, A Slave in Space — Erotic BDSM Sci-Fi Novella — Chapter 4 (Serialized)
Alexis Daimon, A Slave in Space — Erotic BDSM Sci-Fi Novella — Chapter 5 (Serialized)
Alexis Daimon, A Slave in Space — Erotic BDSM Sci-Fi Novella — Chapter 6 (Serialized)
Thank you for reading — enjoy!
++++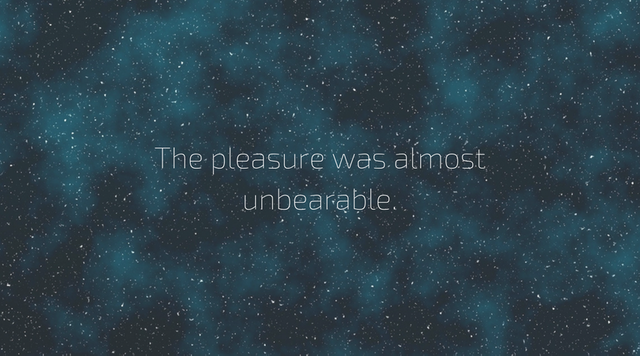 He continued to torment me like that for what seemed like hours. I begged him again and again, and he made me come each time.
He never actually fucked me, but he continued alternating between shoving his cock down my throat, fingering me, using a variety of dildos, butt plugs, and eventually vibrators to bring me to orgasm.
The pleasure was almost unbearable. It was the most intense I'd ever experienced, but my mind struggled with the shame of being taken against my will as my body took control of the situation, causing me to explode with orgasm after orgasm.
When it was all over, he stroked my sweat-dampened forehead gently and left without another word.
The four guards came and carried me back to my room where I collapsed on the bed and fell asleep immediately.
I'm not sure how long I slept, but I awoke to an empty stomach and an aching body. After briefly cringing at the not-entirely-unpleasant throbbing I still felt between my legs, I was quite surprised to find that I hadn't woken up back in the hospital.
The events of the previous night left my mind in an instant as I began to see that there were much larger implications here. Fear, like a steel band tightening around my chest, gripped me, and my heart thudded loudly in my ears. I struggled to take a deep breath.
What was happening to me? I currently had no way of knowing if I was inside of some hostile simulation, if I'd been kidnapped and sold into intergalactic slavery, or if this was all one big coma nightmare. I desperately hoped for the latter. Perhaps I'd soon awake to find myself back in the hospital and on the road to recovery—all of this just some faint memory.
But there was no way for me to know if this was real or not—or was there?
I focused on slowing my heart rate by controlling my breathing. I needed to think. Everything I'd experienced "here" in this particular version of reality felt so real, but if I could just identify one anomaly—perhaps there were clues that would let me know this was just an elaborate VR simulation.
Closing my eyes tightly, I methodically went backwards through the events of the last several hours, starting from the last thing I remembered last night before falling asleep.
I didn't want to think about it. I'd cracked under the pressure. I felt violated. But I needed to remember. I had to know if this was real or not.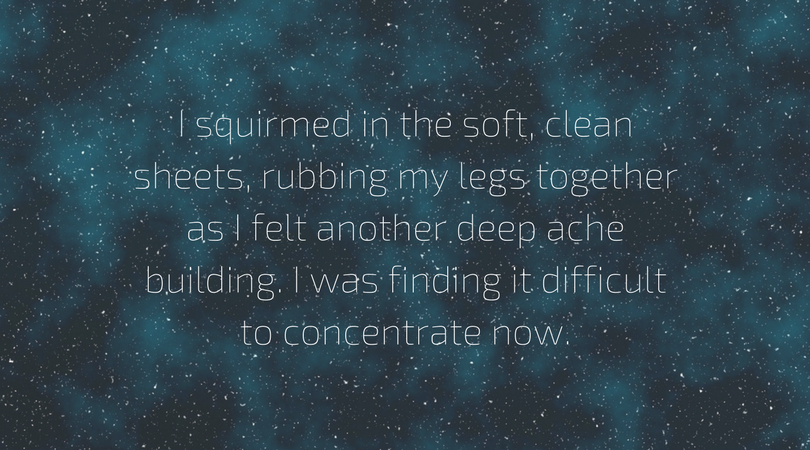 I'd felt both extreme pain and extreme pleasure while conscious "here." The pain from the collar had felt very real, and it had sent me sprawling on the floor in agony both times. The pleasure from last night—well, last night had felt good. Even as I admitted it to myself, I felt a wave of confusing pleasure burn through my lower abdomen.
He hadn't really hurt me. There was some pain, yes, but nothing I hadn't been able to handle.
I squirmed in the soft, clean sheets, rubbing my legs together as I felt another deep ache building. I was finding it difficult to concentrate now.
Without thinking, I allowed my hand to slip down into the sensitive folds between my legs. My fingers met a welcoming warmth and wetness that allowed them to slide easily inside, causing me to let out a soft moan.
It wasn't wrong. I was in control this time.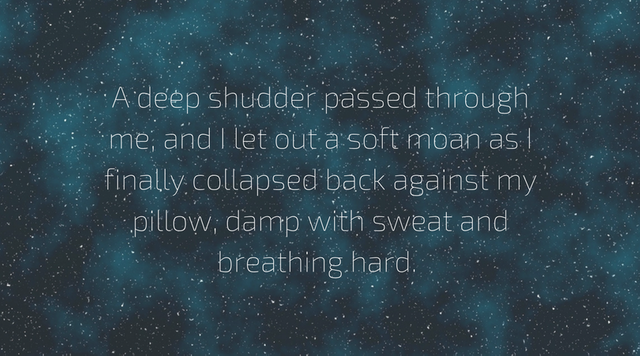 I used two fingers of my other hand to gently massage my clitoris, which was still sensitive and slightly swollen from the abuse of the previous night. Closing my eyes, I allowed myself to imagine that I was with my ex, Tim, again—a more forceful, animalistic Tim, that is—tied to the bed spread eagle with his muscular body pressed up against mine as he thrust himself into me, at first, slowly, and then with increasing urgency.
My hands worked in time with my imagination as I expertly and efficiently brought myself closer and closer to completion.
A deep shudder passed through me, and I let out a soft moan as I finally collapsed back against my pillow, damp with sweat and breathing hard.
I dozed for a few minutes, enjoying a brief respite from the stress of my current situation and allowing the layers of soft white sheets and fluffy comforters to cocoon and shield me from everything else. When I started becoming more alert from my rest, I could feel that my mind was clearer now.
I extricated myself from the comforting embrace of the linens and perched on the edge of the bed, taking a moment to think.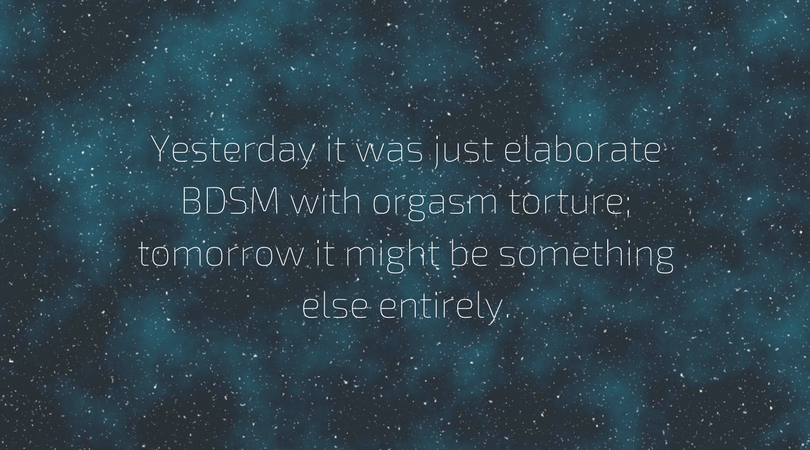 If I was going to operate under the assumption that this was reality, then I needed to figure out a way to escape. This man was a monster. A slave-owning, sadistic monster who took pleasure in…what did he take pleasure in? In forcing women to orgasm? In controlling a woman's body?
I shivered. At least he didn't take pleasure in anything worse. At least I was still alive and had all of my appendages. For now.
I swallowed hard. I needed to come up with a plan. I needed to get the fuck out of here before anything worse happened. I could now see the seriousness of the current state of things. Yesterday it was just elaborate BDSM with orgasm torture; tomorrow it might be something else entirely.
I paced back and forth in my room, trying to come up with a plan. I needed to learn more about my surroundings. But even if I did figure out the entire layout of the palace and somehow escaped though a back door, where would I be escaping to? A dangerous planet with a toxic atmosphere? I doubted we were back on Earth. Hell, this entire palace might just be one big luxury space cruiser, and escaping would require commandeering a shuttle. I didn't think there was much hope there, either.
First things first, I decided. I needed a long, hot shower and a solid meal.
To be continued...
---
Thank you so much for reading :) This is the seventh chapter in a serialized, erotic sci-fi novella. I'll be posting a new chapter once or twice a week until it's finished, and then I will compile it into an ebook and give it away for free download here on Steemit!
Please feel free to leave your thoughts, feedback, constructive criticism, etc., below in the comments.
Much love,
~xx~
Dina