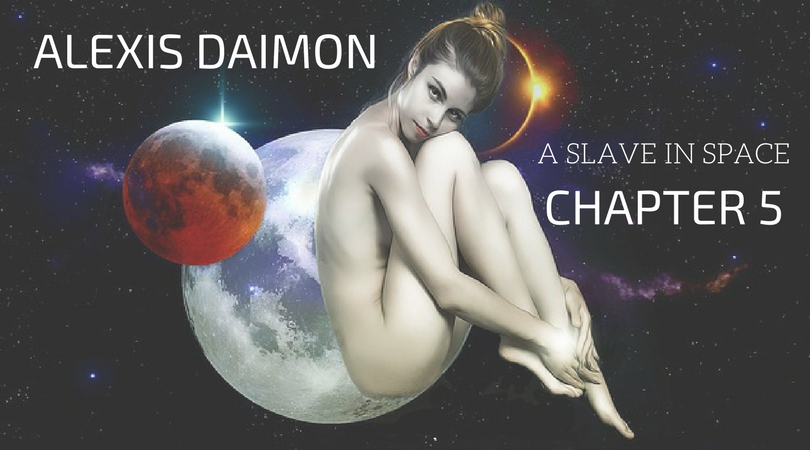 "Why was I in so little control over my own body? What would he think when he found out how wet I was, how eagerly my body responded to his touches?"
WARNING: This post contains sexual content! Read at your own risk ;)
Hello, and thank you so much for reading! This is the fifth chapter in a serialized novella I'm writing here on Steemit. If you'd like to catch up and read the first four chapters, you can find them here:
Alexis Daimon, A Slave in Space — Erotic BDSM Sci-Fi Novella — Chapter 1 (Serialized)
Alexis Daimon, A Slave in Space — Erotic BDSM Sci-Fi Novella — Chapter 2 (Serialized)
Alexis Daimon, A Slave in Space — Erotic BDSM Sci-Fi Novella — Chapter 3 (Serialized)
Alexis Daimon, A Slave in Space — Erotic BDSM Sci-Fi Novella — Chapter 4 (Serialized)
Thank you! I hope you have as much fun as I'm having :)
++++
After getting dressed in some comfortable sweats, I devoured a hamburger and french fries before going around to explore my "wing" of the palace, the whole time wondering when I would "wake up" again.
Now that I was aware that this was, in fact, some kind of virtual reality experience due to a malfunction in the VR chip in my head, I'd relaxed some—not entirely, though. I was still nervous about what was going to happen. I still wasn't exactly sure what was happening, and I didn't seem to have any control over what was going on.
The VR chip was a tiny, yet powerful device, about the size of a sunflower seed. I'd had it installed in a quick and easy outpatient procedure three years ago, and I'd been using it daily ever since. It had the ability to make certain specialized computer programs seem virtually indistinguishable from real life.
Want to experience your favorite movie as the main character? Sure. For the right price, of course. Want a more immersive reading experience? Just download the VR accompaniment version of the ebook to enjoy sights, sounds, and smells to enhance the story. It was popular with porn, too.
With direct neural input, these experiences were seamlessly fed into a person's mind, and, depending on the type of program or experience (and the amount of money you spent), had a varying level of realness. Most of the better, more immersive experiences—the ones that actually felt real—were extremely expensive. Cheaper ones were much easier to come by but didn't include as much.
What I couldn't figure out was, how did something like this just accidentally happen? Admittedly, I didn't know all that much about the technical aspects of the chip, but over half the world's population was said to have one, and there were only a handful of reported issues, none of them like this. The chips were said to have been unexploitable, entirely non-toxic, and completely safe.
I guess I'm just really unlucky, I thought.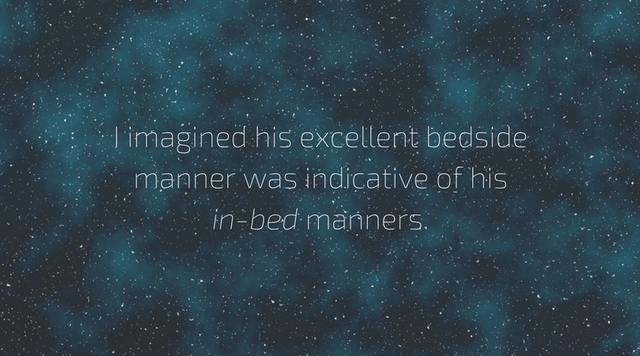 The day went on, and I kept waiting for the next time I'd wake up in the dark hospital room to see Dr. Masterson's kind face again telling me the specialist had arrived and fixed the issue.
"You're free to go home now," he would say. Then he'd smile and slip me a card with his number on it. I imagined his excellent bedside manner was indicative of his in-bed manners.
I lamented the fact that he was almost certainly too professional to do anything so forward as that. It was an entertaining way of keeping my mind occupied, though.
As the hours went by, and after I had thoroughly inspected every part of the virtual palace I had access to without finding anything helpful—because, why would I? This was a simulation after all—I began to worry.
What if I was stuck in here forever? What if they couldn't figure out the problem? And why was this experience so completely immersive and convincing? I hadn't had a clue it wasn't real in the beginning, so wouldn't that imply that it was a well-programmed VR experience made intentionally rather than some glitch in the system? I suddenly wished I'd done more research on this before getting one of these stuck in my head. I didn't even know what the possibilities were since I didn't have a solid grasp of the technology itself.
What if my chip had been deliberately exploited somehow? Could someone have hacked into it? Of course, that begged the question, why would they?
But, no. If that were possible there would have been mass hysteria already. People would have been having their chips deactivated and subsequently removed by the millions.
I began to grow impatient and hungry again, and I noticed the clock on the bedside table indicated I'd woken up here nearly ten hours prior. How long had the other episodes lasted? I tried to remember—
My thoughts were interrupted as the door to the room flew open. I jumped, my heart pounding, as I watched the four female guards file into the room.
No, no, no, no.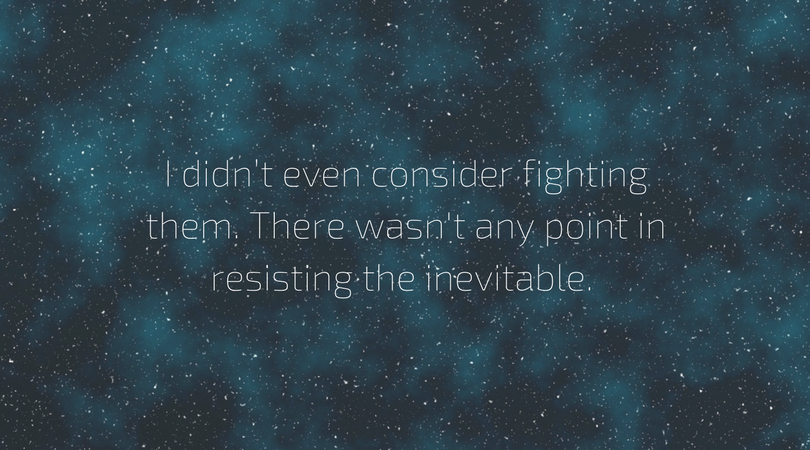 This wasn't supposed to happen. This was all just some problem with my VR chip. It was supposed to have been fixed by now, and I should be back at my apartment convalescing with a slightly sore head, some Sichuan takeout, and a queue full of movies to watch.
My heart sank as I realized what was likely going to happen. Tears welled up in my eyes, and I crumpled into a heap on the bed as they grabbed my arms and pulled me over to a couch. They brought out the tabletop vaporizer device and attached it to my face again. I didn't even consider fighting them. There wasn't any point in resisting the inevitable.
The next few minutes were a blur as I was hit with the drugs and the guards removed my clothing. They carried me into another room where they placed me in a bath and began similar preparations as they had done the previous day, but less thorough. I detached myself from what was happening as I tried to imagine waking up in the hospital again. Perhaps I could snap myself out of this.
It was easy with a normal VR experience—for most of them you just had to blink your eyes three times in quick succession and you'd be out. Programs had various other ways of deactivating—especially if you weren't fully immersed, it was as simple as hitting a button on whatever device you were using—but the standard was three blinks. They even advertised it—emphasizing it as being foolproof and safe. It reminded me of Dorothy clicking her heels together three times to go home, and I silently began repeating, "There's no place like home" in my mind.
It didn't seem to be very effective.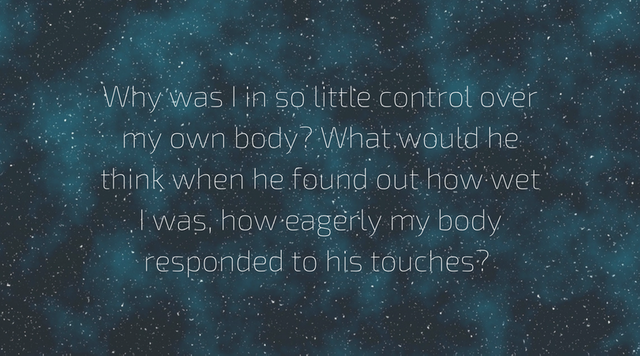 They finished with their preparations and forced me to inhale from the device a few more times before carrying me to another room where I was hooded and gagged again as I had been before. I tried to stop the tears from coming. I knew I needed to be able to breath from my nose since my mouth was full with the gag. After momentary panic I was able to stop the crying and breath more clearly. I would just have to use all of my will to keep it together.
I would not break.
They secured me in the same way they had before and left me in the same position with my ass lifted and exposed. Perhaps due in part to the drugs—or maybe it was the anticipation of what was to come—I was already extremely aroused, and I could feel the slickness that was forming between my legs as I squirmed.
As I lay there, my mind automatically went to my slave master, whoever he was, and I wondered if he was a real person or some kind of AI operating within the VR. People could interact with one another on VR platforms, but I'd never seen anything to this extent. Though I'd heard rumors of very expensive programs designed for very niche audiences, I'd never really considered all of the implications of something like that.
It didn't particularly matter to me what he was, though, when it came down to it. It was plain and simple. I didn't want him.
Why was I in so little control over my own body? What would he think when he found out how wet I was, how eagerly my body responded to his touches?
I squirmed in frustration, remembering all of the past boyfriends and sexual partners I'd had—remembering how I'd always wished one of them would be willing to do more "hard core" role playing with me.
I did enjoy being tied up. I always wished that the men I'd been with would have been more aggressive, would have taken things a little further. Even after discussing what I liked in great detail, they always seemed too apprehensive, too unsure of themselves. I was always left wanting a little bit more.
And now I had it. This was my fantasy. Wasn't this what I wanted all along? Something more real?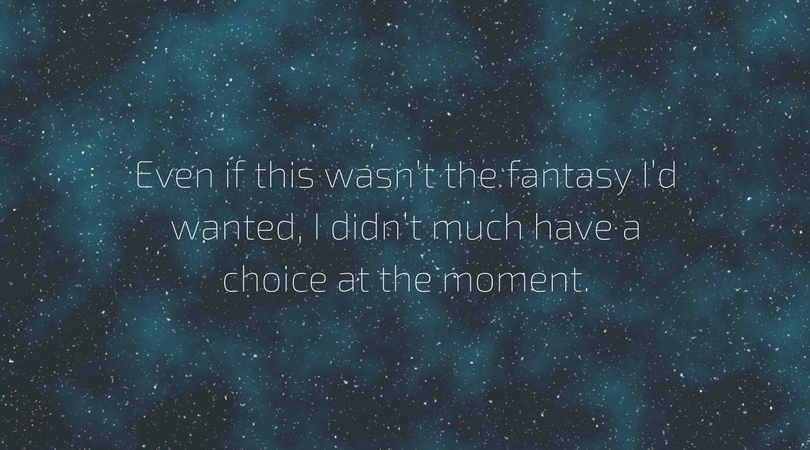 But the thought of the master repulsed me, even though I had no idea what he looked like or who he was. He'd bought me at a slave auction. He'd purchased me like I was an object, something to be owned. The thought of that both disgusted me and aroused me. My mind was at war with my body, and I soon gave up trying to argue with myself. Even if this wasn't the fantasy I'd wanted, I didn't much have a choice at the moment.
I waited to hear his footsteps, but they didn't come for a long time. It felt like much longer than the previous time, but I had no way of actually knowing. Besides being drugged, I was feeling incredibly aware of my throbbing, wet pussy and how much it ached.
When the footsteps finally came, I jumped, then cursed myself for giving him the satisfaction of seeing my fear.
"Hello again, Alexis" he said. His deep voice was coming from behind me. There was something about it that struck me.
"Today we are going to find out what your limits are."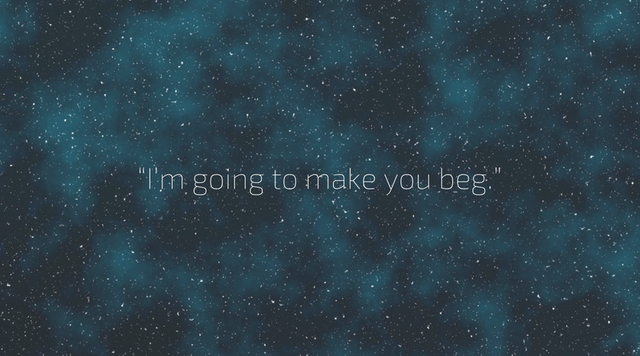 My heart seemed to stop for a moment before thundering on loudly in my chest. I choked on the gag.
"Perhaps that was not the right way of phrasing it," he said, sounding apologetic. "I just mean, we will be getting to know each other today."
I let out a tearless sob. I had to keep myself from crying. I had to concentrate or I wouldn't be able to breathe.
But what was that about his voice? Something tugged at me from a deep dark corner of my mind, but then it was gone. Whatever it was, there were more pressing things occupying my mind at the moment.
He walked around me and up to my face where he got close and whispered, "Tonight, I'm going to make you beg."
I let out another cry as I felt the throbbing in my pussy increase. I was practically ready to beg him now. I felt as though my body was betraying me, that my mind was fading in and out of consciousness as my body took full control of itself.
He hadn't even laid a finger on me yet, and I could feel the wetness dripping from my pussy.
I felt his hand on my back. It was warm and smooth. It felt good, comforting. I relaxed slightly.
Then the hand began to travel down to my ass, where he gently cupped it and then pulled it away from my pussy as if to take a closer look.
My body buckled with pleasure without warning, and I let out a strangled moan.
He chuckled and slapped my ass gently.
"This is going to be so much fun."
For the next several minutes he tormented me in just that way. Rubbing his warm hands all over my body: up and down my legs, all over my back, and of course, on my ass. Spreading, massaging, rubbing, caressing. He never touched my pussy though, and the anticipation of it had actually consumed me. I could think of nothing else, and I felt like some kind of animal controlled only by my basic impulses. My body wanted so badly to be penetrated and to find release, but my mind was powerlessly horrified at what was happening.
I squirmed and bucked and moaned and screamed as he rubbed my body all over.
Then, he stopped.
I heard him take a few steps away from where I was and pick something up. What was it? I strained trying to remember if I had seen anything before being hooded, but I had been too dazed to pay close attention to my surroundings at the time.
"You're getting a little too excited," he said in a disapproving tone. "Let's try a different approach."
Without warning I felt a sharp SMACK on my rear.
I jumped at the shock of it, but before I could react further or even register the pain, the next swing came. It felt like several leather cords hitting me at once, and it quickly began to sting. When he paused for a brief moment, I could feel that my skin was getting extremely hot. The burning sensation was almost worse than the slaps from the whip itself, although the absolute worst part was the anticipation of the next hit.
He paused frequently to accentuate the anticipation, and I found myself squirming and wiggling even more, although I knew that it was futile.
My mind continued to flip-flop back and forth between two strategies: 1) the desire to appear strong and unbreakable, and 2) wanting to show how much pain I was in to possibly elicit his sympathy. Of course, I didn't know if he even had any sympathy for me. Or if he was even a real person. What if he was just a program? For some reason, I couldn't quite decide which would be worse.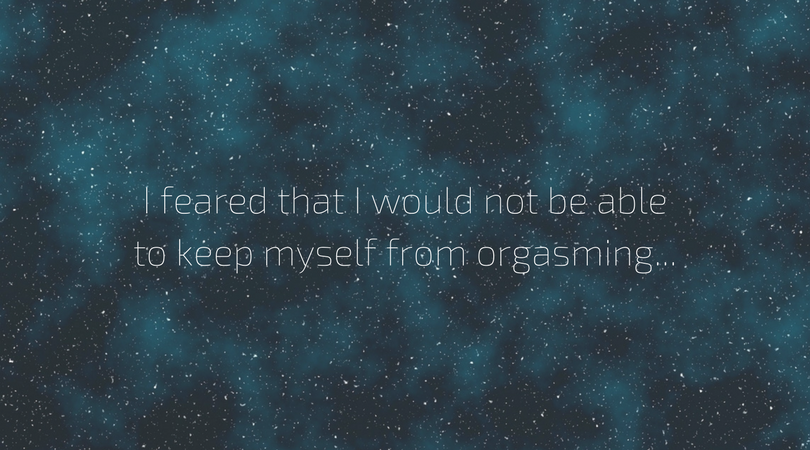 I felt a sting where the ropes on my wrists and ankles were beginning to rub and become very uncomfortable on my sensitive skin. I pictured myself battered and bruised after this—wrists, ankles, and ass raw.
The increasing pain actually did wonders to distract me from how much my body wanted to come. However, I felt that it was only prolonging the process and delaying the inevitable. I feared that I would not be able to keep myself from orgasming if he were to penetrate me.
I would never beg him, though.
I was beginning to feel numb to the pain when he finally laid down the whip. He ran his hands lightly over my hot, throbbing bottom, and I quivered from his touch, his hands actually feeling cold on my fevered and swollen skin.
"Now," he said after he'd finished what I assumed was a survey of his work. "I wonder…"
He paused briefly, and I froze like a frightened animal that knows a predator has her locked in his sights. He was standing beside me with one hand still on my ass, and I began to tremble again as I felt it slide slowly downward.
He slid his hand down the curvature of my bottom and into the crevice between my legs, causing me to gasp and choke on the gag.
"My, my," he said, sounding pleased. "It would seem as though you've been quite enjoying our playtime so far, yes?"
He continued to caress the slick flesh between my thighs, but he did not yet part the lips or penetrate me. I had stopped squirming now, too tired to struggle any further. My muscles ached and my arms and legs were sore from being so strictly bound. My jaw and mouth were sore from the gag as well, and the hood over my head was causing me to sweat and made me feel even more helpless.
Why won't he let me see him? What is he hiding?
Please, just get it over with, I thought desperately. I didn't dare try and speak those words aloud, however.
I moaned in frustration as he teased my pussy and gently brushed over my clitoris without actually rubbing it. Perhaps encouraged by the noises I was making, he used both hands to spread my ass and pussy, pulling the cheeks apart and letting them fall back several times in quick succession. This sensation caused a white-hot burning pleasure to surge through my lower body. All at once I was aroused, angered, and ashamed. I wanted to block it all out, but I couldn't.
He stopped momentarily and took a few steps away from the table again. My mind raced as I tried to imagine what he would do to me next. I couldn't stand being so helpless—not able to move, not able to speak, not even able to see what he was doing.
As if he had read my mind, he walked up and removed the hood from my head, wiping the hair away from my eyes gently with a smooth hand.
"You really are beautiful," he said quietly.
I almost didn't want to look at his face, but I forced myself to do it. This was just a simulation, anyway. I had to keep reminding myself of that.
I blinked and felt a momentary and overwhelming sense of joy. It was Dr. Masterson! I was awake now in the hospital. It was over now.
But something was wrong. I still felt the bite of the rope cutting into my wrists and ankles, and I definitely still felt the ache in my extremely aroused pussy. Then the realization hit me. I was still in the simulation. I hadn't woken up.
And I got the feeling that I wouldn't be waking up any time soon.
To be continued...
---
Thank you so much for reading :) This is the fifth chapter in a serialized, erotic sci-fi novella. I'll be posting a new chapter once or twice a week until it's finished, and then I will compile it into an ebook and give it away for free download here on Steemit!
Please feel free to leave your thoughts, feedback, constructive criticism, etc., below in the comments.
Much love,
~xx~
Dina